If you would like to be kept up to date with the upcoming lists, please subscribe to my newsletter by clicking this link. I don't send out letters too often, pretty much once a month when this list goes out… and occasionally if I release a book or something.
As always, this is not a comprehensive list, but only includes all the books I have heard about so far.
If you have a fantasy novel you are self publishing in April or beyond, let me know by filling out THIS FORM, and I shall add it to the page. There are but 3 requirements:
1) It must be a self published fantasy novel.
2) It must have a Goodreads page.
3) It must have a cover.
---
1st April – The Destitute Countess (The Wordmage's Tales #6) by Astrid V.J.
Romance
The count is dead and his daughter has inherited his debts. With her friends dwindling away and faced with losing her home, the new countess sets out to restore her family's fortune and good name. Being plunged into poverty brings with it a whole host of new experiences that terrify the young countess, and she promises herself she'll do anything to find financial freedom, but can she really do it alone? And what of the man she loves? Would he help her or reject her for the misfortunes that have befallen her?
---
2nd April – When the Traveler Stands Still by Noor Al-Shanti
Epic Fantasy
Some events change the course of the world, but do people know, when they're living through such events, that they will become part of history?
Sent ahead to secure her merchant caravan a place in the next village, Sedra took a shortcut through the familiar ruins she used to play in as a child — but found a magical attack waiting for her instead of memories. No trace of her encounter remains except the strange dancing lights that only she can see and the debilitating headaches she's had ever since, but she can't go back to her normal life and pretend it didn't happen.
The Travelers, who have dedicated their lives to roaming the world and helping those in need, are Sedra's only hope of finding out who attacked her and why. They may be her people's only hope in the dark days yet to come.
Sorcery isn't practiced anymore in the Land of Sunsets, but there is a rising power in the Circle of the World and those who can bend it to their will are willing to go to any lengths to get more power.
The attack on Sedra is just the beginning.
---
4th April – A Canticle of War (The Aria of Steel #3) by Steven Raaymakers
Grimdark, YA
In this epic conclusion, all bets are off as Raziel and his rag-tag crew must finally come together against the rising dark power. If death doesn't find them first.
The city of Archehan lies in ruins, banshees circle the crumbling towers. Famine and violence spread across the fallen kingdom. An empire marches its armies to war. Ancient magics are stirring, woken by Raziel's choices.
With the fate of the world in their hands, will Raziel and his companions find the way forward through the darkness, or will they be the architects of their own doom?
---
5th April – Rise of the Centurio Immortalis (Luke Irontree and the Last Vampire War) by C. Thomas Lafollette
Urban Fantasy
It's dangerous business getting mixed up with gods…
After three years campaigning in Armenia and Mesopotamia and a meteoric rise through the ranks of the legions, Lucius has been promoted to centurion and given a final mission from his dying emperor—go to Armenia to protect a remote temple dedicated to the god Mithras.
With a Parthian assassin on their trail and a ferocious Caucasus Mountains winter in front of them, Lucius and his men are running out of time. And with dark demons waiting for them at Mithras's temple, Lucius may be running out of luck.
Enemies—mortal and not—are dogging Lucius's every movement, and he isn't sure he'll be able complete his emperor's mission…or even make it out alive.
---
6th April – Song of the Lost (Record of the Sentinel Seer #3) by M.H. Woodscourt
Sci-Fantasy
Even in the stars, evil stalks him.
Desperate to escape his grief, Lekore has fled into space to train with Prince Toranskay and learn his role in the Universe. But while the Empire of Ahvenia appears to be the perfect sanctuary, not all that glitters is gold. Soon Lekore's gifts are sought by a cult hidden among the Ahvenians, and its leader is determined to convert Lekore at any cost.
Meanwhile, the Kiisuld haven't given up on claiming the Seer—and a certain Ahvenian royal—for themselves. Dead set on payback, the partnership heads for the heart of Ahvenian Space to hatch a scheme that will ensure their victory…
The stakes mount ever higher as Lekore begins to unravel ancient secrets tying his people to the tragic history shared between the Ahvenians and Kiisuld.
---
6th April – Frolic on the Amaranthyn by Chase A. Folmar
Sword & Sorcery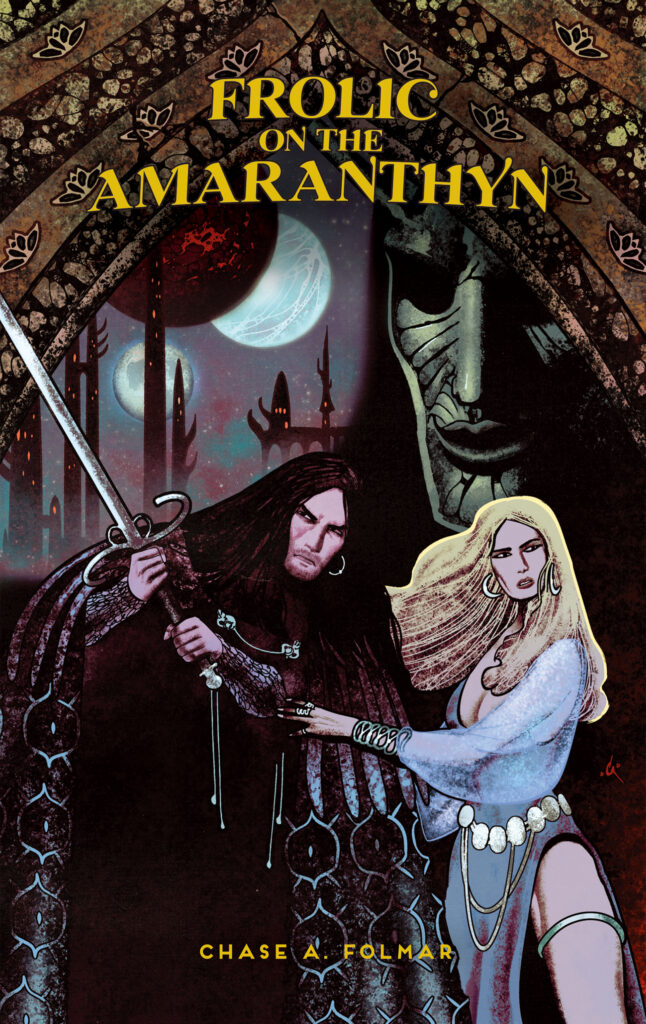 Through lands awash in dark secrets and half-forgotten truths, the duo Uralant and Emrasarie wield swordsmanship and seduction alike in the pursuit of fortune and precious coin.

But when a failed ploy for riches leads them to a city seduced beneath the thrall of ancient and malevolent sorcery, they unwillingly become entwined in the schemes of a nightmarish zealot and his own search for guarded treasures.

…and the deeper they continue to delve, the more the two come to realize they are little more than pawns against powers far greater than anything they could have ever imagined.
---
6th April – The Woven Ring RE-RELEASE (Sol's Harvest #1) by M.D. Presley
Epic Fantasy, Steampunk, Historical Fantasy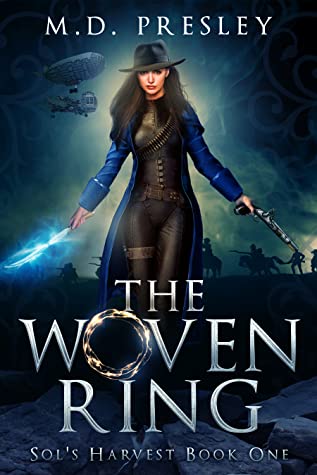 In exile since the civil war that tore the nation of Newfield apart, former spy and turncoat Marta Childress wants nothing more than to quietly live out her remaining days in the West. But then her manipulative brother arrives with one final mission: Transport the daughter of a hated inventor deep into the East. Forced to decide between safely delivering the girl and assassinating the inventor, Marta is torn between ensuring the fragile peace and sparking a second civil war.
Aided by an untrustworthy Dobra and his mysterious mute companion, Marta soon discovers that dark forces, human and perhaps the devil herself, seek to end her quest into the East.
---
7th April – Memories of Blood and Shadow by Aaron S. Jones
Epic Fantasy, Grimdark
Guilt cuts sharper than the deadliest of blades.
Tavar Farwan lives alone past the Undying Sands. One stormy night, he is attacked by two young warriors claiming to vengeance for an ill from ages past. Tavar defends himself, killing one of the intruders and leaving the other to bleed on the floor. Weary and filled with regret, Tavar offers to tell the young man his story: a story of how a nomadic orphan rose to kill a God.
---
8th April – The Demon's Dagger by Douglas Lumsden
Urban Fantasy
Once he checked in, checking out became an obsession!
Crawford the were-rat checks into a shady hotel and promptly stumbles over a dead man. A mysterious troll is obsessed with finding the dagger that killed him—a dagger possessed by a demon! The demon denies that he is a demon and is obsessed with regaining his freedom. Meanwhile, the hotel's night clerk is obsessed with the hooker on the third floor. Crawford is obsessed with what's in the hooker's room: a solid gold statuette of a demon-slaying goddess! Crawford has checked in, but, when obsessions collide, does he have any hope of checking out?
---
9th April – Requiem of Silence (The Famine Cycle #3) by J.D.L. Rosell
Epic Fantasy, Sword & Sorcery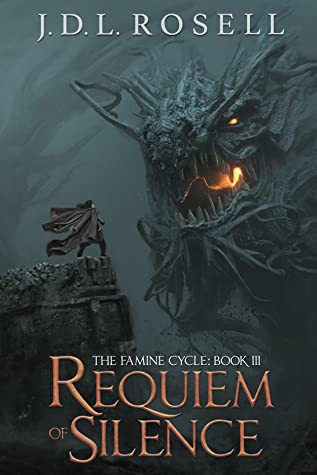 Every world has its end. With Famine returned and freed of his restraints, Airene must find a way to stop the daemon god from devouring the world — no matter the cost…
The armies of the Avvad, the most powerful empire in the world, have arrived at the walls of Oedija. Despot Jaxas has rallied the city's meager defenses, but with the Manifest and Underguild still lashing in their death throes, the realm is barely holding strong.
Even facing the destruction of her home, Airene keeps watch for a different threat. Famine, the God of Hunger, has finally broken free of his cage and feasts upon the world. Unfettered, he will consume all life on its surface.
When an unexpected ally appears, Airene and her companions embark on a quest to find a way to stop the daemon god. Racing against time, seeking to stay ahead of both Avvad and Famine, they seek allies and weapons receded into myth.
But no war is won without great sacrifice — and if she is to succeed, Airene must sacrifice all she is…
---
11th April – A Crown of Blood (The Deimachy #1) by Lincoln Law
Epic Fantasy, YA
A bloodthirsty army. A long forgotten god. A power believed lost.
Roisin Latenda is a Groundformer Acolyte in training, a person with the ability to manipulate the earth. Long ago—before the people rose up, killed their Gods, and fashioned their corpses into weapons—these powers could move mountains, form cities, shift countries. Now with the Gods dead, the powers are weaker, but humanity controls it. And wrestling power from the gods was always about autonomy.
When a powerful army arrives in Roisin's small village, supported by an unknown god named the Soulmonger, all is sent into chaos. They ravage the village, killing many, and force Roisin to choose between those she loves, and her duty to her Groundformer training.
But Roisin's life isn't the only one to be horrifically transformed by the Soulmongers' arrival. Piritta, the political aspirant, will find her drive for power warped in the most terrible way. Bree, the apprentice cartographer, will have to face her past; a past bathed in blood. And Kaori, whose porcelain mask hides many secrets, will seize the vengeance she seeks for a world which wronged her.
These four young women find their fates intertwined. If they make the right decisions, three of them may save the world from this new and deadly force. And should they fail, one will destroy it.
---
12th April – The Perilous Sea (Relics of Power #2) by Emma L. Adams
Epic Fantasy
Zelle Carnelian has claimed the allegiance of the nameless Shaper, the enigmatic ancient deity whose name was forgotten by mortals and gods alike. Together with Arien Astera, who has claimed a new Relic of his own, and Evita Govind, would-be assassin, they defeated Orzen and prevented him from unleashing havoc on the human world.

But Orzen is not the only deity with his sights set on escaping from the realm of the gods.

When her sister is captured by a cult of devotees to an unknown deity, Zelle's quest to find her leads across the perilous sea to the Isles of Itzar. Teeming with dangerous beasts and strange magic, the Isles are not a destination for the faint of heart, and Zelle and the others are well aware that they might be sailing straight into a trap.

Soon her sister's plight becomes only one of Zelle's concerns, between mysterious Relics appearing on Itzar's beaches, a struggle between two rival factions and a rogue deity with an unknown agenda. It'll push Zelle and the others to their limits to navigate these dangerous waters and escape alive…
---
13th April – Lucifer's Favour (Infernal Contracts #2) by Tessa Hastjarjanto
Urban Fantasy, YA, Romance
When a demon takes over Hell, you turn to the one you fear the most.
After Nora's encounter with Beelzebub she can no longer escape the supernatural world–she is marked for life. The demon's sinister plans will hurt the people she cares about, and the only way to restore order is to track down Lucifer and convince him to reclaim his throne.
Lucifer has his own agenda for staying on Earth and faces threats he's never seen before. His escapades draw the attention of Earthly demons, ones he doesn't control, and they're ready to protect their territory.
Nora and her friends must unite and persuade Lucifer while escaping the dangers and temptations of supernaturals. Living on the edge of the mundane world and the supernatural world challenges Nora and her friends to look beyond what they know, and believe.
---
15th April – Beacon (Nation of Five #1) by Jesse Teller
Grimdark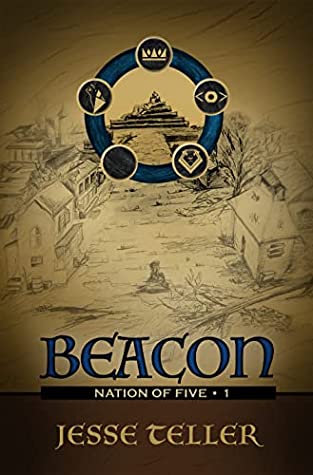 Peter and his men venture on after The Madness Wars to test their theories and stretch their limits. Mayloch Bull and his freedom fighters struggle to save the nation of Corlene from itself, and the eye of Peter Redfist has landed directly upon him.
---
15th April – The Ivory Queen by Deborah Jarvis
Epic Fantasy, Sword & Sorcery
After making her way to the southern part of Keyralithsmus, Deirdre Hawes is preparing to cross the desert in hopes of finding the lost shaper clan and requesting the aid of the elusive dragons. Once across the desert, the centaur shaman, K'ha Vrenil, has promised to guide them through the jungle beyond the mountains. Setting off with the shaman and her other companions, Deirdre finds herself struggling to gain complete control over her powers and understand her growing magical connection to the minotaur prince.
With the prospect of having to choose which world she really belongs in, Deirdre makes her way towards reaching her final goal – calling on the dragons and mastering her own gifts of magic and shape shifting. Her completion of the quest will bring her face-to-face with her deepest fears and lead her to find out what, and even who, she was truly meant to be.
---
18th April – The Mystery of the Murdered Guy (Duckett & Dyer: Dicks for Hire #3) by G.M. Nair
Sci-Fantasy
After their very public triumph over the sinister machinations of the Future Group, Michael Duckett and Stephanie Dyer's accidental detective agency has become a household name. Practically overnight, they've cemented their place as the city's go-to sleuths for solving the weird, oddball cases that would confuse and irritate anyone else.
Join them as they tackle the mysteries of a medically licensed vampire, a mysterious mad bomber, a genderfluid reverse werewolf, and the true meaning of Christmas – just to name a few. Meanwhile, an aging billionaire obsesses over his plans to achieve immortality, which could mean dire consequences for the world. But with Duckett & Dyer: Dicks For Hire on the case, what could go wrong?
If you said 'everything', you'd be correct.
---
19th April – Dark Fangs Raging (Luke Irontree & the Last Vampire War #2) by C. Thomas Lafollette
Urban Fantasy
Luke thought he knew what the vampires were up to. Same old enemy, same old tricks. But when a flood of heavily-armed vampire mercenaries show up in Portland led by an old friend, Luke and his newly assembled crew of misfits are the ones left dodging bullets.
For Luke and his friends, it's a race against time to stem the flow of heavy arms coming into Portland while also trying to find how deep the connection goes between Portland's police and Luke's ancient enemy.
When dark fangs rage, not even Oregon's rains can wash away the blood in book 2 of Luke Irontree & the Last Vampire War.
---
19th April – The Shadow Watch Saga BOXSET by S.A. Klopfenstein
Epic Fantasy
The world was once ruled by magic and monsters, but after a cataclysmic war, the chancellors of old eradicated these curses and ushered in a New World. One where sorcerers are hunted, and lowborns are sent to their deaths fighting the wars of nobles.
In this world, a young slave reveals magical power before an empire. This revelation may be enough to spark a revolution, if Tori can escape the magic hunters pursuing her.
An idealistic soldier fights to maintain his soul in the infamous Night Legions, but as Darien begins to show promise, the lure of power threatens to turn him into the type of monster he once despised.
And a lordling rebel with a dark past journeys to a turbulent nation in search of a mythic weapon. Kale is soon thrust into a game of power that could upend the world.
As sorcerers rise and monsters rage, the fate of all hangs in the balance.

Will magic save the world, or bring it to ruin?
---
20th April – Grothia Blue (The Grothia Books #1) by Theo F.W.K. Cookson
Epic Fantasy, Grimdark, Sword & Sorcery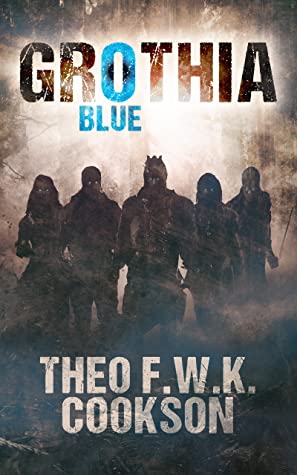 Stripped of Sense and Support, Strength becomes Necessity.
The Grothia is a family as old as war itself. A family known for a strength that strikes crippling fear into anyone who looks upon their piercing blue eyes, and yet, their youngest prince is unimpressed. After being pulled from the depths of weakness by his uncle – a pillar of pure fighting spirit – Orama is convinced that his family's title is nothing but a farce. Equipped with unshakable determination, the boy endeavours to find his own definition of strength.
The King, seeing no use for archaic war titles in the progressing world, seeks to reform the Grothia name. A task that may end up dividing the family. When attempting to make a change, one must expect new enemies in places once thought to be safe.
Genus is a harsh world comprised mostly of dense forests, grassy fields, cutthroat politics, ambition, hierarchy and malice. Both father and son will have ample opportunity to reflect upon what it means to be strong.
---
21st April – The Fabric of Chaos (Curse of the Cyren Queen #3) by Helen Scheuerer
Epic Fantasy, Sword & Sorcery, YA
An almighty power. A deadly choice. Will she come undone when chaos reigns?
After facing heart-breaking betrayals and jaw-dropping revelations in Akoris, Roh must steel herself once more and continue her quest to win the cyren throne.
But with poison lingering in her body and a new, unpredictable companion at her side, the trek to the mysterious territory of Csilla becomes all the more perilous. Dangerous schemes are afoot – ones that threaten not only the homeland Roh intends to rule, but all of cyrenkind.
As her journey stretches across the realm, Roh must navigate the dark web of her own ambition and master her newfound magic.
Will she triumph against the trials ahead – or sow the seeds of her own destruction?
---
21st April – The Hand that Casts the Bone (The Vanguard Chronicles #2) by H.L. Tinsley
Grimdark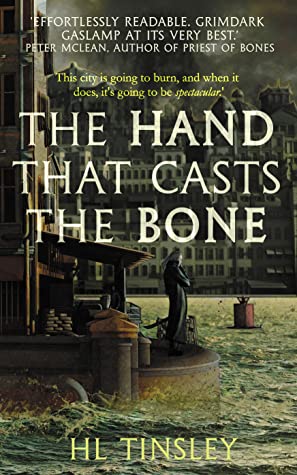 Alone in a city on the cusp of revolution, separated from his allies and with nothing to his name, former mercenary John Vanguard finds vigilante life can be a poorly paid gig. When an influential aristocrat's death causes a sudden shift in the balance of power, Vanguard finds himself once more caught in the crossfire between dangerous men with murderous ambitions.
From his tower far above the city, Captain Sanquain seeks to tighten his iron grip on the capital and its citizens. Amidst the chaos of the Black Zone, a deadly turf war is brewing between the crime lords. Outside the city, libertarian Argent Cooke struggles to gather support for the uprising. And from the smog-stained rooftops, Vanguard's former protégé Tarryn Leersac is watching all.
With any hopes of redemption fading, Vanguard finds one last shred of hope in the form of an old friend, risen from the dead and promising the chance for atonement.
---
22nd April – Kingdom of Feathers (Kingdom of Birds and Beasts #3) by Alice Ivinya
Epic Fantasy, YA, Romance
The King is dead. Chaos reigns…
A life of messy politics and war was never what Brianna planned. Now she has to navigate a world where everyone seems set against her while trying to fix the country's problems. She must show no weakness, for only then can she marry the man she loves and take her place as queen.
But while Spirit-Beasts and Borderland nobility argue over alliances, Queen Geraldina works to take everything Brianna loves, and she has been playing this game for a long time.
More sinister powers are rising behind the scenes, seeped in Old Magic and with the strength to destroy the continent. One such power is growing within Brianna herself, and she can only ignore it for so long.
Will she learn to become the savior, or will she cause the world to fall?
---
26th April – Blood of Vengeance (Battleborn Mage #0.5) by Angel Haze
Epic Fantasy, Sword & Sorcery
In the gladiator's arena of blood and death, magic cuts deeper than steel.
Stolen from the streets and condemned to battle as a gladiator, Killien survives by deceit and subterfuge. He must play the role of "Killer," the prince's savage, bloodthirsty champion.
Undefeated in battle, Killien wields a secret advantage: the magic enhancing his weapons and fueling his attacks. The cost of losing carries a price worse than death.
A wager between his vindictive master and a conspiring rival pits Killien in a fight to the death against a mysterious warrior —one he has no hope of defeating.
---
27th April – Firesight (The Dragon Guardian Chronicles #1) by Jessica Deen Norris
Epic Fantasy, YA
The power of the Light blinds him, and danger lurks in the Shadows…
The Dragon Guardian's return was supposed to heal the world split by storm, frost, and fire. Instead, the crazed conqueror sends his Shadow Knights to swarm the land, searching for any sign of a dangerous, fire-wielding mage like Tiber.
If only that's what he was.
The blinding Light that comes with Tiber's powers doesn't seem to be worth the small, pitiful flames he can create in his hands. But it was enough to make the emperor kill his family, forcing him into hiding. And when he meets a mysterious girl named Luci, Tiber finally sees a way out.
Except hatching a dragon egg wasn't part of the plan.
As the emperor's Shadow Knights close in, Tiber must learn to rely on his new friends to help him find the truth about his past… and resist the Shadows that tempt him to revenge.
---
30th April – The Unicorn Heist (Stories from the Three Kingdoms) by D.G. Redd
With the Thieves' Guild destroyed, can Galan and Grog help a mysterious Druid steal a unicorn from a vampire, or will Sentinel Janu catch up with them first?
Galan, the leader of the Thieves' Guild, and his second in command, Grog, have seen their fare share of robberies, thuggeries, and assorted shady businesses. But the recent crack-downs by the Sentinels have all but destroyed their criminal enterprise, and now they, and an empty tavern, are all that remain.
Just when they thought all was lost, Lady Heatherdown of the Farrowood offers them a job. As a druid, it is not all that surprising that she wishes them to steal a unicorn. However, stealing one from a vampire might prove more than they can handle.
Little do they know, there is an informant in their midst. Sentinel Janu catches wind of their plans and takes on the case personally. It's time someone finally put an end to Galan and Grog before they do anything more to harm the helpless and destitute orphans on the streets of Threerun.
---