Yo-ho, me hearties. It's December and Christmas is everywhere, but I'm making it a piratical holiday! So all December I'm running a competition and all you have to do to enter is send me a picture of a piratical drawing. It can be a pirate ship, a pirate flag, a treasure chest, a kraken, a stick figure in a pirate hat, pretty much anything as long as it has a vaguely piratical theme to it.
And of course the bit that everyone is bothered about… The booty! Everyone who enters will get an ebook of their choice from my published works. A random entrant will get a signed and doodled paperback copy of my fantasy caper, It Takes a Thief to Catch a Sunrise. And the grand prize, chosen by me, will receive a signed and doodled paperback copy of Where Loyalties Lie.
And entering is easy. Just doodle something piratical on a piece of paper, a napkin, the back of your hand, whatever you have nearby, and send a picture of it to robjhayes1@gmail.com I'll post all the entrants below so everyone can view the Swashbuckling Gallery.
So get doodling and show me your pirates!
First entry is by Al Burke… or more accurately by Al Burke's kid (I wasn't provided with a name).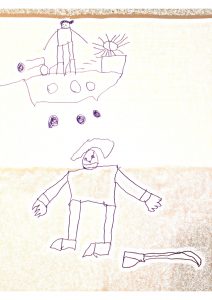 Next up is this masterpiece by Richard Skelton. He tells me he is very proud of the brown in particular. I like the water effects.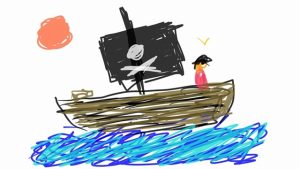 Richard enjoyed himself so much he gave it another go. He still only gets the one entry though! 😉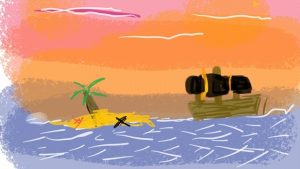 I like to think Carlyle Laurent has gone with a more modern take given the pirate is wearing a t'shirt of a ship's wheel. I love how nonchalant the parrot looks.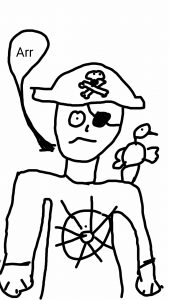 James Tivendale embraces as many piratical tropes as he can in his effort.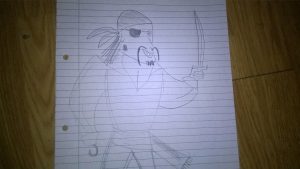 Dan Hopkins has put my attempt to shame with excellent use of colour. I stay away from colour myself, it's tricky stuff.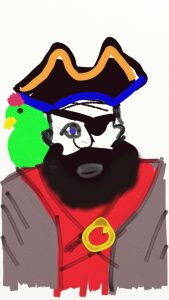 James Latimer knows how to show up my stick drawings. He included rigging and everything!