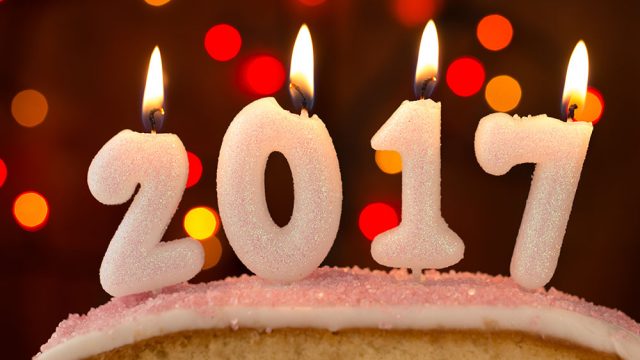 We're coming to the end of another year. 2017 is pretty much over at this point, and I beat my reading target. I said I'd read 14 books, and I've hit about 20, though 6 of those I can't talk about yet. 🙁 Next year maybe. I thought I would do one of these "Top 5 Fantasy Book of 2017" things so anyone actually interested in my opinion will immediately go out and read those books. Now I'll point out they aren't necessarily books released in 2017, but just ones I read this year.
I'm going to start with a quick rundown of my rating system. I use the old 5 star jobby, and I dish out those stars on this basis.
1 Star: No one gets 1 star because it means I didn't finish the book so won't rate it.
2 Stars: I finished the book out of sheer determination, but did not enjoy it.
3 Stars: I like the book. It kept me reading and had some good bits.
4 Stars: I loved the book. I found it hard to put down and can't wait to read more from the author/world.
5 Stars: This book was something special. Not only did I love it, but I felt it really adds to the genre as a whole.
This is basically a way of saying… don't expect every book to get 5 stars. That being said, it's been a really good year for reading and most of my top 5 got 5 stars. So without further ado and in no particular order… here we go.
5. The Wheel of Osheim by Mark Lawrence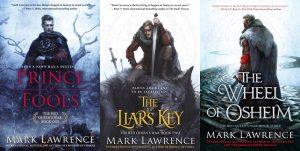 The Red Queens War is Mark Lawrence's 2nd trilogy set in his Broken Empire universe, and follows along with Jalan, a self important, pompous, cowardly arsehole who just can't seem to stop saving the world. Set against the backdrop of a post apocalyptic earth that has since reestablished itself into a medieval time period, Red Queen's War gives us a very different protagonist to the genre standard. Jalan, along with his viking buddy, Snorri, find themselves thrust into the centre of a shadow war with the very world itself at stake. Neither of them really want to be there, but they make a pretty good show of it. It's a fast paced tale that runs alongside the Broken Empire trilogy, as pits our heroes against the Red Queen, the Dead King, and Jalan's creditors.
I'm cheating a little here because really I rated the series as a whole as 5 stars, but each book as 4 stars. It gets the 5 stars because of giving us such a unique perspective of our protagonist. And also cos that Lawrence guy can REALLY write good.
You can find my full review by clicking this link.
4. Skullsworn by Brian Stavely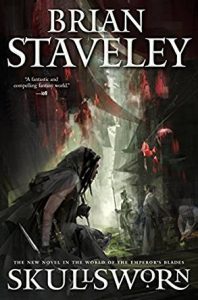 Skullsworn is told from the perspective of Pyrre Lakatur, assassin in training. It follows her life for a couple of weeks as she attempts to complete her training by passing a variety of tests. The most important of those (at least to her) is to kill the person you love. Why is this important? Because Pyrre freely admits she has never been in love, and barely even understands the concept. Oh, and there's also a marsh that is actively trying to kill everyone that goes anywhere near it, and a bunch of living gods who like hunting people. It's fair to say this is a book about love and death.
Another 5 star book because I truly felt it was something special. I've said it before and I'll say it again. Skullsworn is a book that shouldn't work. It's basically a 15 hour (I listened to it on Audible) long monologue about the meaning of love and letting go of it. And I absolutely loved every minute of it. This is partly due to Staveley's skill with meandering prose, and partly due to Elizabeth Knoweldon's masterful delivery. Pyrre really came alive as a character and I felt truly invested not only in her struggle, but also in her perspective on life, love, and loss.
You can find my full review by clicking this link.
3. Blackwing by Ed McDonald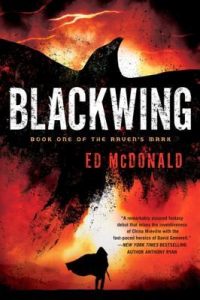 2017 is the year I started getting into audio books and Blackwing absorbed me so entirely that I finished it in a single week… and cleaned the house twice just to have an excuse to listen. Blackwing follows Ryhalt Galharrow, a grizzled veteran and nihilistic bastard, serving as a monster bounty hunter in the wasteland known as the Misery. It's a post apocalyptic frontier sort of world he inhabits with a war that has been raging for generations between beings that are pretty much gods. On one side there's the Nameless, and on the other the Deep Kings, and humanity is pretty much trapped in the middle. Ryhalt struggles to uncover a plot that threatens to bring an end to the war, with humanity on the losing side.
I'm not going to say this book was something truly special in that it didn't add something new and never seen before. What it did do is engross me so entirely that I couldn't help but cheat a little and give it 4.5 (rounding up to 5). I clicked with Ryhalt and his voice, narrated by Colin Mace, kept me absolutely enthralled.
You can find my full review by clicking this link.
2. Senlin Ascends by Josiah Bancroft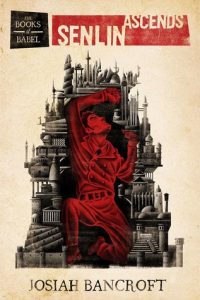 Possibly the greatest success story of 2016's Self Published Fantasy Blog Off (SPFBO). Senlin Ascends didn't even make the final, yet became not only a fan favourite, but a bit of an industry favourite too. It has since been picked up by a big publishing house and will soon be re-released. And it deserves every single bit of its success. Senlin Ascends follows Thomas Senlin, bookish headmaster of a country school and newlywed, as he takes his wife on their honeymoon to… the Tower of Babel. The shining jewel of humanity, rising high up above the land and disappearing into the clouds, the tower is massive. No sooner has he stepped off the train, but he and his wife are separated. Each level of the tower is a small Ringdom unto itself, each with its own rules and quirks, heroes and villains. And Senlin must ascends through the Ringdoms to find his missing wife.
A fantastic, inventive, unique read. There's not much in the way of action, but that only serves to amplify the gorgeous prose of the writing, and the insidious menace of the tower. The fact that Thomas Senlin is so entirely out of his depth throughout the book also helps to make it so much fun to read. I gave it 5 stars without hesitation because this one is something special and a true treasure to genre of fantasy.
You can find my full review by clicking this link.
1. Assassin's Fate by Robin Hobb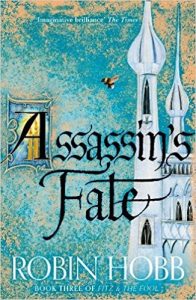 2017 gave me the end of a journey I started over 15 years ago. From Assassin's Apprentice, and then 9 books later Assassin's Fate, I have followed Fitz and the Fool and Nighteyes through their lives. I don't think there has ever been a series, and a character, who has gripped me quite like Robin Hobb's Fitz. If you haven't read any of them yet, there is no series I recommend more highly. Pick up a copy of Assassin's Apprentice today and I envy you for getting to read it for the first time. If you have read them, then chances are you already know why this book is my favourite of 2017.
I couldn't write a full review of this one. I simply didn't know what to say. So instead I just said "thank you" to Robin Hobb for giving the world Fitz.