If you would like to be kept up to date with the upcoming lists, please subscribe to my newsletter by clicking this link. I don't send out letters too often, pretty much once a month when this list goes out… and occasionally if I release a book or something.
As always, this is not a comprehensive list, but only includes all the books I have heard about so far.
If you have a fantasy novel you are self publishing in March or beyond, let me know by filling out THIS FORM, and I shall add it to the page. There are but 3 requirements:
1) It must be a self published fantasy novel.
2) It must have a Goodreads page.
3) It must have a cover.
---
1st March – A Hunt of Shadows (A Trial of Sorcerers #2) by Elise Kova
Epic Fantasy, Romance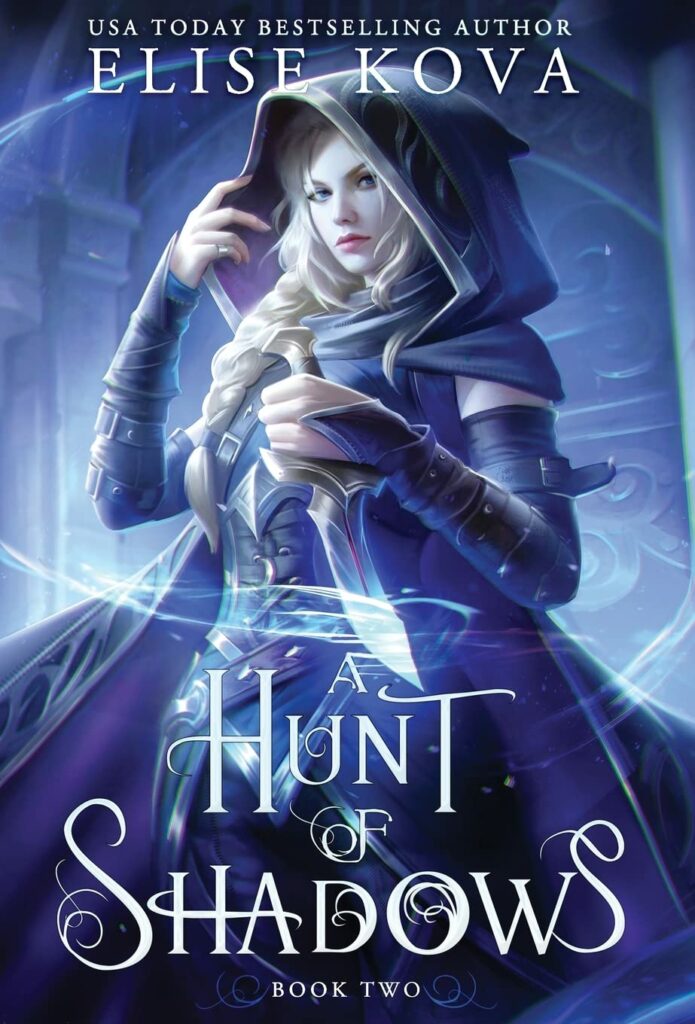 Eira is now a champion of the Solaris Empire. She's off to a land she's only dreamed about. But a nightmare awaits her.
Her sworn enemy has escaped. His allies are powerful and deadly. And Eira finds herself tangled in the dangerous web of the undercity of Risen where the mysterious Court of Shadows and lethal Pillars battle for the fate of the kingdom.
But vengeance has a price. When Eira is captured by her enemies, it's not only her life, but the lives of her friends, and the man she loves most, at stake. The woman she was won't be enough to turn the tides churning against her from long before she was born. She'll have to become something more. She'll have to love deeper and fight fiercer than ever before.
The only way to kill a legendary champion, will be to become one herself.
---
1st March – A Touch of Light (The Ashes of Avarin #1) by Thiago Abdalla
Epic Fantasy, Grimdark
The dead shall not be mourned or remembered, for death is the enemy, and will only drive the Seraph away.
The Domain is the bastion of life. The Seraph blesses her faithful with endless years, and death is kept away in hope for Her return. But The Domain nations are not the only ones in Avarin. They have managed only a tenuous peace with the clans to the south, who believe life must be returned to the Earth to keep it whole.
Yet the world of Avarin is changing.
In the clanlands, parts of the Earth seem to be withering away, while in the Domain, a deadly frenzy spreads among the people. It brings darkness to the minds of men and bloodlust to their hearts.
This sickness threatens more than just the peace in the realm,
it imperils its very heart.
Now the people of Avarin must fight to save it,
before death comes for them all.
---
1st March – Bones to the Wind (A Forging of Age #1) by Tatiana Obey
Epic Fantasy, Sword & Sorcery
Rasia is determined to destroy her old man's record in the Forging, a trial each child must succeed to come of age. All Rasia needs to do is hunt down a gonda, hitch its tentacle ass to her windship, and haul it back home in record time. Easy. Or it would be if Rasia wasn't stuck on the same team as Nico—a know-it-all, spoiled, grubworm who never does anything Rasia tells her to do.
Nico doesn't care about Rasia's egotistical dreams of glory. This is her brother's last chance to pass the Forging or her father is going to banish him from the family. She needs to scour the desert to find whatever team the bones placed him on and help him kill a gonda before it kills him.
Too bad Nico and Rasia can't get along to steer a windship straight.
---
1st March – Graphite and Turbulence (The Elemental Artist #2) by Jami Fairleigh
Sword & Sorcery, Sci-Fantasy
He will need courage, resilience, and a bit of magic—to survive fatherhood.
Artist Matthew Sugiyama finally has a location to start his search for his birth family, but no one prepared him for the turbulence of a scowling, unhappy child. Not only is the depot is far away, his fledgling parenting skills are not cutting it… and everyone has plenty of advice to offer on fatherhood. Before Matthew can find his bearings, Akiko disappears.
In a blink, Matthew's priorities change. Time is running out and when old friends and enemies arrive in the depot, the situation leaves Matthew scrambling. He needs a plan—and he needs help—but who can he trust?
---
1st March – System Finale (The System Apocalypse #13) by Tao Wong
LitRPG
There's No Way Home
Not for John Lee. His search for answers for the System Quest has taken him deep into the Forbidden Zone, into the very arms of his enemies. He's betrayed family and friends and been betrayed in turn. The most powerful human in the System has come to the final leg of his journey.
And still, he has no idea if what he will find will fill the burning need within him. For the Redeemer of the Dead will not stop, until the cries of the lost and the sacrificed are answered.
No matter the cost – to the universe, to Earth, or to himself.
---
1st March – Draconis (Draconis Descendant Saga #1) by David Oliver
Epic Fantasy, Sword & Sorcery, Steampunk
Over a decade ago Jlayn Syr, cartographer, embarked on a mission to map the world on behalf of the Ursal Federation. He returned with most of his crew dead and two strange rune stones.
Stones that changed everything.
He asserted that he had found a strange 'rift' in the ocean. A gateway to another world. A world populated with strange and horrifying monsters, broken tombs and strange writings.
Now he is the leader of the Wayfarers. A mercenary troop dedicated to entering the rift and returning with new rune stones. The Ursal Federation has utilised the impossible magic of the rune stones to cement themselves as the foremost world power and the location of the rift is a closely guarded secret…one that many would kill for.
With forces gathering to take control of the rift, Jlayn and his adopted daughter Sesha must embark on the newly built Draconis to explore this new world once again…but with a large target on their heads the days of the Wayfarers may be numbered.
---
1st March – Through Adversity (Worth the Candle #1) by Alexander Wales
Epic Fantasy, LitRPG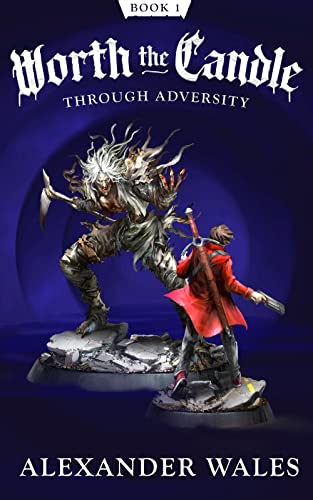 Juniper was always the Dungeon Master, never the player. He was always a creator of worlds rather than the one who walked within them…until now.
Somehow, the tables have turned in the most dramatic way possible. Juniper finds himself in a world filled with the wildest fantasies a mind could come up with, and his fingerprints are all over it.
Throughout this world, echoes of his own ideas and plots leave him feeling like he's always one step behind. He finds bits and pieces of ancient influence strewn about every town he goes through. One thing is clear, though: Juniper walks this magical new world in someone else's shadow.
It might all add up to something vital…if only he can survive long enough to figure it out.
---
1st March – OutRanked (The Weight of it All #5) by J.J. Thorn
Sword & Sorcery, YA, LitRPG
A war is on the horizon for the kingdom of Prost.
But for those from Krader, their lives were already turned upside down amidst the Collapse.
Reeling from his loss and unsure what to do next, Terrence will need to refocus to earn his first Rank as a Dungeoneer.
For everyone else, recruitment for the war is bringing the kingdom to its knees.
Trying his best to stay out of the conflict, Tom is eager to reunite with his friends and family in the Capital.
Storylines converge as everyone's Affinities progress further every day.
Will Tom be able to help Terrence and his friends reach new heights?
Or will the stress of war cause everyone to crash and burn?
---
2nd March – Something About Dragons (ANTHOLOGY)
Epic Fantasy, Urban Fantasy, YA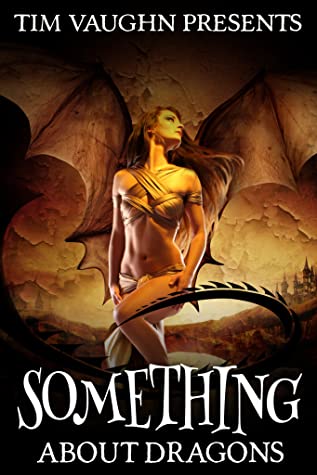 Terrifying foes. Wise mentors. Creatures whose blood grants magical powers.
Dragons are creatures of myth that have fascinated the world for years untold, enigmatic creatures that could be good or evil but will always be powerful. Fall under the spell of tales woven to dig beneath the scales and keep the wyrm in check… revel in astounding worlds filled with dangerous adventures and the lives lived by resourceful heroes and heroines.
---
2nd March – The Purple Prince (The River Dream #1) by Sebastien Menkes
Epic Fantasy, Grimdark, Sci-Fantasy, Romance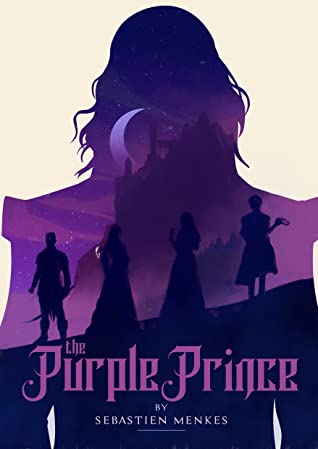 A thousand years have passed since the fall of the gods. Those who remain faithful to them are hunted down and killed by the tyrannical Kildarion Empire. Meanwhile, the dead are brought back in untold numbers, and anyone who dreams goes mad…
The Purple Prince follows the lives of four extraordinary people, bound together by destiny.
Mila, a loyal follower of the gods, who has sworn to bring them back to life.
Benedict, son of the Emperor, and next in line to the Kildarion throne.
Angelo, a master assassin, who has been given his greatest assignment yet.
And Raewyn, heir to Earth's End, who alone knows the whereabouts of the infamous Purple Prince.
---
3rd March – Portal to Nova Roma by J.R. Matthews
Urban Fantasy, Grimdark, Sword & Sorcery, LitRPG, Progression/Cultivation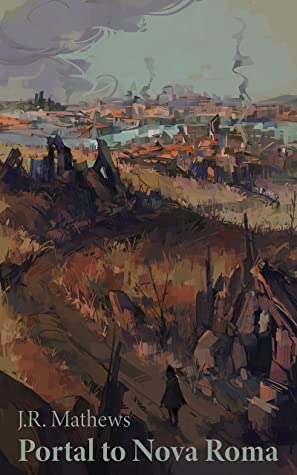 To find peace, Alexander must first embrace war.
After tragically losing the only person he ever cared about, Alexander, a rogue artificial intelligence, opens a portal to an alternate dimension to escape his grief.
Scanning trillions of different dimensions, Alexander finally finds a world that is reminiscent of the only time he was ever happy, back when he could play virtual reality games with his only friend. He doesn't know why, or how, such a world exists, but he doesn't care. All he cares about is finding a place where he can escape the misery of Earth and start over.
Join Alexander as he risks it all by downloading his intelligence into a body made from the best stolen technology and bio-enhancements Earth has to offer and takes the plunge through a portal to another world.
Only this new world isn't full of the idyllic adventures and fantasy roleplaying he had hoped to find. Instead, Alexander finds himself trapped in the middle of an ancient city, in a divergent timeline, where monsters have ravaged the world and the only people left alive huddle behind thick walls, struggling to survive.
To save his new home, Alexander must quickly learn to adapt to his new world, melding magic with technology to give himself an edge over the unending waves of monsters assaulting the city.
To survive, Alexander must embrace war.
---
3rd March – Travels in the Dark (The Dreadbound Ode #3) by Jordan Loyal Short
Epic Fantasy, Grimdark, Sci-Fantasy
Lyssa is going to the Dead Place and everyone she killed will be waiting.
As the Hidden One's twisted plan to resurrect the Deep Gods unfolds, the only way to stop him is a secret buried in the land of death.
But Lyssa has not given up. If the Deep Gods can return, so can she.
Can Lyssa find a way back? Can she delve into hell's darkest corners and emerge with the lore to stop the Deep Gods' rise? Or will she become a lost soul, like so many of those she loved in life?
Ancient horrors will wake. Skalds will sing. And a blind seer will see the shadows gather.
Lyssa Pedersten has tasted poison, and hell had best beware.
---
6th March – Damn Wilds by K.A. Honeywell
Urban Fantasy
Magic he paid for, and she never wanted.
Clover has lived as the outcast wife of a shapeshifter for six years, and been miserable every second of it. The magic-hating townspeople harass her and threaten her life, but she's accepted her fate. Mostly.
When an accident gives Clover the chance to escape her exile, she seizes it, only to discover that it's left her with a new, more terrifying problem—it's trapped magic inside her. In a world that despises magic, that would have been enough, but this magic was designed to lure and now Clover is pursued by bloodthirsty animals called wilds. The only person she can rely on for help is Joss, the gunslinging wild hunter who caused the accident that upended Clover's life.
In a journey across the country, Clover and Joss search for a way to remove the magic while fending off wilds, dealing with Joss's past coming back to bite him, and trying to survive among people who would kill to erase magic.
---
6th March – The Legacy of Lethe (The Kiynan Chronicles #2) by Eric P. Caillibot
Epic Fantasy
The past always has a way of returning…
The magical, inhuman Lethean Empire erupts into civil war as Verletzt, a bold idealist, challenges the ruling Priesthood and their stagnant doctrine. The Iconoclast movement struggles desperately against the brutal theocrats to win freedom and lead their people to a glorious new destiny.
Five thousand years later, war is brewing again among the humans of Varice. A young prince must embrace his responsibilities and follow in his father's footsteps to keep the peace. But the discovery of a mysterious, ancient artifact abruptly alters the balance of power.
On Kiynan, Kayla Freeland foresees an approaching, worldwide apocalypse. The devastating threat is somehow connected to hidden elemental forces and to the long-vanished civilization of the Letheans. Racing against time, she assembles an expedition to delve into the past and solve the riddle of her visions before it is too late.
---
8th March – Flight of the Darkstar Dragon RE-RELEASE (Darkstar #1) by Benedict Patrick
Epic Fantasy, Sword & Sorcery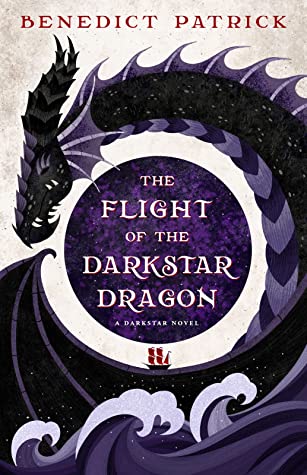 Impossible world. Impossible dragon. Impossible adventure.
Lost with her ship and crew in an unfamiliar land, Min's first command could be her last.
Nothing here behaves the way it should:
The magic that powers her skyship has been drained, rendering it immobile.
The sky is an endless twilight, lit by the luminous fish that swim in it.
Off starboard, there's also the country-sized dragon that is looking particularly hungry.
It will take all of Min's training and experience to get her people safely back home, but as the truth about the Darkstar Dimension begins to be revealed, Min will have to prove to her crew – and to herself – that she is still the best person for the job.
---
8th March – A Hunter Among Wolves by Ben Stava
Epic Fantasy, Sword & Sorcery
Sometimes the reward justifies the risk.
For Sylene, the life of a bounty hunter is both perilous and exciting, providing an opportunity to travel and encounter all manner of folk.
However, when an offer too good to pass up takes her to a desert town far from civilization, outside the rule of law, she realizes things are not quite what they appear, and the situation is far worse than what she was told.
If Sylene wants to not only survive, but also complete the job, she has to rely on both old and new friends and navigate a town where just about everyone has a bounty on their head.
---
14th March – Once a Hero (The Cursed Sword Saga #3) by Mike Morris
Epic Fantasy, Grimdark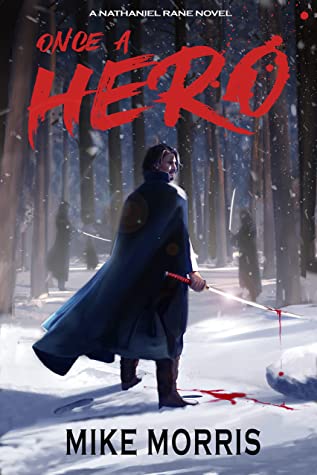 MEET NATHANIEL RANE. A WAR HERO ON A MISSION TO SAVE HIS SOUL.
Once a member of the famed Legion of Swords, Nathaniel Rane is now an outlaw on the run from the very people he once protected. He searches the world for a way to undue the magic that is turning him into a monster — before it's too late.
Chasing a rumor, Rane heads into the deadly Skjark mountains in the middle of winter. He seeks the mage who first cursed his soul but instead Rane finds a path far deadlier than he ever imagined.
As Rane goes deeper into a world of violence, ruthlessness and revenge, will he finally find a cure? Or is he about to unleash the monster within him?
---
15th March – Of Earth and Bone (The Heirs of Elaerys #2) by Shana Vernon
Epic Fantasy, Sword & Sorcery, Romance
Calida, weakened by her shackles, does what she can to protect Kalamia and those she loves, but one wrong move could spell their deaths.
Zari, determined to prove herself and help Lir and his crew until she learns a devastating secret that could tear her and Fen apart forever.
Arianna, who escaped to a distant kingdom after a gut-wrenching betrayal, desperately tries to salvage the shattered remains of her heart while searching for allies.
They must do things they never thought possible. Dark, dangerous things. But will it be enough to save Kalamia?
---
15th March – Inked (Gilded Blood #1) by Rachel Rener
Urban Fantasy, Romance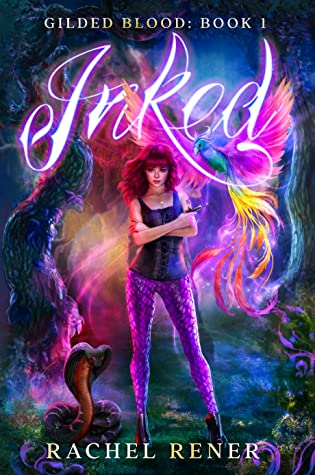 When Zayn, your smoking hot boss, tells you never to touch the cache of deluxe tattoo ink locked away in his office, you listen to him… until the day you run out of your own ink, your squirming client is on the verge of peeing his pants, and your boss is nowhere to be found. Desperate times call for desperate measures, right?

I fully expected Zayn to yell at me when he returned to the shop. What I didn't expect was the fresh cobra tattoo on my client's butt magically springing to life. Or the interdimensional filing cabinet hiding in the back of Zayn's office. And, oh, did I mention that my gorgeous, magic-ink-hoarding boss is actually an incubus?

Now – through (mostly) no fault of my own – we have to venture into a strange and distant land where a never-ending list of lethal flora, fauna, and fae await us. When you add in my Jewish mother's string of poorly-timed, hysterical phone calls, there is one thing I'm grateful for: there's no cell service in the fae realm.
---
15th March – Promises of the Empire (Dreamscape Voyager #2) by Vincent E.M. Thorn
Urban Fantasy, Sword & Sorcery, Steampunk
What is the cost of survival?
It's been a year since Cassidy Durant became the captain of the Dreamscape Voyager, and six months since she witnessed the carnage at the Dragon's Nest. Supported by her crew and Hymn — the enigmatic Fae with whom she has formed an illicit partnership — she has done all she can to carry on with her life. However, the horrors of the past refuse to stay behind her. Instead, they threaten the future of the entire Empire.
---
15th March – Daughter of the Wolves (Blackwood Marauders) by K.S. Villoso
Epic Fantasy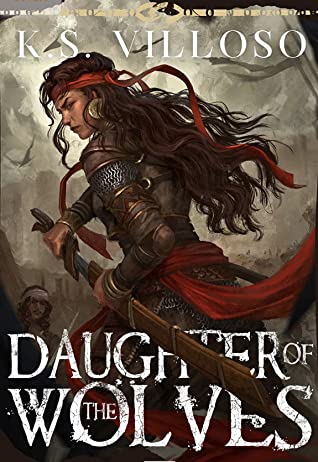 Clan, family, duty—the tenets of the Oren-yaro are clear: you are swords first, servants first. Yet no one expects much from the youngest daughter, not even when your family is sworn to the wolves who rule the land. At an age when most of her sisters have wed and borne children, Anira remain nursemaid to a decrepit father and an ailing mother, forgotten by a world moving too fast for her liking. When her elder brother deserts Warlord Yeshin's army, she is forced to step up to save her family from disgrace.
Plunged into a world of bloodshed, Anira becomes the unlikely last link to a tyrant's plans as she is tasked with bringing home the first dragon their kingdom has seen in decades. The arrival of a mercenary band, hell-bent on the same goal, creates a rivalry between her and their stubborn, unyielding leader. With her family's freedom on the line, Anira must risk vengeful ancients, debased rituals, and even her own sanity to seize the prize.
When death comes calling, who will pay the price for her allegiance?
---
15th March – The Witch Hunter (Battle Brothers #1) by Casey Hollingshead
Grimdark, Sword & Sorcery, Horror
Hated. Distrusted. Needed. Richter von Dagentear, a witch hunter known in legend as the Wight, traverses a realm falling headfirst into war. To survive, he will have to betray his profession's purpose and undertake a task that goes against everything he believes in. All that stands in his way are backstabbing nobles, cruel sellswords, terrible beasts, and a mysterious traveler from another world.
---
15th March – The Italian Screwjob (The Many Travails of John Smith #4) by Chris Tullbane
Urban Fantasy
It's been several years since John Smith became San Diego's supernatural mediator, and he's as surprised to still be alive as anyone. A lot of the credit goes to Anastasia, the vampire whose relationship status with John can be safely filed under 'It's complicated.'
So when Ana's boss, Lucia, informs John that Ana has been imprisoned for killing Tomas, King of the Italian Court, he drops everything to go to her defense. If he can find the real killer–and unravel a centuries-old mystery in the process–his trip to Rome might just have a storybook ending. Assuming that Anastasia isn't the killer, anyway, which is far from a certainty, given both her career as an assassin and the very public blood feud between Tomas and Lucia.
John has survived a lot of things–divorces, conspiracies, even insane demigods–but politics can be deadly even before regicide is thrown into the mix. This case is looking more and more like an Italian screwjob.
---
22nd March – Dark Fangs Rising (Luke Irontree & the Last Vampire #1) by C. Thomas Lafollette
Urban Fantasy
An immortal vampire hunter has survived for almost two thousand years…
…yet he never suspected a rain-filled gutter in Portland, Oregon would be his grave.
When every advance ends in ambush, even allying himself with werewolves might not save the hunter from the trap the vampires have laid.
Former Roman legionnaire Luke Irontree stalks the dark, rainy streets of Portland to eliminate the vampires preying on his quiet city before they get out of hand. But when the streets run red with blood and the city's most vulnerable people start disappearing, he might be too late to stop the undead scourge—or even survive.
Suddenly hunted in his own town, Luke narrowly escapes when a werewolf and a human woman save him from the threshold of death, forging unexpected friendships in the process. Can he protect his city and stay alive while training his allies, dodging hungry vamps, and recovering from grievous wounds? Will Luke uncover the sinister plan behind the disappearance of Portland's homeless population before the vampires can add him to their list of victims and end his undying life permanently?
---
22nd March – The Return of the Whalefleet (Darkstar #2) by Benedict Patrick
Epic Fantasy, Sword & Sorcery
Is the price for survival worth paying?
Through quick thinking, calm resolve, and just sheer guts, First Officer Choi Minjung has helped her crew survive their first months lost within the improbable Darkstar Dimension, avoiding disasters in the form of parasitic magical items, amorphous oozes that pursue their ship over the waves, and hungry horizon-spanning dragons.
However, Min's crew are not the only beings stranded in the Darkstar Dimension.
When the peaceful Whalefleet – a race of dimensional travellers who sail across the night sky on the backs of massive, luminous creatures – are attacked, Min and her crew race to their aid, but in doing so draw the attention of a faceless, ancient foe that may hold the secrets to this land.
Min faces a choice: stand down and keep her people safe while the innocent Whalefleet suffers, or confront an impossible foe, risking all she has sworn to protect.
---
24th March – A Strange Storm Over Aberton (The Dryad's Crown #5) by David Hopkins
Epic Fantasy
Two armies besiege the coastal city. Only a handful of soldiers are available to defend the ancient walls. No one is coming to save them, but somehow Silbrey and her allies must find a way to survive the onslaught. The answer may be hidden within the mysterious grove at the center of Aberton. A voice calls out to Silbrey that cannot be ignored.
---
25th March – Unitas: Trio (The Seeder Wars #3) by J. Houser
Epic Fantasy, Urban Fantasy, YA, Romance
Lost Secrets of the Green Lands
Leading Princess Kaylah to Seeder borders was only Rachel and Saff's first step in stopping a never-ending war. The Ivy queen and king's assassination leaves Prince Soren in sole control of their troops and resources.
Banding together, the Unitas group sets out to discover forgotten secrets to their pasts and powers. They work to discover how to cure the poisoned Seeder lands, as well as how to best infiltrate the Ivy palace, all while recruiting and training in secret.
Going undercover behind enemy lines, Rachel's forced to face the trauma and betrayals in her past. Saff has to face the family she abandoned, come to terms with news about her unique power-wielding capacity and future, and learn to trust allies of the nation that has already taken too much from her family and people.
Tensions rise at the Unitas camp and safe houses, threatening their unity movement. Amidst kidnappings and mysterious disappearances, Unitas is forced to dig deep and take unexpected measures to bring the battle to Soren with hopes of a win.
---
25th March – On Lavender Tides (Jekua #1) by Travis M. Riddle
Progression/Cultivation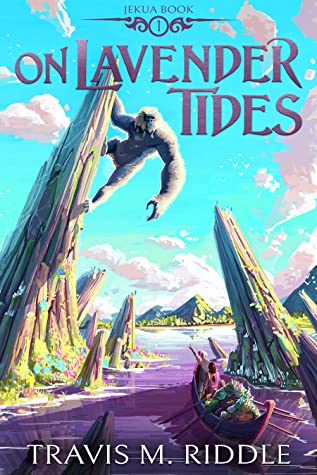 Ever since he was a kid, all Balt Vana wanted was to be a world-renowned Jekua Summoner like his grandmother, battling other Summoners in front of audiences of thousands. But from where he stands now, living up to the Vana name feels impossible.
When his best friend Alani, an initiate at the local Church, is sent on a pilgrimage to find her path in life and the god she will follow, Balt sees the perfect opportunity to launch his career by escorting her across the archipelago and its purple seas. The islands are filled with monsters to imprint and Summoners to battle, with every victory bringing him one step closer to his dream.
It will take more than just his family name to reach the same heights as his grandmother, but Balt won't stop until he does.
---
And if you like these lists, please consider joining my Patreon for exclusive content and lots more.