If you would like to be kept up to date with the upcoming lists, please subscribe to my newsletter by clicking this link. I don't send out letters too often, pretty much once a month when this list goes out… and occasionally if I release a book or something.
As always, this is not a comprehensive list, but only includes all the books I have heard about so far.
If you have a fantasy novel you are self publishing in July or beyond, let me know either in the comments, or by emailing me, and I shall add it to the page. There are but 3 requirements:
1) It must be a self published fantasy novel.
2) It must have a Goodreads page.
3) It must have a cover.
---
30th June – The Pillow Knife (The Thrice-Crossed Swords trilogy #2) by A.M. Steiner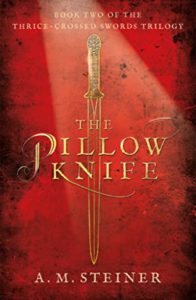 The day of reckoning draws close.
Miranda Solitaire, first lady of the Convergence, would risk anything to avert the crisis she helped to provoke, but the Grand Duchess has other plans in mind. How can Miranda save the Unity from the threat of wild magic if she can't even save herself?
Daniel returned to Bromwich expecting triumph; found only pain and sorrow. A censor, badged and bladed, he carries the law's command. But what use is that when your brother is a terrorist, and your master is your enemy?
Gangsters, lawmen and rebels: Jonathan lost everything in the conflict between them. But everything happens for a reason. He thinks he's found an answer in the Gods. Or have they found an answer in him?
---
30th June – Legacy of the Curse (The Kyona Chronicles #4) by Deborah Grace White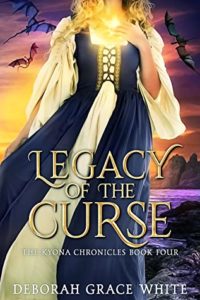 Jocelyn has always been afraid of her voice—now it might be Kyona's only hope
Princess Jocelyn spends her life in Kyona's court, afraid of the unnatural power her voice releases. With unexplained tension building around the freed slaves who returned from the South Lands twenty years ago, her power has never had greater potential for destruction.
So when an invitation arrives from neighboring Valoria, Jocelyn readily accepts, despite having no interest in the suggested marriage alliance.
The last thing she expects is for her journey to be interrupted by a handsome stranger and a dragon from her father's past. But while the quest to find Elddreki's lost kin keeps Jocelyn in Valoria, a dangerous enemy works to destroy Kyona from within. And Jocelyn's voice might be the only thing that can save her kingdom.
---
1st July – Tyranny and Villainy (Legends of Regalia #1) by Zaid Samer Alshattle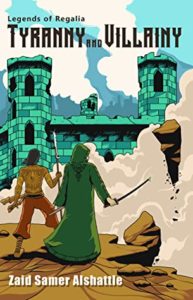 Dust, smoke and flames. Such was the merciless existence for most in the sun-touched cities. For most, survival was their paramount aspiration.
Jorish was no different, living pointlessly and without purpose. Yet he held his dreams, clutching at his only treasure. A book that spoke about stories of heroes and villains who have reached the peak of power, becoming legends.
Until he met the Travelers.
Now, his entire life will be turned as he travels the world,meets legends and visits locations that he had only dreamt about. Going on his journey until the day, he would join the pages of history itself.
---
4th July – Ad Luna by Huw Steer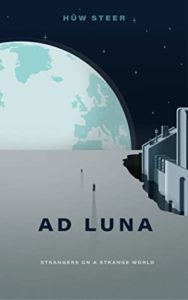 The Moon is on the brink of war.
Alexander Dio, an officer of the Vulture Dragoons, flies in defence of the Lunar people against the monstrous armies of the Sun. He is ready for war – or at least he thinks he is.
But when Dio's patrol finds a crashed ship out in the Sea of Tranquility, his life is turned upside-down. Because the ship is not from the Moon, and its captain is unlike anyone he's ever known.
His name is Lucian, and he comes from the Earth.
---
5th July – A Locket of No Particular Significance (The First Book of Weskerlee) by Florien St John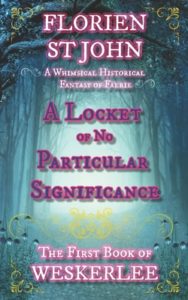 Can a GOOD Faerie turned BAD ever turn GOOD again? Higher Faerie has banished unworthy Lesser Faerie from The Other-Lands. Like it or not, the human realm of The Middle Counties and The Wild South is besieged.When bookish Alisanne Frochard, a Vigilant apprentice studying Faerie Lore at Weskerlee Folly is tasked to track down a mischievous Dark Faerie alongside her handsome Captain whom she may or may not admire more than she ought, she hopes to prove herself worthy, or at the very least, tolerably capable.Jasper Wintergreen and Faerydae Ib, two elite Nobles from Faerie, both hard-pressed to contain their natural proclivity for expressing excessive and elaborately ebullient expostulations, are unbeknown to the Vigilants, watching over them.There's a Half-Faerie orphan if we are to believe what she says and she is never ever where she is thought to be. There is a riddle, heartrending lost love, a prologue, an enchanted locket and a blue feather in a hat worn for luck. An almost Regency period historical fantasy of manners where the wit appears larger than the plot holes and where becoming lost in a fog in a bog somewhere east of Whirrel is only of concern during Autumn.
---
6th July – Og-Grim-Dog and the Dark Lord (Me Three #2) by Jamie Edmundson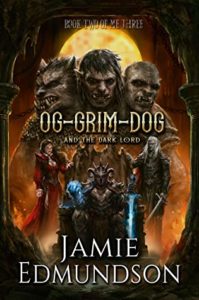 From Hero to Villain
What does a three-headed ogre do when they are banned from being a hero?
Why, apply to be a henchman of The Dark Lord, of course.
Prepare yourself for a story of evil plans and dark deeds, as Og-Grim-Dog find out whether a life of villainy is really all it's cracked up to be.
---
7th July – Of Dragons, Feast and Murders (Dominion of the Fallen #3.5) by Aliette de Bodard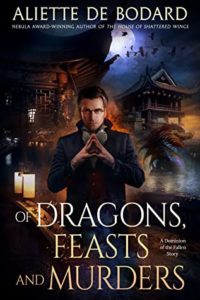 Lunar New Year should be a time for familial reunions, ancestor worship, and consumption of an unhealthy amount of candied fruit.
But when dragon prince Thuan brings home his brooding and ruthless husband Asmodeus for the New Year, they find not interminable family gatherings, but a corpse outside their quarters. Asmodeus is thrilled by the murder investigation; Thuan, who gets dragged into the political plotting he'd sworn off when he left, is less enthusiastic.
It'll take all of Asmodeus's skill with knives, and all of Thuan's diplomacy, to navigate this one—as well as the troubled waters of their own relationship….
---
10th July – The Shattered Seagull (The White Chronicles #2) by J.E. Thompson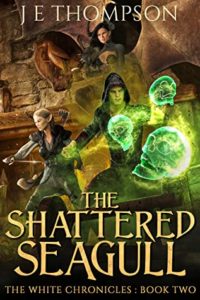 Despite their dubious successes in the past, Vexx and his two companions find themselves back where they had started: penniless and scrounging the streets of Cloudbury for menial work.
When they chance upon what seems to be a simple delivery quest to Golden Streams Landing, Vexx accepts it with no hesitation. But what Vexx doesn't realize is that the roads leading to the city are treacherous, and that there are powerful enemies basic fire magic and rudimentary necromancy can't defeat.
---
13th July – Haven of Smoke and Shadows (Light and Fire #3) by Ginger Li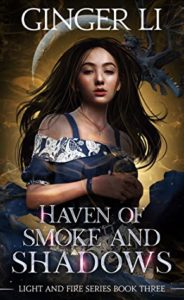 Sometimes first loves were never meant to be…
Lia reveals her true feelings to Kieren—only to have him break her heart. Now, worlds away, high school and homecoming loom ahead. And somebody new is making a play for her heart.
Kieren almost lost Lia once. Struggling to maintain control over his inner dragon, he believes he's done the right thing in pushing her away. But when he tries to bring Lia back to Solair, Kieren comes to realize he might have made the worst mistake of his life in letting her go.
With the threat of the World Eater growing daily, the distinction between friend and foe blurs. Will Lia and Kieren face the destroyer of worlds together? Or will misunderstanding and betrayal tear them and their worlds apart?
---
14th July – Warriors of Blood and Shadow (The Silent Champions Box Set #1) by Andy Peloquin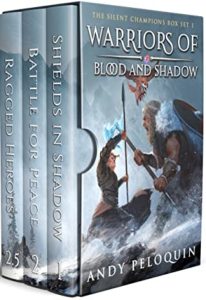 A vast barbarian horde is on the march. One hardened captain and his elite commandos are the only hope of salvation…
The lone survivor of a brutal massacre, Captain Aravon fights to honor and avenge those who died under his command. Burning for vengeance, he leaps at the chance to spearhead a specially-trained company and pay back his tragic defeat with blood.
But enemy forces lurk in every shadow, outnumbering his soldiers thousands-to-one and threatening to turn Aravon's mission into his final downfall.
One soldier must stand against impossible odds and turn the tide of battles doomed to defeat. If he fails or falters, the barbarous invaders will drown his realm in fire, ashes, and death.
---
20th July – A Testament of Steel by Davis Ashura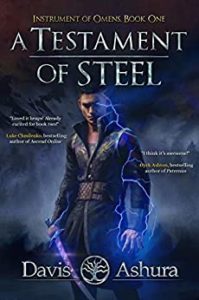 A young man with no past must progress into a warrior out of legend.
Cinder Shade's life begins on a fateful afternoon at the bottom of a well where he awakens, bruised, battered, and bereft of all memory. His only understanding is a driving imperative—to protect those who can't defend themselves and become a warrior worthy of the name.
He discovers within himself a peculiar gift, one in which the codes of combat are made evident and the language of steel is made clear. When he earns a place at a prestigious elven warrior academy, Cinder fights to enhance his knowledge and perhaps even humble the proud elves who believe no human is their equal.
His hard-earned skills are put to the test when strange rumblings emanate from deep in the Dagger Mountains. Monsters out of myth emerge. And so does something far worse.
---
24th July – Sanctity of Steel by Jonathan Farnham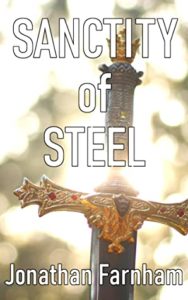 Durgaroth is dead. The evil oppressor was killed in the destruction of the Kavenor fortress.
Five years has passed, and the people of nearby Hamazhar are picking up the pieces. Crime is on the rise, people are starving, and the peace sought after is tenuous at best. The five knights who escaped the devastation of Kavenor have gone their separate ways, as they deal with the trauma in their own manner.
Emerson, the former leader, wakes to find a murder right under his nose. The victim has had their life essence drained from the body, mummifying it—a telltale sign of the magic Durgaroth once wielded.
Rumors spread faster than a wildfire in the large city of Hamazhar, and Emerson has to work fast to find the truth. The past is a dark and complicated web, where the ties he once held are weakened or broken. His list of allies are smaller than before, and the city is becoming a powder keg, ready to blow.
It is a twisting course between friendships, political associates, and the church of the Divine that has banned all magic. Who can he trust? And what does it mean when more bodies start to show up?
---
30th July – The Dragon Flute (Daughters of Fire & Sea #2) by Holly Karlsson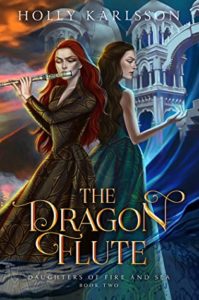 Betrayed by their allies and separated by powers beyond their control, Lyric and Runa will not be broken. Dragons once again fly the skies, but these powerful creatures of legend have been transformed into killers. Driven mad by dangerous magic, the dragons are burning their way across the land, driving Erith further into chaos.
Separated and forced to trust new allies, will the sisters find a way to restore the dragons' sanity and heal the Taint before it destroys Erith? Or will the world be overtaken?
---
31st July – Worldbuilding for Fantasy Fans and Authors (Forging Fantasy Realms #2) by M.D. Presley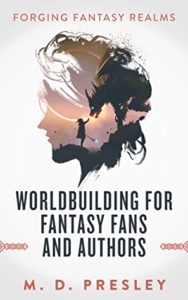 Worlds can exist without stories, but fantasy stories cannot exist without a vibrant and enthralling world. But what makes a good fantasy world?
Be you a top-down planner, a bottom-up pantser, or a fantasy fan experiencing the worldbuilding from the inside-out, this comprehensive guide has you covered. Adopting a "tools not rules" approach, you will discover dozens of worldbuilding strategies.
---
Space for more…