It's almost July already! Where has the year gone? In the past 6 months I've been doing these lists, I've let you all know about over 100 new self published releases coming your way. So here's to another 6 months and even more books!
As always, this is not a comprehensive list, but only includes all the books I have heard about so far.
If you have a fantasy novel you are self publishing in July, let me know either in the comments, or by emailing me, and I shall add it to the page. There are but 3 requirements:
1) It must be a self published fantasy novel.
2) It must have a Goodreads page.
3) It must have a cover.
25th June – Guild of Tokens by Jon Auerbach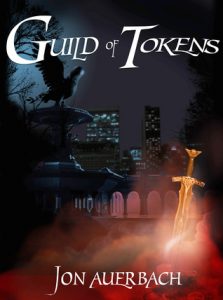 She wants to level up her humdrum existence. But her next quest could spell life or death.
All Jen Jacobs has achieved in life is loneliness. So when she stumbles across a real-life game of epic quests on the streets of New York, she jumps at the chance for some excitement and gold tokens. Little does she know that the items she strives to collect hold a darker purpose…
After a particularly harrowing quest pairs her up with Beatrice Taylor, a no-nonsense and ambitious mentor, Jen hopes she's on the path to becoming a big-time player. But as she dives deeper into the game's hidden agenda, she realizes Beatrice has her sights set on the Guild, the centuries-old organization that runs the Questing game. And the quests Jen loves are about to put both of them in grave danger.
Will Jen survive the game before powerful forces cut her real life short?
25th June – Fortune's Fool (Eterean Empire #1) by Angela Boord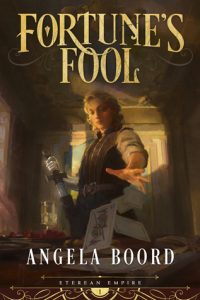 A secret affair. A disfiguring punishment. A burning need for revenge.
Kyrra d'Aliente has a bad reputation and an arm made of metal. Cast out of the safe and luxurious world of silk to which she was born, played as a pawn in a game of feuding Houses, Kyrra navigates a dangerous world of mercenaries, spies, and smugglers while disguising herself as a man. 
War destroyed her family and the man she loved. Vengeance is within her grasp. 
But is she willing to pay its price?
1st July – Wisdom Lost ( Pandemonium Rising #2) by Michael Sliter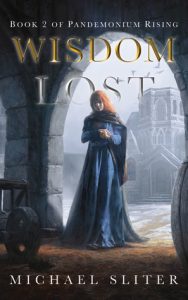 Ardia is fractured, torn apart by civil war initiated by deceit. Florens has fallen, and the rebel army of Lady Escamilla has been scattered by the Feral. Little stands in the way of the Rostanians and their ruthless rulers seizing the entire country. Amidst this rising conflict, four people seek to stem this tide. Or, to simply survive.
Fenrir, also called the Bull, Coldbreaker, Dukeslayer, and sometimes bastard, has the worst kind of luck. Instead of being dead, pierced by a dozen swords, he finds himself under the control of the most horrible person he knows: his father. And an unwelcome family reunion is made more unpleasant as clandestine and legitimate powers vie for the rule of Rostane.
Meanwhile, Hafgan Iwan breaks an oath to himself—that he would never return home. The hallowed Wasmer city of Hackeneth is not welcoming, particularly as a new god has usurped the old ways. Hafgan is torn between the world he once knew and the one he has created for himself.
Leading the exhausted and haphazard remnants of a rebel army, Lady Emma Breen seeks allies across the border, in the crumbling city of Farrow's Hold. But when faith clashes with politics, can a faithless former handmaiden hold them all together?
And Merigold Hinter travels across oceans to the fabled Agricorinor with a wish and a warning. The wish? That she may understand her powers and take revenge. The warning? The Feral are coming, and they will tear out the throat of the world.
9th July – Darkblade Guardian (Defenders of Legend Omnibus #2) by Andy Peloquin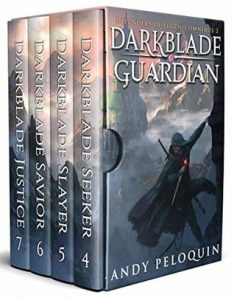 The Hunter may be only one who can protect a boy in need. As rival demons clamor to recruit him to their devious purpose, he wields his blade solely to atone for his bloody past. But with a killing curse buried in his soul, his struggle to restrain his evil urges could cost the lives of those he's sworn to protect.
As the Hunter's craving for slaughter rages, the young ward he's grown attached to falls victim to a form of inherited mind-corrupting magic. And the only way the Hunter can pull him back from the brink of insanity is to unlock an ancient city's dark, deadly secrets.
15th July – Dust of the Darkness (Riven Realm #2) by Deck Matthews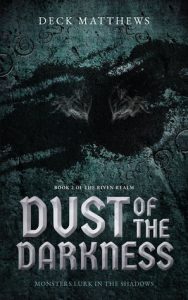 Fleeing the ruins of his broken life, Caleb Rusk arrives in the sleepy village of Timberford. But when a series of vicious attacks stir the community into a terrified frenzy, Caleb and his friends must join with his bound-brother, Carvesh Tarne, to defend the village from the monsters lurking in the shadows.
Meanwhile, murder continues to plague the city of Taralius. While Avendor and Tiberius struggle to uncover the truth behind a dangerous conflict they're only beginning to understand, a new player is sent to join the game—and her's is a kiss of death.
19th July – Amarah (World of Linaria #3) by L.L. McNeil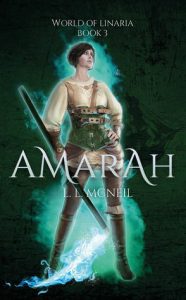 'This treasure'll make us richer than any Goldstone. All the sky pirates in Estoria, Val Sharis, heck, in all of Linaria would be on their way here if they knew where here was.'
With rampaging dragons and marauding Arillians dominating Linaria's skies, Amarah's quest for vengeance against the one who took everything from her seems almost impossible.
When a treasure hunt with a former ally leads to the discovery of a lost Varkain artefact, she's plunged into the middle of an ancient war between Sevastos dragons, Varkain blood magic, and those who crave these powers for themselves.
Amarah wanted revenge. What she uncovers will change the face of Linaria forever.
21st July – Steel (Kalima Chronicles #3) by Aiki Flinthart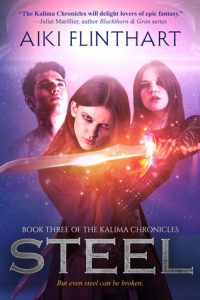 Even steel can be broken. 
Mamlakah is once again on the brink of war, this time over who sits on the throne. Alere, Jarran, and Mina race toward Madina to claim Jarran's inheritance as Jun First. And with a Weishi House kill-contract on her head, Alere must unlock new yanstone powers – which lead her further down a destructive path Mina cannot condone.But Nasra Connor and Jun Fourth Hassan Wen-Gates reach Madina first, and they pave the city's streets with blood to secure the throne. Xintou House's students and Bonded Xintou are murdered. Mistress Li, the two Jun Seconds, and Jarran's daughters are imprisoned and slated for execution.
Even if Alere can reach Madina in time to prevent the executions, her fighting skills are no use against Nasra and Rohne – the two most powerful Xintou in existence. Her only chance is if she and a reluctant Mina can master the yanstones. But Mina is unwilling to use the yanstones' brutal powers against her old friends. 
So Alere will gamble her mind, her life, and the sanity of everyone she loves on one, dubious, chance of victory. If she can't prevail, Kalima will be subjugated beneath the steel will of the strongest xintou in history. 
All chance of freedom… lost.
22nd July – Riwenne & the Bionic Witches (Divine Warriors #2) by Kristen S. Walker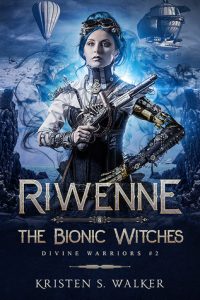 No friend left behind.
Riwenne escaped the floating city with her life and most of her friends, but one loss haunts her nightmares. If only she could save her sister. But she's out of magic, and nowhere is safe for the divine warriors. Defying the Empire put a price on their heads. With nothing but an airship and a few gods on their side, they need a new way to fight back!
The sun goddess is arming bionic witches with blood magic. Riwenne's talking bird mentor, Tika, says the only magic that can stop the sun is the moon goddess. But the moon goddess was banished and even her name is forbidden. Riwenne must search for ancient clues to free the moon and get her powers back.
She's not afraid to fight, but the battles are getting fiercer. She can't let her broken heart get in the way. Sooner or later, she'll have to face the one person she dreads—and this time, death is the only way. But can she live with herself if she becomes a killer?
30th July – Deadliest Bidder (Nick Teller #2) by Alan Brenik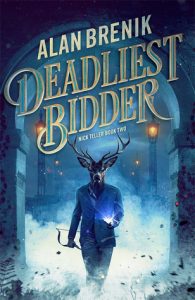 Some debts can get you killed.
Nick Teller has spent his entire adult life hiding from other arcanists, living in fear of the ruthless Society of Arcanists and other rogues alike. He's strived to build a quiet life for himself as a lecturer at King's College London, softening the edges of his upbringing, but when the Prime of the Society calls in a debt, Nick is dragged back into that world he's tried so hard to leave behind.
Prime Ascrid orders Nick to infiltrate an exclusive auction reserved for the most dangerous rogue arcanists in the world, where the prize is worth killing for and the bidding can be lethal. Nick will need to sharpen his edges and stay two steps ahead of the competition if he's going to get his hands on the prize.
But with the Prime's Járngrimr bodyguard watching his every move, a game-obsessed godling running the auction, and rogues circling like sharks, it's going to take everything Nick has just to survive.
In a world of rogues, where every face hides an agenda and every smile a knife, Nick knows that the slightest misstep could get him killed, and that often the deadliest knife is the one you don't see coming.
July – Where Loyalties Lie AUDIOBOOK by Rob J. Hayes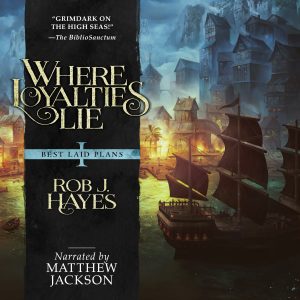 Everybody knows Drake Morrass is only out for himself.
As the fires of a dying city burn on a distant shore, Drake sees an opportunity to unite the other pirate Captains under his flag and claim a crown for himself. If he is to succeed he will need allies and the Oracle named Keelin Stillwater, the best swordsman in the isles, as Drake's right hand.
With enemy ships sailing his waters and setting fire to his cities, and the sinister Tanner Black threatening to steal the throne before Drake has even sat in it, Drake must somehow convince the other Captains that his best interests are also theirs.