If you would like to be kept up to date with the upcoming lists, please subscribe to my newsletter by clicking this link. I don't send out letters too often, pretty much once a month when this list goes out… and occasionally if I release a book or something.
As always, this is not a comprehensive list, but only includes all the books I have heard about so far.
If you have a fantasy novel you are self publishing in January or beyond, let me know by filling out THIS FORM, and I shall add it to the page. There are but 3 requirements:
1) It must be a self published fantasy novel.
2) It must have a Goodreads page.
3) It must have a cover.
---
28th January – Whims of the Mighty (The Power Yet Wielded #2) by Chad Retterath
Epic Fantasy, Sword & Sorcery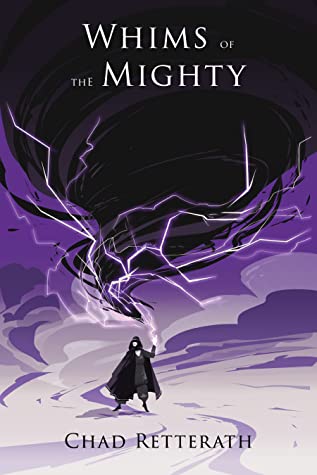 The Bone Knight has fallen.
With Neptor locked away, peace has come to Brunta and Ta-Veer. The kingdoms work together to construct a university for mages of all skill levels. but as they move forward in harmony, the mysterious cult known only as the Brothers of Flesh spreads across the world.
Even while contained, Neptor, the Bone Titan, stirs in its slumber.
---
30th January – The Heroic Age: A Mortal Techniques Boxset by Rob J. Hayes
Epic Fantasy, Sword & Sorcery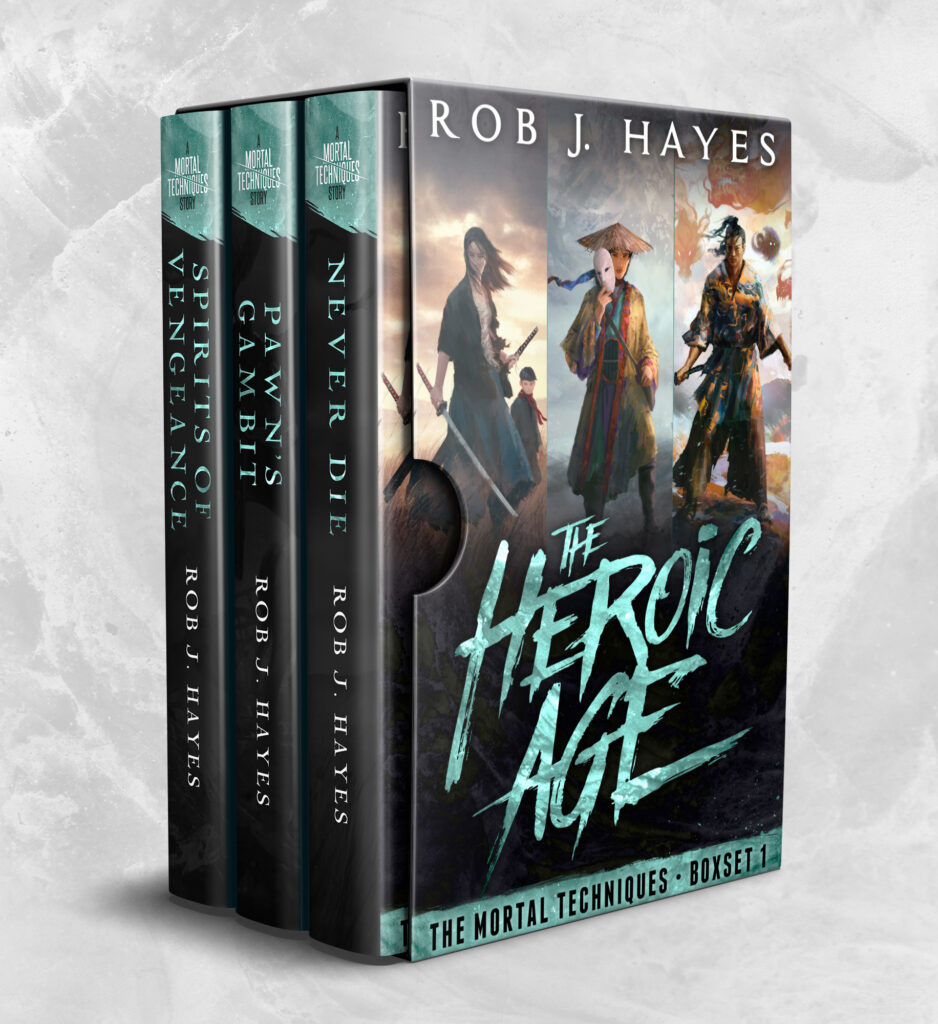 Includes all three books in the award-winning Mortal Techniques series.
Never Die
Ein is on a mission from God… The God of Death.
Time is up for the Emperor of Ten Kings and it falls to Ein, an eight-year-old boy, to render the judgement of the reaper. He can't do it alone, but luckily the world is full of travelling heroes. There's only one catch: In order to serve him, they must first die.
---
30th January – Stout by Taylor Small
Sword & Sorcery
Dysfunctional gothic couples. Duck-obsessed knights. Plungdugglers.
Rhev must face it all in a race against time across the length of the Peninsula. His quest: to deliver a package before his soul is taken from him. The road was always going to be bumpy, but Rhev might come away with what he's always wanted: the chance to be a hero.
---
1st February – Dirt King (Houndstooth #3) by Travis M. Riddle
Epic Fantasy, Steampunk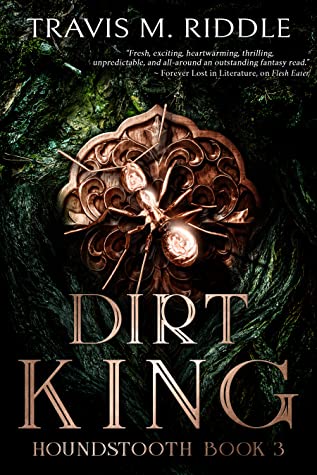 After unthinkable sacrifices, the Blighted have finally acquired all six ancient artifacts needed to re-seal the Houndstooth, keeping its dark energy at bay to save Ruska.
But everything they were told was a lie.
With Coal's newfound knowledge, they must now risk everything to reach the Dirt King's impenetrable Palace and attempt to undo centuries of turmoil that he has wrought upon the kingdom. If they fail, Ruska is doomed to wither away until only the Houndstooth itself is left.
But the immortal king possesses all of their magical abilities and more, making him the most powerful person in the entire kingdom. Do Coal and the others have what it takes to stop him, or is this cycle destined to continue until Ruska crumbles?
---
1st February – Flat Out (The System Apocalypse: Australia #2) by Tao Wong and K.T. Hanna
LitRPG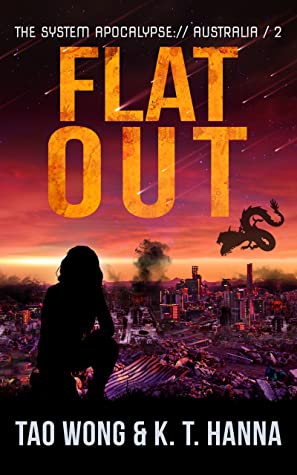 Parenting in the apocalypse is the worst
Two weeks into the System Apocalypse and the transformations are just beginning. Mutated insects, carnivorous toads and angry drop bears were not on the school curriculum; but when the apocalypse hits, you roll with it. Parenting a teenager has prepared Kira for the worst, she just didn't expect that to include the end of the world.
A menacing conglomerate of alien hunters is breathing down their necks and new threats lurk just over the hills. Kira and the rest of the Australian survivors of Brisbane must Level up, bolster defenses, and prepare for an incoming invasion none of them foresaw.
In-between all that, she'll need to keep her family intact and functioning. All in a day's work for a single mum, really.
---
1st February – Breachman by Chris Barker
Grimdark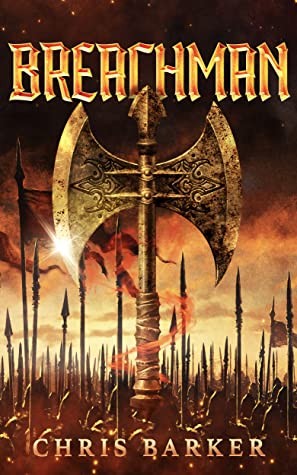 Join the Breachmen!
Volchak, Commander of the Breachmen, has spent a lifetime fighting. Now he has time for just one more war. But when you have to fight to find peace, how can it ever end?
With the advancements he has made in the art of anatomy, Stirc will perform miracles of medicine. If a few more subjects need to be sacrificed along the way, then so be it.
Kaelith is a dashing warrior, a soldier of fortune, a famed intellect and quite the looker. Or so he will tell you. But he's running out of friends, and is about to play the last trick he has up his sleeve.
And Flea? She is just happy to be alive. When you're a seventeen-year-old convicted murderer fighting for the Breachmen, being alive is something to hold on to.
The people of Yrfrite will soon be crushed under the boots of the Royal Guard. The rebel Duke can't stand against the might of the King's army and the ferocity of the Breachmen. Yet someone is pulling the strings of this conflict. Soon, something will change the fight forever.
---
2nd February – The Starlight Blade (The Twin Kingdoms #4) by Nancy O'Toole
Romance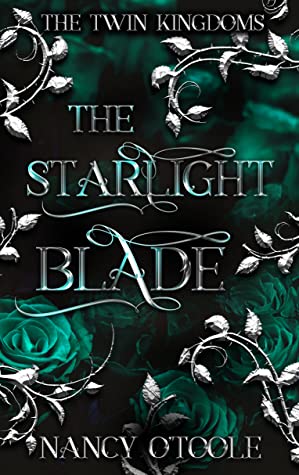 The Warrior Princess
Viola Verdis would do anything to protect her family. But what can she can do against The Mage King—an ancient enemy who hides in the shadows and uses others as pawns? With the royal family scattered for their own protection, it falls to Viola to protect her father, King Valient. But The Mage King's latest weapon has plenty of tricks up her sleeve.
An Assassin in Disguise
Rue regrets joining The Mage King in his quest to sacrifice the royal family. And now, his magic burns in her chest, tying her to his will. By day, she disguises herself as a kitchen maid, masked by her cloak of many furs. By night, she plans King Valient's demise, armed with the weapons of her late mother, Kelvia's most notorious assassin. Only one person stands in her way, the king's ever-present and infuriatingly beautiful daughter, Viola. Viola draws Rue in like no one has ever done before. But following her heart is impossible when she knows what she must do.
Spill royal blood, or die.
---
3rd February – Zephyr and Snow (Dragon Shifters' Hoard #2) by Eileen Mueller and A.J. Ponder
Urban Fantasy, YA, Romance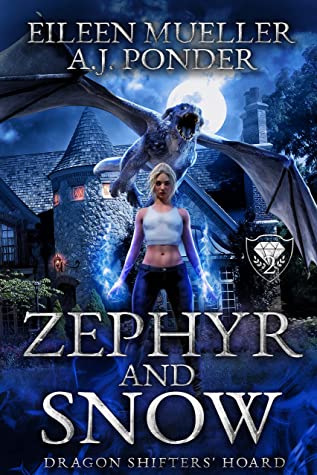 Trapped in the past and fighting to survive, Zeph and Snow discover a deadly truth. A truth that threatens to destroy everyone they love.
Zephyr heroically chases the mage who's kidnapped his parents through a portal. Desperate to help him, Snows leaps after her dragon shifter boyfriend. They're trapped in the past. Accused of witchcraft, Snow will be burned at the stake by sun up.
Panicked, Snow tries to shift into her draki form and fails. Injured by an arrow to the wing, Zephyr is powerless to help her. He watches, horrified, as the villagers prepare to light the pyre.
Their siblings Dante and Red escape the past, but they're hounded by police. As if that isn't bad enough, the Draki Council are flaming their tails too, blaming them for the missing dragon shifters.
Meanwhile, deadly Fae are closing a net around them and the shifters of Pinevale—plotting to enslave them all.
---
7th February – A Royal Ending (Adventures on Brad #9) by Tao Wong
Epic Fantasy, YA, LitRPG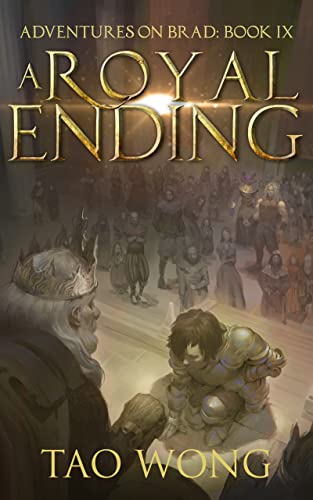 Can An Adventurer and a Prince Be Friends?
And can a Prince be an Adventurer? Those questions consume Daniel and his team, as their newest member tries to fit in. It's not an easy job, not among a bunch of experienced Adventurers, not when the Prince is impetuous and impatient to prove himself.
More than that, as they train, political forces long held in abeyance move in the shadows and Daniel and his team will be caught up in the play. In the end, Daniel will have to ask himself, how much will he sacrifice for a friend and fellow Adventurer?
---
8th February – The False Ascendant (The Menocht Loop #2) by Lorne Ryburn
Epic Fantasy, Urban Fantasy, Sword & Sorcery, Sci-Fantasy, Progression/Cultivation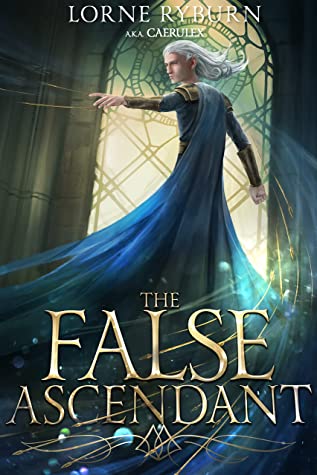 Ian beat the system, but he'll quickly learn the real world wasn't as safe as he remembered.
Threats are rising, placing Ian in the crosshairs of global conflict. Reunited with an old ally from the loop, he must prepare to take part in an international tournament where the most powerful practitioners in the world fight for dominance.
And unbeknownst to all, a calamity looms overhead—a continent-shattering trial that only Ian can stop.
---
8th February – Red as Flame (Darkwood trilogy #4) by Anthea Sharp
Epic Fantasy, YA, Romance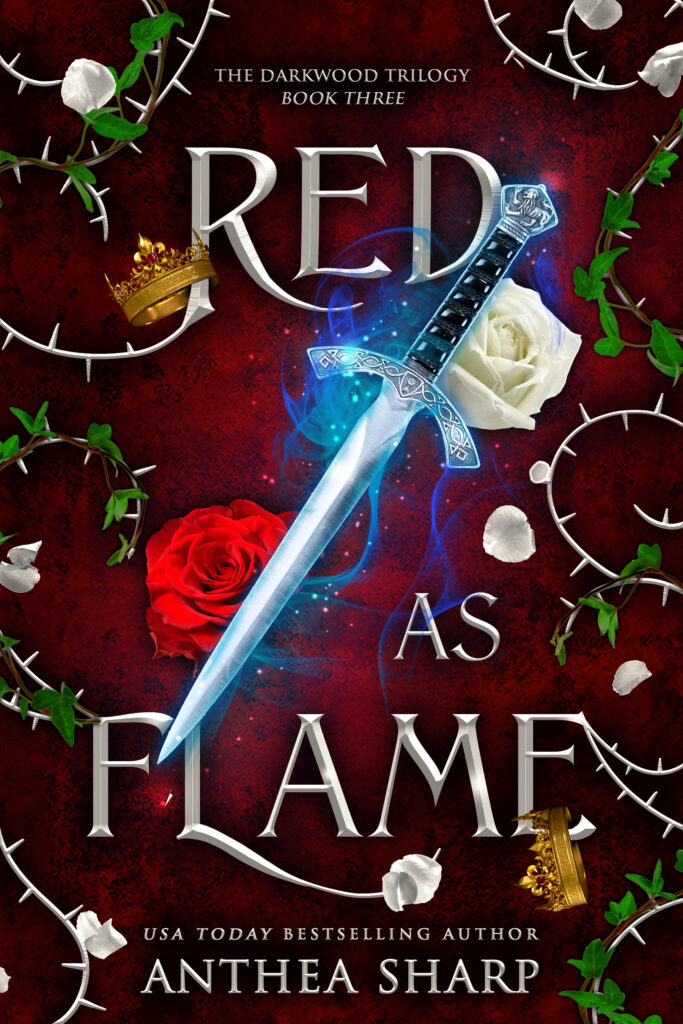 Two worlds. A princess in exile. And the sorcerous flames that will consume everything…
Rose Valrois thought she'd sacrificed everything to save those she loves – but fate has other ideas. Now that the red priests have arrived, hidden truths are revealed that force Rose to make yet another impossible choice.
With her sister trapped in the magical land of the Dark Elves, and her heart given to the guardian of the Darkwood, Rose must travel deep into enemy territory to discover her own powerful magic, and find the answers she so desperately needs.
---
10th February – Candle and Claw (Witherclaw trilogy #1) by Stephen Taylor
Epic Fantasy
Giovel Ullin's job is to stop witches from crafting experimental magic and destroying the world. It's a job he never wanted. Every time he hunts a witch, he's reminded of the ones who stole his wife away and sent her back distant, delusional, and dying. Even worse, the same magic that ruined her life is now part of his​​-a tool Giovel's expected to master for the sake of his duties.
When a coterie of witches begins systematically removing Giovel's companions, he has little choice but to fight back. But the more he learns about his own power, the more he sees himself in the very witches he hunts.
---
11th February – Lost in the Waking Well by John Notlad
Urban Fantasy, Sci-Fantasy
Dreams are made of memories, as is waking life. Who's to say which is real?
Clara— the girl of Allen's dreams. She was his world in that other life. . . The one before he awoke from his coma.
Now he has Elizabeth, a wife he has no memory of, and Goose, a daughter he no longer recognizes. Despite their love for him and the man he used to be, Allen's only desire is to return to the life he had before he awoke.
With the help of a local research doctor and a cocktail of drugs, Allen returns to the world of his dreams in search of the woman he loves. But dreams can be fickle. Answers are carefully guarded. And for his broken mind, the line between fantasy and reality grows blurrier with each excursion.
---
11th February – Nomads of the Sea (The Fishgut Guard #1) by Coby Zucker
Epic Fantasy, Grimdark, Sword & Sorcery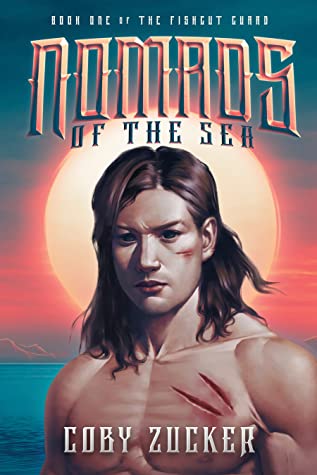 In the Nisi Archipelago, a civil war festers. Zealous insurgents burn villages across the islands in an effort to return the Mangaal people to the sea and free themselves of their Lyssan overlords.
Sig of the Midandaal, the son of a diplomat, must combat the growing threat. As he stamps down the rebellion, he quickly finds his talent for bloodshed surpassing his talent for peace.
Idalia Goss is attached to the Lyssan company that has been sent to aid the loyalists. The daughter of a renowned physician and arcane scholar, her task is to learn more about the Mangaal mages, who far outstrip the mainland sorcerers. Her efforts are hindered by the dark reputation of her predecessors.
Back on Lyssa, Bryn Urien, the Inferno of Mochan Pass, has lost his spark. Once, as the foremost mage of the royal army, he slew indiscriminately in the name of his queen. Now, he finds himself enfeebled and on the run.
---
15th February – Seeds of Revenge (Garden of Revenge) by Jesse Teller
Grimdark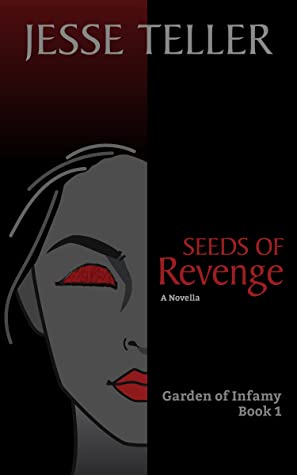 A look at the past through the eye of Revenge, the Mistress of the Black Dress, as seen in The Manhunters and The Madness Wars
---
15th February – A Black Deal (A Pendemonium Rising NOVELLA #0.6) by Michael Sliter
Grimdark, Sword & Sorcery
Fresh from a bitter, bloody victory, Ferl returns to Farrow's Hold at the head of his newly sanctioned mercenary company. Granted, his company is composed of bonded criminals, broken old veterans, and former slaves with nowhere to go. But they are numerous and can now legally operate within the borders of Jecusta—granting Ferl protection, as well as the power to finally have his ultimate vengeance.

His first target is Lissandra the Black, the scourge of the Eastern Sweeps. She doesn't so much kill her enemies as make the memories of their torturous deaths linger in the dreams of those around her. In retrospect, Ferl shouldn't have stolen from her. But, in his defense, she deserved that and worse.

But as Ferl schemes for a way to find her, he realizes he's made a black deal that could cost him his power, if not his life. His list of enemies may well grow longer before he finds a way to shorten it.
---
18th February – Ought to be Dead by Scott Warren
Epic Fantasy, Sword & Sorcery
Some monsters are hunted by the living, but you really ought to be dead for this sort of work.
An overworked necromancer, woken in the deep hours of the night, attempts to help a group of desperate dock workers with their recently deceased cargo inspector. Instead, she accidentally awakens the terrifying spirit of a vengeful, undying warrior with a single drive: to kill monsters. But he's really not so bad, once you learn to live with the smell.
Loosed upon the world, Specter travels the land hunting all manner of beasts and monsters both magical and mundane. Joined by an incorrigible human apprentice with a nose for books, the two set out for a year of travel together. But while calling upon the necromancer who raised him, an encounter with an unusual and deadly creature forces him to examine a pattern of attacks that leads him up and down the coast, finding danger wherever he ventures.
Across seven deadly hunts, Specter must journey to find the truth of the dark designs behind these attacks. And somehow, along the way, maintain his fading grip on humanity by coming to terms with his past life (and death)—lest he become one of the very monsters he's sworn to destroy.
---
22nd February – Fire of the Forebears (Heritor's Helm #1) by L.A. Buck
Epic Fantasy, Sword & Socery
Pitted against one another, with the people and country they love in jeopardy, the daughter of a deserter and the son of the king have a chance to fulfill their forebears' legacy—or destroy it entirely.
Twisted monsters called saja lurk in the shadows of the mountains. Rumors say the Fidelis, human wielders of an ancient elemental magic, again walk the plains. Not all in Avaron believe, and not all welcome the return of legend.
Kura's a skeptic. But, she'll cross and befriend centaurs, talking animals, and worse to save her family after the rebellion mistakes her for the land's prophesied savior. And, while he'd rather negotiate with rebels than fight them, Triston can't ignore prophecy. That was the sham his father used to steal the crown in the first place.
Over a century ago, their ancestors sailed the oceans in search of peace and died as heroes fighting for it. But heroes—and villains—aren't always what they seem to be.
---
22nd February – The Crown of Fire and Fury (The Runewar Saga #2) by J.D.L. Rosell
Epic Fantasy, Sword & Sorcery
Amid the fires of war, kings and queens are crowned…
The frost giant, the Jotun, has conquered Oakharrow. The city is lost — for now. But Aelthena has never given up easily. Fleeing Oakharrow, she goes to the jarls of Baegard, seeking their aid in taking back her home. But with politics at play, and Ha-Sypt on the move, she must make a choice to do what is best for her nation or for herself.
Bjorn, meanwhile, sets his sights on a greater challenge. Knowing too little of the giant who has attacked his home, he and his companions go to the priests who know more. Among them, Bjorn uncovers ancient secrets and develops his newly discovered magic. But both knowledge and power have a price, and Bjorn will pay it in sorrow and blood.
The Runewar has come — monarchs shall rise and fall.
---
22nd February – Legends & Lattes by Travis Baldree
Worn out after decades of packing steel and raising hell, Viv the orc barbarian cashes out of the warrior's life with one final score. A forgotten legend, a fabled artifact, and an unreasonable amount of hope lead her to the streets of Thune, where she plans to open the first coffee shop the city has ever seen.
However, her dreams of a fresh start pulling shots instead of swinging swords are hardly a sure bet. Old frenemies and Thune's shady underbelly may just upset her plans. To finally build something that will last, Viv will need some new partners and a different kind of resolve.
---
22nd February – Waking Ursa Minor by Helen Rygh-Pedersen
Epic Fantasy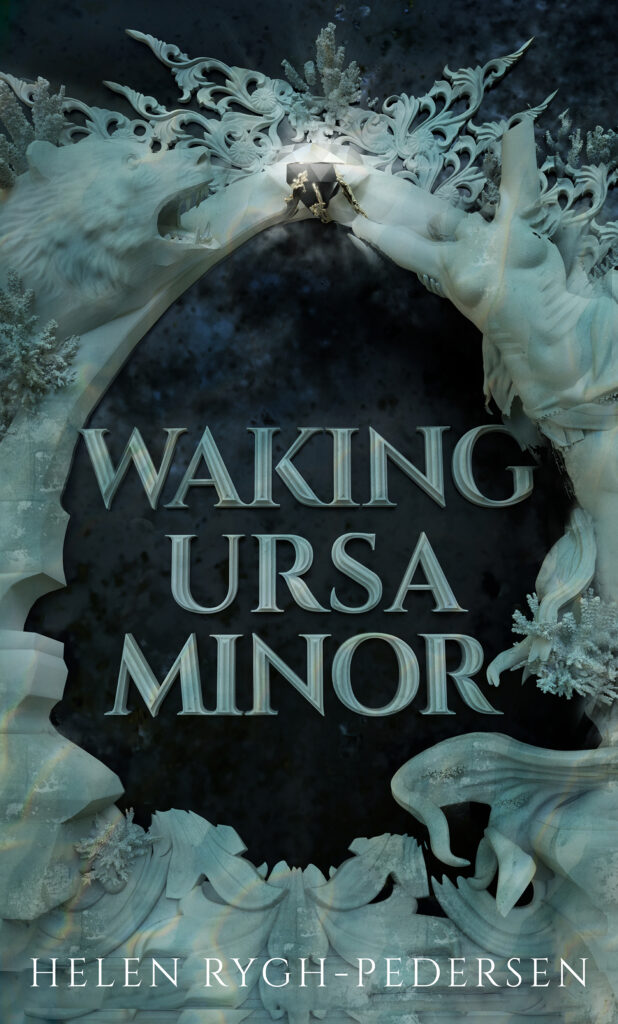 Waking Ursa Minor is the first book in the debut epic fantasy series, Riverda Rising by Helen Rygh-Pedersen. Spanning different countries and cultures it will take you on a journey of love and loss, the search for identity and a thrilling fight for survival.
As Gesland swelters in extreme heat, Serakela watches the nomadic clans make their way across the plains on their annual pilgrimage and resigns herself to the monotonous life of servitude at the institution which raised her. But Serakela is not the orphan she always believed herself to be. On the night a crazed assassin tries to kill her, her heritage is revealed catapulting her into an island-hopping fight for survival, and the search for the fabled Stone of Riverda.
The sundered islands of Riverda are dying. The earth magics that protected and sustained them before the Rivening are unbalanced; dwindling in some areas whilst stifling others. As time runs out and tensions rise, countries teeter on the brink of war, starvation and extinction. A way to save them has just arisen from the realm of rumour but Brother Okrafkus of the Separamus cannot allow this to happen.
Not only will Serakela's quest lead her to her long-lost family, rumour has it that she who wields the Stone will restore the islands of Riverda to their former glory. Rumour also has it that in doing so, she will unleash the evil that split them.
---
22nd February – Rise Red Kingdom (Burn Red Skies #2) by Kerstin Espinosa Rosero
Epic Fantasy
It starts with a rift that burns a thousand scars into the sky. It makes the winds stop. It makes the stars go dark. It awakens an ancient beast. And with it, a new reign of blood. It is the Summoning. And at the heart of it is fire.
Dove's plan to slay a dead dragon has backfired spectacularly. Now there are two dragons, and Valerya the Fireborne is burning everything in her path to hunt her down. In the aftermath of battle, Dove must use her courage, wits—and an erratic, impulsive dragon—to protect her companions, make unexpected alliances… and survive.
---
27th February – Fate's Long Shadow (The Practice of Power #1) by Marcela Carbo
Grimdark
Her power was born of a giant's rage. One wrong word could seal her fate.
Jassae should have died the night the giants raided her village. Her mother thought so. When blue fire threatens to consume her and all the giants, she makes a different choice.
Shackles bind her but she is the daughter of an ancient bloodline. She may yet inherit the powers of a high priestess. Burdened by her mother's legacy, she'll survive by relying on her own magic.
One fateful night, she throws the rune bones setting in motion events that will spiral out of her control. She begins a new life at the center of a political struggle between giant clans.
Fueled by rage and ancient grudges, the giants threaten Jassae at every turn. She'll shape her destiny as a priestess of the Dark Goddess and a matron of her own house.
If she can survive.
---
28th February – Anarchic Destiny (The Naturae Series #2) by Jan Foster
Epic Fantasy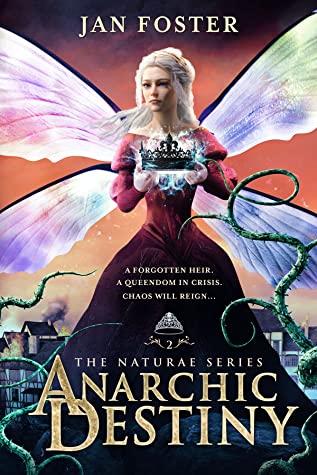 Family should be loyal – at least that's what Fae Queen Aioffe and Joshua thought – but when one returns from the dead, he brings chaos to Naturae. In England, Edward VI has died leaving Henry Fitzroy, a forgotten heir and his bastard vampire brother, with the destiny he was promised in tatters.
A witch's prophecy goes unheeded, and Joshua and Aioffe struggle to keep control of shifting allegiances, disruptive visitors and threats from the wider realm.
The price of an heir to bring them, and their Queendom, back together is a sacrifice… their marriage or their loyalty.
Denied his crown and place in the human world, Henry sets his sights on claiming what was due to him, even if that means hurting everyone who was loyal to him before.
Chaos will reign…
---
28th February – Greater Evil (Champions of Fate #2) by Noel Coughlan
Epic Fantasy
A lie made Drinith one of Gyre's rulers. It secured the city state's support against her enemy, the tyrant Magian the Infinite. Now it threatens to destroy her.
Drinith voyages to Gyre's bitterest rival, Ophigee, to convince its rulers to join the fight against Magian. But her audience with her hosts turns into an ambush.
Quick thinking wins her a reprieve from the execution block, but the route to salvation may well prove more treacherous than anything she has faced before. Everyone who attempts the journey she must undertake vanishes without trace. Can she succeed where they failed and uncover the secret that threatens not only Ophigee but her adopted homeland?
---
And if you like these lists, please consider joining my Patreon for exclusive content and lots more.