And here we are at the end of 2019. I've been doing these releases lists for 12 months now and in that time I've featured 181 self published fantasy books. It's only the tip of the berg, but I shall continue to bring as many releases as I can to your attention.


And if you would like to be kept up to date with the upcoming lists, please subscribe to my newsletter by clicking this link. I don't send out letters too often, pretty much once a month when this list goes out… and occasionally if I release a book or something.
As always, this is not a comprehensive list, but only includes all the books I have heard about so far.
If you have a fantasy novel you are self publishing in December or beyond, let me know either in the comments, or by emailing me, and I shall add it to the page. There are but 3 requirements:
1) It must be a self published fantasy novel.
2) It must have a Goodreads page.
3) It must have a cover.
---
30th November – Legacy of Ghosts (The Coraidic Saga #2) by Alicia Wanstall-Burke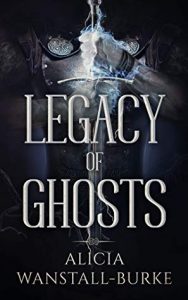 Four years have passed since Lidan's world was ripped apart, and time is running out to change her father's mind about the succession before the bargain with her mother expires. Torn between what she wants and what she knows is right, she is faced with an impossible choice; will her brother live, or will he die?
Within the walls of the Hidden Keep, Ranoth holds his secrets close as he tries to harness his wild magic. But when life in the Keep descends into chaos, he is cast once more into the outside world, forced upon a southward path toward unknown lands and untold danger.
With Ran set on seeking justice and revenge, and Lidan fighting to find her feet and follow her heart, journeys will converge, and the ghosts of a past thought long dead will rise.
---
30th November – The Last King of the Mountain (The True Queen of the Lathai #1) by Camryn Daytona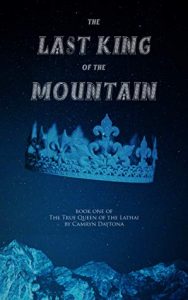 Ever since her mother Queen Aramaris was killed by the Malda, Ariawyn has been raised to be the next Queen Of Lathai. But she feels unprepared for her role, and instead flees from the elven lands, joining a group of wandering dwarves and returning to their homeland in Fighgarum.
As Ariawyn finds herself embroiled in the politics of the dwarves, those she left behind grapple with a kingdom that has lost its heir, an over ambitious regent, and unwelcome tidings from the Northern Isles. 
---
30th November – The Last Bloom of the Jade Lotus (Scions of the Black Lotus #6)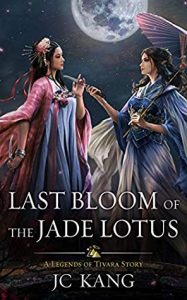 The ringleader of a rebellion has holed up with his allies in an unassailable castle, and it is up to Jie, Tian, and other members of the Black Lotus clan's Floating World cell to assassinate him.
---
1st December – A Prince of Song and Shade (A Tale of Stars and Shadow #2) by Lisa Cassidy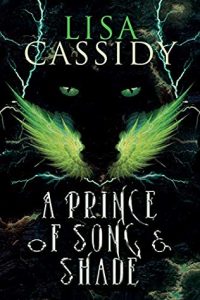 The darker the night…

Emboldened by the effect Talyn Dynan had on the humans of Mithranar, the Shadowhawk is working harder than ever to make a difference for those struggling to survive on the streets of Dock City. But when violence spreads to the citadel in a horrific murder, he finds himself torn between protecting the humans and keeping his identity secret from the increasingly determined prince of night and his Falcon hunters.

Meanwhile, Talyn has returned home to the Twin Thrones ready to begin rebuilding her life. Yet there are more secrets shrouding the Dumnorix family's past than she realised, and when the Callanan ask her to undertake a highly dangerous mission, Talyn is faced with a difficult choice—between duty to her family and country and trusting the shadowy criminal she met in Mithranar.

And after their failed assassination attempt on Prince Cuinn, Vengeance are far from done. Their reach is deeper than either Talyn or the Shadowhawk could ever have imagined, and now they've got a new target in their sights…
---
3rd December – Tomb: Stone and Blood by Michael McClung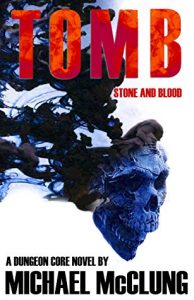 Anomus ip Garma, greatest living architect of the Subori Empire, is tasked by his emperor to construct a tomb for the emperor's concubine upon her death. Anomus and ten thousand workers labor in the desert for years while the emperor's dead love waits, ensorceled and undecaying, for her final resting place to be completed.

But betrayal awaits Anomus and all who slaved to build the Tomb, and a dark god has taken an interest in the evils man does to man…
---
3rd December – The Sunken City trilogy by Phil Williams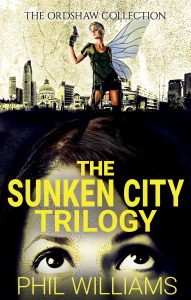 Welcome to Ordshaw.

Don't look down.

Pax thought she knew the dark side of Ordshaw. A poker pro who hustles bankers and gangsters, she can take care of herself. But she's about to discover the shadows hide worse things than criminals.

When a thief steals her bankroll, it could cost Pax her home. Following his trail unearths a labyrinthine mystery that could cost Pax her life. People have disappeared simply for realising what's lurking under Ordshaw.

To get her life back, Pax needs to go much further than that. Will Pax's findings put the whole city at risk? Will her new allies prove more dangerous than the monstrous enemy?

Will she even be able to survive another day?
---
10th December – Violya (In the Heart of the Mountains #2) by Rosalyn Kelly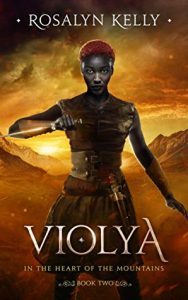 A gifted warrior consumed by revenge. An unstoppable enemy rampaging ever closer. A ravaged country in desperate need of a ruler.

After a brutal and bloody invasion, a once powerful matriarchal nation is in chaos.

Only the shy warrior Violya can pick up the pieces and save her broken country. But an old threat – for one thousand years suppressed – has awoken. Now unleashed, it's hell-bent on destruction.

To protect her people, Violya must cast aside her desire for vengeance, master her rare magic and find the courage to rule – and fast.

Time is running out as a prophecy is coming true. A formidable enemy is closing in to crush them all. Can Violya unite friend and foe to face the looming catastrophe before it's too late?

She's out for blood, but first she must master her own…
---
10th December – King's Guard (The Shattering of Kingdoms #2) by Emmet Moss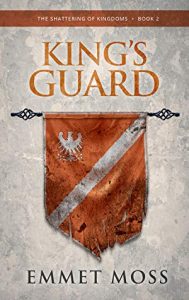 The Mercenary Code has been broken and a new Protectorate Empire has arisen.

In league with renegade mages known as the Fallen, the Protectorate will stop at nothing to expand its reach and unify the factions of Old Caledun by any means necessary. The few who escaped the coup are now in a tenuous struggle against the growing influence of this corrupt new Order.

Mercenary companies loyal to the old ways race to defend one of the last bastions of freedom in the South. In the capable hands of its ardent commander, one city prepares for the decisive battle that will shape the future of Kal Maran. New allies have joined the cause, but can they turn the tide?

In the depths of an ancient subterranean library, two unlikely companions continue to explore the mysteries of a long vanished race. While in the distant Drayen Lands, a foreign noblewoman is thrust to the fore in the midst of an enemy invasion by sea.

And in the North, hope has been rekindled. Surviving the trials of the Wilds and reaching the lands of the Iron Shield, the An'Dari – legendary protector of Kings – has returned. Searching for Caledun's true heir, his memories hold the key to absolving the sins of the past.
---
12th December – Cursebreaker (The Heretic Gods #2) by Carol A. Park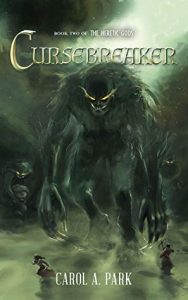 Demonspawn. Gifted. Godtouched. Banebringers are called by many names, but will they ever be called human?

After being exposed by Vaughn and the Ichtaca, the Conclave has now cast off all pretense and seized the reins of power in the Setanan Empire—and they just might have a god on their side.

Vaughn is thrust into the center of this conflict. While the Ichtaca seek political allies, he seeks a way to counter the might of a god. But the only lead he has is written in a language no one understands, and time is running out.

Ivana wants nothing more than to be left alone, but her past has a way of finding her. With the Setanan Empire falling apart around her, she'll have to make a decision that will determine more than just her own destiny.
---
13th December – Lirien (5th Compass #3) by E.L. Drayton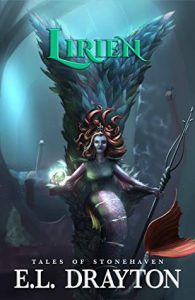 After finding one compass and losing another, Daxton knows time is nearly running out on finding his mother now that the Paragon is after him. With little options placed before him and the lives of his friends in the balance, Daxton must decide their great escape.

Unfortunately, fate has other plans in store for him when he and his friends are kidnapped and taken to the ocean floor. There he meets Lirien, queen of the mermaids. And although there is more to Lirien than one might expect, Daxton sympathizes with her and before his time underwater is over he will change course from looking for his mother, to seeking revenge.

What repercussions will his decision hold for his future and will his friends continue to stand by him?
---
December – Limbo by Thiago d'Evecque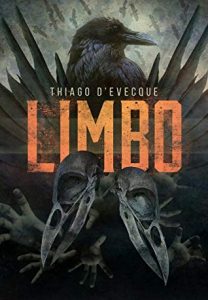 The fate of the world hinges on a forsaken spirit, a mad god in a sword, and 12 mythological beings.

The Limbo is where all souls — human or otherwise — go to after dying. Some don't realize where they are. Death is a hard habit to get used to. Gods and mythological figures also dwell in the plane, borne from humanity's beliefs.

A forsaken spirit is awakened and ordered to dispatch 12 souls back to Earth to prevent the apocalypse. Many don't take kindly to the return. Accompanied by an imprisoned mad god, the spirit must compel them.

Each of the 12 unlocks a piece of the forsaken spirit's true identity. Memories unfold and past wounds bleed again.

The journey will reveal buried truths about gods, angels, humanity, and the forsaken spirit itself.
---
Space for more…