August is here and with we can only hope the oppressive heat is behind us. But just in case it isn't, it's worth having some good books to read. This is the August list of upcoming self published fantasy and there's very interesting titles in it.
As always, this is not a comprehensive list, but only includes all the books I have heard about so far.
If you have a fantasy novel you are self publishing in August, let me know either in the comments, or by emailing me, and I shall add it to the page. There are but 3 requirements:
1) It must be a self published fantasy novel.
2) It must have a Goodreads page.
3) It must have a cover.
26th July – The Kingmaker Contest (The Source of Magic #1) by Troy Clem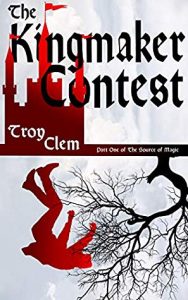 A brutal contest determines the King. Does a god control the outcome?
Theo's empathic power lies untapped, but she knows of his abilities. Is she god or something worse? The only thing that's certain: the rage and terror warring inside Theo can obliterate the Drasque Empire—if war doesn't first.
Theo couldn't imagine the consequences when he stowed away. His freedom from Losik wasn't worth war, but he didn't know magical forces were waiting for him. In a time when whale oil and muskets replaced torches and swords, an ancient way of thinking still prevails, forcing men to kill other men for a chance to be king, and allowing a god and her blood magic warriors to bend the world to her will.
27th July – Saving the Dark Side 3: The Unbound by Joseph Paradis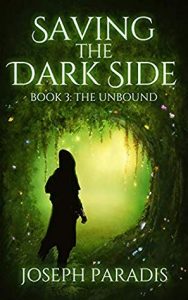 The Dark Side has fallen. 
All three Harbingers have been crowned. Sorronis, Decreath, and Grotton once again walk among the innocent, plaguing Aeneria with unprecedented suffering as they strive to unlock the aethers. The Sill remains as Aeneria's last candle of hope against the rising of the Shadow Tide. 
With their masters out of the fight and The Sill weaker than ever, it is now up to Cole and his friends to don the mantle of Unbound and deliver Aeneria from The Three's deadly embrace. They must become more than themselves, and succeed where Chiron, Roth, and Alvani failed. They strike out to the farthest reaches of Aeneria, exploring lands exotic and uncharted while recruiting warriors for their cause. Yet wherever their missions take them, they find whisperings of something foul stalking every step they take. 
30th July – Deadliest Bidder (Nick Teller #2) by Alan Brenik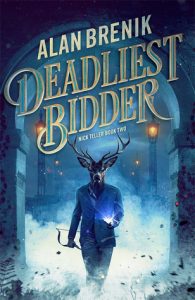 Some debts can get you killed.
Nick Teller has spent his entire adult life hiding from other arcanists, living in fear of the ruthless Society of Arcanists and other rogues alike. He's strived to build a quiet life for himself as a lecturer at King's College London, softening the edges of his upbringing, but when the Prime of the Society calls in a debt, Nick is dragged back into that world he's tried so hard to leave behind.
Prime Ascrid orders Nick to infiltrate an exclusive auction reserved for the most dangerous rogue arcanists in the world, where the prize is worth killing for and the bidding can be lethal. Nick will need to sharpen his edges and stay two steps ahead of the competition if he's going to get his hands on the prize.
But with the Prime's Járngrimr bodyguard watching his every move, a game-obsessed godling running the auction, and rogues circling like sharks, it's going to take everything Nick has just to survive.
In a world of rogues, where every face hides an agenda and every smile a knife, Nick knows that the slightest misstep could get him killed, and that often the deadliest knife is the one you don't see coming.
1st August – Royal Elves (The Hisime Ara Chronicles) by Misty D. Billman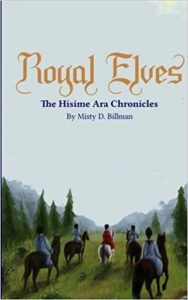 Slavery isn't a life, but neither is one without family.
Hisime Ara has been abused by her guardians her whole life, but at least she hasn't been separated from her younger brother. She has nowhere to run to, and even if she did, she'd try to take her brother with her.
But everything changes when Royal Elves come to their small hamlet. Hisime sees it as a chance to finally escape, until she learns they might be after her brother.
Now she must make a choice: escape and leave him behind, or stay and fight for both of their lives. One choice means freedom, but the other is almost certain death. 
Blood runs thicker than water, but is it possible for Hisime to save them both?
5th August – Dual Nature (Principles of Magic #1) by Brenna R. Singman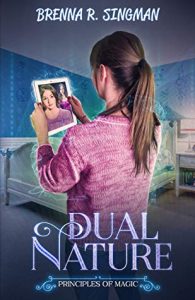 Kitty Guthrie is a youngster with a lot to prove–don't we all? Even with babysitting, volunteering, and homework, she's also planning her junior high school's first Homecoming Dance. And on top of that? She's learning magic! But when a spell goes haywire, Kitty needs quick help from cocky Mage Will Cavanaugh before anyone learns about her mistake! With all of these balls to juggle, one is sure to drop, and someone will have to face the music.
6th August – Heirs of Destiny (Defenders of Legend Omnibus #3) by Andy Peloquin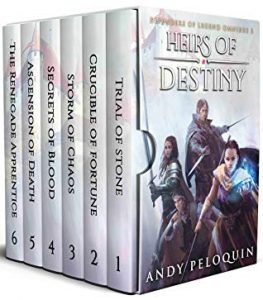 Kodyn expected hardships along his journey to return the kidnapped Briana to her father. Yet harsh deserts and cutthroat bandits prove far less lethal than the foes that await him in Shalandra, the City of the Dead. But he doesn't fight alone…
Elite warrior-in-training Issa battles to earn her place as a true champion of Shalandra.
Cunning street thief Evren unmasks insidious plots to foment chaos, revolt, and bring death to the city. All the while, he fights to protect his adoptive brother, Hailen, whose mysterious powers could very well shatter the world.
Aisha, Kodyn's companion and a fierce warrior from the north, finds herself drawn deeper into the world of the spirits. Her growing powers could lead to madness—or the salvation of everyone in Shalandra.
These young heroes face a desperate clash against death cultists, bloodthirsty criminal gangs, and the most powerful politicians in Shalandra. But will their bonds of unity triumph against greed and cruelty, or will the kingdom crumble around them?
6th August – Salvation's Path (The Society of the Leaf Chronicles #1) by Kyle Harvey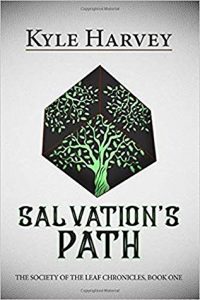 The Cube is gone. The very essence of the Green God in the world has disappeared setting off a desperate search by good and evil to discover it.
Young Cedric is thrust against his will into a race for the preservation of the world. Awash in the harsh realities of a grim world, Cedric struggles with loss, love, and the yearning to fulfill a dying wish. Cedric meets both good in the form of his best friend, a strong-willed noble girl seeking a way out, and a guide who gets more than he bargained for along with evil on his journey as he tries to puzzle out the whereabouts of the Cube and his own identity.
Powerless and unworldly, Cedric must make up for the many failures of character and strength by those tasked with defending the world.
8th August – Wrath of Storms (Raincatcher's Ballad #2) by Steven McKinnon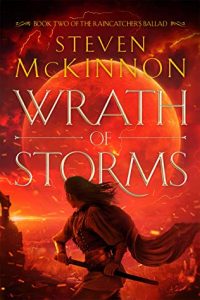 A girl with terrifying powers. An assassin battling his bloodlust. And an ancient evil stirring…
Serena's fearsome power is growing stronger. After conning her way aboard a luxury airship in search of clues about her past, she walks straight into a sky pirate's trap. But after her powers are unleashed and apocalyptic visions invade her mind, Serena realises the greatest threat may be herself…
As Damien Fieri struggles against his bloodlust, connections in high places conspire to keep his killer instincts sharp. He'd love to confront the clandestine forces that turned him into a living weapon—but can he find a way to do it that doesn't shed more blood?
Can Serena and Damien bend their powers for good, or will they become dangerous pawns in a much deadlier game?
9th August – The Lordless City by Matt Karlov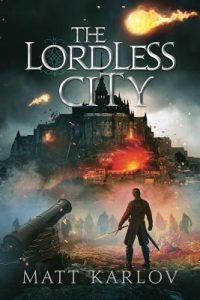 Arandras Kanthesi, now master of a golem army, is determined to resist the allure of his newfound power. But war is coming, and Arandras must lead his charges into the very maelstrom he sought to avoid.
The god Azador has set its sights on Spyridon, a city whose leadership is riven by discord. Eilwen, the former Woodtrader who is still haunted by the murderous beast within her, and the rogue sorcerer Clade race to defend Spyridon from threats both within and without. Yet each is torn between the good of the city and their own ambitions, and the forces arrayed against them wield a power beyond their imagining.
As the enemy cannons draw near, Arandras discovers the shocking truth about the golems he commands. Appalled, Arandras is forced to make an unthinkable decision — one where every choice will see him branded a monster…
10th August – The Thief Who Went to War (Amra Thetys #5) by Michael McClung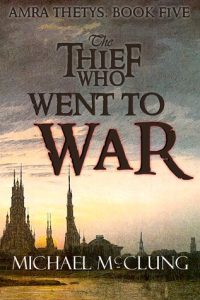 After barely surviving the attentions of the Knife That Parts the Night, Amra and Holgren are determined to end the threat posed by the remaining sentient, powerful Blades of the Eightfold Goddess. They are willing to risk everything to win their secret war, but can they succeed when their adversaries are cunning, powerful beyond measure, and utterly ruthless?
And even if they can, what will it cost them?
14th August – Eternal Forest (5th Compass 2) by E.L. Drayton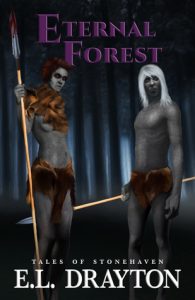 With two compasses in his possession, Daxton must go where no man dare tread …
Daxton thought all his troubles were over when he set out in search of his birth mother and came into possession of another compass but he couldn't be more wrong. There are others in search of the same compasses he seeks but their reasons are completely different from his own. 
Together with his friends Daxton must hide in the Eternal Forest before his compasses are taken and none of their lives spared. Can they do what no one else ever has? Enter the Eternal Forest and escape it alive. Or will they be yet another meal for the ever hungry and ever inviting knonn?
15th August – Distaff by various authors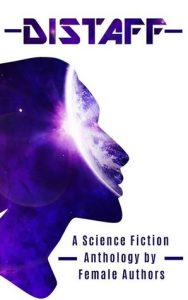 The word Distaff has taken on a negative connotation lately. Originally a 'distaff' was a tool used in the spinning of wool. It refers to 'women's work' in a traditionally passive-aggressive Victorian manner.
The anthology features a wide range of stories with little in common except their genre – science fiction – and the fact that they are women's work from cover to cover.
15th August – The Greatwood Portal (Heroes of Spira #3) by Dorian Hart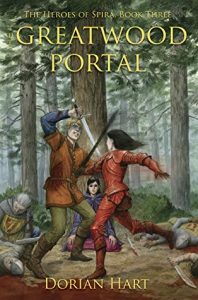 The end of the world is a week away, and only Horn's Company can stop it. All they have to do is find and rescue Ivellios, who's been kidnapped by the Black Circle to fulfill their prophecy of freeing the all-powerful Naradawk Skewn from his prison world.
Meanwhile, Morningstar must ready her team of Ellish dream warriors to battle the vicious Aktallian Dreamborn, who continues to harass Abernathy and the archmagi. And Aravia must master the Crosser's Maze, the most powerful and complex magical artifact ever created.
What could go wrong?
According to the goblin shaman Irligg, Horn's Company is destined both to succeed and to fail in their quest to save the world of Spira. Kibi always says there's no such thing as destiny, but as the forces of Charagan prepare for Naradawk's invasion, there's a hidden thumb on the scales of fate…
20th August – Wild Type by M. Telsch-Williams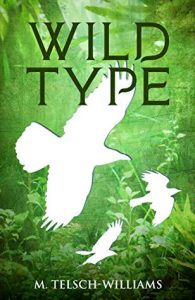 Thane may be the most lavish of all the Circled Kingdoms, but for a woman, it's a prison surrounded by a seventy-foot high, white wall. No rights, no education, and certainly no chance to leave. 
Penn's father knew this when he illegally taught his headstrong daughter science, shaping her love of nature and biology. He gave her only one request on his deathbed: promise to explore the uncharted Farlands in the west. Yet, Penn struggles to define herself after his death. Without his guidance, without him protecting her dreams, she's no one. Only her father's shadow. 
But the wildness of the Farlands calls.
When Penn petitions to carry out her father's last expedition, Thane's President, points out her every misstep. He twists her words. He mocks her conviction. The only way the President will approve the trek is if she accepts his unreasonable demands, and his "alterations" to her proposal. 
While Penn's gut screams to be on guard and not make sacrifices, her desire to explore runs too deep to refuse. She may never get this chance again. 
Survival may become her greatest act of defiance.
20th August – A Traitor in Skyhold (Mage Errant #3) by John Bierce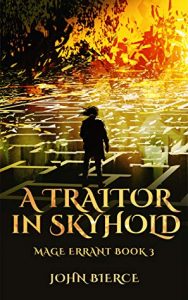 Hugh and his friends have, to his great displeasure, become the center of attention among the student body at Skyhold. It turns out that surviving the depths of the labyrinth and helping stop a coup both tend to attract notice. If Hugh had his way, he'd happily go back to being just another anonymous student. He has more than enough to deal with already as he starts his second year, between his crushing load of schoolwork, training as a prospective candidate to the Librarians Errant, and navigating a long distance relationship.
Oh, and the fact that Hugh and company have been dragged into trying to catch a traitor on the Skyhold Council doesn't make life any easier. Nor does it help that the traitor is working with the demon Bakori, who lurks in the depths of the labyrinth below Skyhold, waiting for his chance at revenge.
26th August – Song of Shadow (Ballad of Emerald and Iron #1) by Natalya Capello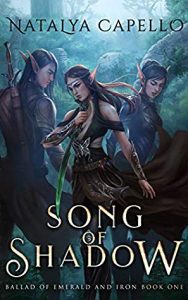 They said she was out of her mind. The dark truth will shake the foundations of the fae realm…
Lorelei refuses to believe her wild visions mean she's insane. But despite her royal sidhe heritage, she's banished to a remote priory to prevent her causing trouble. So when a priestess of the Elemental Order urges her to join a risky pilgrimage, she flees her prison and sails headlong into danger.
Traveling to an ancient land imbued with volatile magic, she chokes back her disbelief after unearthing evil sorcery that shouldn't exist. And now that Lorelei holds the forbidden secrets, she fears it's only a matter of time before the powerful Elphyne Empire silences her permanently. If the fae church's ruthless assassins don't hunt her down first…
Can Lorelei expose the sinister conspiracy before darkness falls forever?
August – Pilgrim's Storm Brooding (Broken Stone Chronicle #3) by Damien Black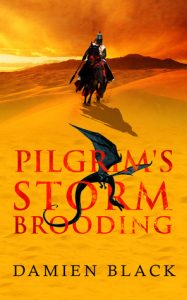 One warlock has been slain, but the conspiracy of wizards he served is just getting started…
As Adelko embarks on his training for journeyman at the Argolian Order's headquarters in Rima, Horskram and his superiors try to work out who is bent on reuniting the Headstone and plunging the Known World into war.
Their revelations will take them back on the road again, this time to the exotic Pilgrim Kingdoms, where Urovian crusader lords live in uneasy peace with the native Sassanians. But as Adelko and Horskram are destined to find out, the murky politics of the Blessed Realm have become tainted by the sorcerous plot they are struggling to unravel…
With them go Anupe, Hettie and Adhelina – as the latter discovers latent powers that might be able to help the monks – while the knights Braxus, Torgun and Wrackwulf head north to fight in Thraxia en route to the mysterious Westerling Isles to warn the keepers of the third fragment. With them as ever goes the redoubtable squire Vaskrian, whose reckless ambition will have unforeseen consequences.
And on the Other Side, the Seven Princes urge on their dark prophet…