If you would like to be kept up to date with the upcoming lists, please subscribe to my newsletter by clicking this link. I don't send out letters too often, pretty much once a month when this list goes out… and occasionally if I release a book or something.
As always, this is not a comprehensive list, but only includes all the books I have heard about so far.
If you have a fantasy novel you are self publishing in April or beyond, let me know by filling out THIS FORM, and I shall add it to the page. There are but 3 requirements:
1) It must be a self published fantasy novel.
2) It must have a Goodreads page.
3) It must have a cover.
1st April – The Rascor Plains (Immortal Great Souls #2) by Phil Tucker
Scorio thought victory was within his grasp. He had bested the Final Gauntlet and overcome the treachery of Chancellor Praximar. But the Rascor Plains are full of peril, and his quest for truth has only just begun.
With his friends scattered and his reputation in tatters, Scorio must navigate a web of intrigue that stretches from the powerful House Hydra and the Fiery Shoals to the mysterious forces that govern the Plains. He will face foes both human and inhuman, and confront the darkest secrets of his world.
Beware the fiends, for they hunger for your soul. Beware your allies, for they may break your heart. And beware Scorio, for he will stop at nothing to uncover the truth.
1st April – The System Apocalyse Short Story ANTHOLOGY #2 by Various Authors
Dashing tales of heroics and everyday life abound in the second System Apocalypse short story anthology. Competing alien and human settlements clash, and a simple party planner is caught between in After Party. A New York trashman and his friend fight off loan sharks and exploit the System for gain, finding treasure among others garbage in Completely Trashed and a prisoner must decide between his humanity and humanity itself in WWMRD?
With over ten stories from exciting new voices and a few veterans of the universe, the second anthology highlights the lives and struggles of humanity's best and worst years after System advent.
The second System Apocalypse short story anthology takes place between books 4 and 6 and covers years two to six during that period.
2nd April – Sul: From Gold to Iron and Rust (Sulaai #1) by Jacqui Davis & Katy Grierson
A king destined to rule. A priest determined to protect his land. A demon out to Create chaos. A princess with her eyes on the throne.
When a demon murders the regent, young King Elmes leaves his island palace and sails north to conquer a frozen wilderness rich in resources his people have squandered –and of course, hunt down the demon. Elmes has no doubt he'll prevail. After all, he is great like his ancestors.
But the land is already home to half-wild barbarians led by an immortal priest, who are used to weather more savage than any warrior. With a court losing confidence and a wife set on keeping the crown no matter whose head it sits on, the decisions at home prove the greater danger.
With mounting threats on all sides, Elmes wins his empire, but his arrogance leaves him cursed and trapped in the north. Without his armies, his magic, or even his own name, Elmes must face his selfishness and irresponsibility to preserve what truly matters: his young son's life.
4th April – The Ruptured Sky (Gardens of War & Wasteland #1) by Jessica A. McMinn
Epic Fantasy, Grimdark, Sword & Sorcery
A dead goddess.
A broken sky.
A world wasted by magic.
Princess Amikharlia wants one thing in life: control of her own fate.
On the eve of her wedding, Amika flees her homeland, seeking the truth behind the mysterious magical abilities she'd kept hidden since childhood.
Taking up the life of a demon huntress, Amika uncovers a madman's prophecy that would have her revive an ancient goddess—and destroy the world in the process.
Will Amika become a pawn in another man's game or continue her fight against destiny's shackles?
As a dark and dangerous power begins to rise, she must make her choice soon.
But is laying the world to waste truly the way to save it?
4th April – The Captain (The Last Horizon #1) by Will Wight
"To survive in this galaxy, you need a wand in one hand and a gun in the other."
On a little-known planet, Archmage Varic Vallenar casts a grand spell to empower himself with the magical abilities of his alternate selves. The ritual works too well, granting Varic not only the magic but also the memories from six lives.
Including their gruesome deaths.
Now, Varic has power greater than any wizard in galactic history, but he knows that won't be enough. The enemies he faced in those alternate lives were apocalyptic in scale. Terrors of technology and magic. Nothing that he, or anyone, can defeat.
Sun-eating extra-dimensional insects, shadowy secret organizations, genetically enhanced alien super-soldiers, ruthless mega-corporations, and hordes of cyborg undead all lurk in the darkest corners of the galaxy, and Varic knows that any of them can become a world-ending threat at any moment.
All these are beyond any wizard, no matter how many spells he's mastered or how many interstellar warships he's rallied to his cause. Hopeless, Varic finds himself trying to preserve what little he can from the coming doom.
Until he hears rumors of a mythical starship, an invincible vessel of heroes made to do battle against galactic threats.
A ship called The Last Horizon.
10th April – Choice of the Traveler (The Traveler #1) by Toni Binns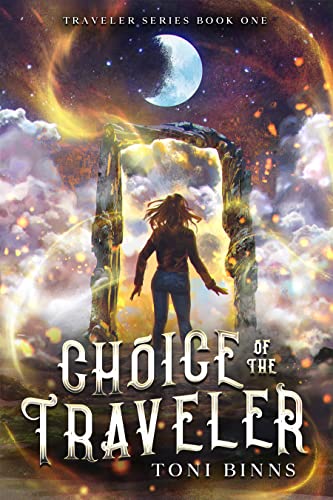 A war between two worlds. A destiny she can't escape…
When Betha transfers to her best friend's university to study, life is looking hopeful.
Her dream to open up her own café could finally become a reality, and all she has to do is study, enjoy nights out, and try not to make her crush on the tasty and intense Self-Defence trainer, Carter, too obvious.
But her world is shattered when demons invade.
As powers Betha didn't know she had begin to emerge, hopes of stopping the invasion fall to her, and Carter is tasked with keeping her alive.
Betha has no fighting ability, no matter how hard she tries, but everyone she knows is dying.
With Carter and her other friends surrounding her, will she be able to unlock the truth of her magic in time? Or will a cloak of darkness and despair shroud the land and destroy everything she loves?
13th April – Thralls of a Tyrant God (The God Engine #1) by Mars G. Everson
Epic Fantasy, Grimdark, Sword & Sorcery
In a world ravaged by a cataclysmic event and ruled by tyrannical gods, Senn, the Herald of the Lord of Greed, rises to power by helping others escape the oppressive city of the Hub.
But when he is betrayed by his own god and left for dead in the desert, Senn must confront his past and seek out a new source of power in order to take down the Forever King and his Chainkeepers.
Along the way, Senn is forced to grapple with deeper questions about survival, love, memory, and kindness in a harsh world.
14th April – Gates of Hope (Aulirean Gates #1) by J E Hannaford
The Watcher shattered the Gates.
Now hope must arise from the shards.
Darin and Suriin enter the Black Palace of the So'Dal, at a time when monstrous Edgelands creatures return to the skies over Caldera.
After exhibiting magical traits thought lost, Darin is drawn into a secret society charged with keeping the Watcher's secrets. Now he must balance learning to control his magic, caring for Star, his new companion, and finding a way to sustain the Howlers' power for long enough to protect Caldera from the predatory creatures of the Edgelands.
Before she arrived at the Black Palace Suriin broke the ancient rules of the So'Dal to save the life of the person she loves the most. As her search for a cure delves deeper under the mountain, is there any price she won't pay? 
On the outer moon of Tebein, Elissa's newly awakened magic will endanger her home and family. Now she must race to find help for those she leaves behind as she escapes those who want her, and all those like her, dead.
One wrong decision by any of them could return legends to life and end five hundred cycles of peace. Will they find the solutions they need in time?
15th April – The Captain (Battle Brothers #2) by Casey Hollingshead
Grimdark, Sword & Sorcery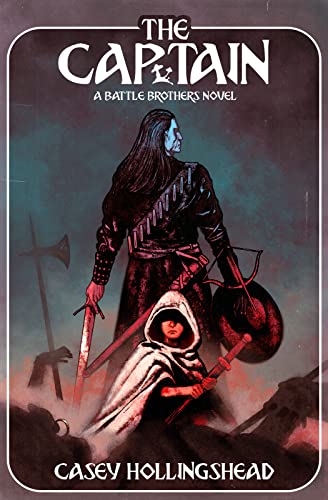 "You wish to talk rumors? Where would I even begin? I have heard of direwolves, lindwurms, dragons, nachzehrers, webknechts, and a wiederganger at the hip of a black clad cultist. Hells, I once received a tale that the trees themselves came alive and skewered men dead with branches shaped like spears! Richter, please, the laity love to talk about all the ghouls and ghosts these woods hold, but until you see it with your own eyes…"
Now captain of a struggling mercenary company, Richter von Dagentear takes on a dangerous brigand known as Kantorek, 'the King of Dragons.' But bandits and thieves are not all that roam the forests. With a witch hunter's hat atop his head and a sellsword's blade at his hip, Richter must recruit and equip a ragtag group of fighters to not only complete contracts, but survive what evils lurk beyond the trees.
15th April – A Quiet Vengeance (Samarak Tales #1) by Tim Hardie
Nimsah is an abandoned child living on the streets of Bengarath, surviving on her wits as part of a criminal gang in the City of Tents, home to the dispossessed. Dojan is the Crown Prince of the Emirate of Fujareen, enjoying a life of luxury in Bengarath Palace. Their lives are brought together as the threat of war looms in the neighbouring city state of Kandarah. However, Dojan and Nimsah share a secret, one that will set in motion a chain of events leading to vengeance.
16th April – Heart of Fire (Dragon-Mage #1) by Raina Nightingale
A SLAVE DETERMINED TO RIDE A DRAGON. A CHILD CHOSEN TO RIDE THE OBSIDIAN GUARDIAN.
Camilla has always been told that humans are inferior. They cannot use magic. If they bond to dragons, they will doom the creatures to extinction. She has never believed a word of it. She has always known that she can use magic, and she suspects it is the elves who harm the dragons by keeping them to themselves. Now, she is presented with the opportunity of a lifetime: a dragon's clutch is hatching and while she will earn the wrath of her captors if she is caught, she has the chance to see a dragon hatch and perhaps even to Recognize.
Kario's people have feared dragons since time immemorial. When an unrealistically huge black dragon flies in while she is hunting, she is certain she will die. Instead, her life is changed when Nelexi, Obsidian Guardian of Areaer, chooses her as her final rider. Kario takes the name Flameheart, but she is soon homesick and afraid that she is insufficient to be the partner of a god.
17th April – No Port in a Storm (Legends & Legacies #2) by Cal Black
Historical Fantasy, Gaslamp, Weird West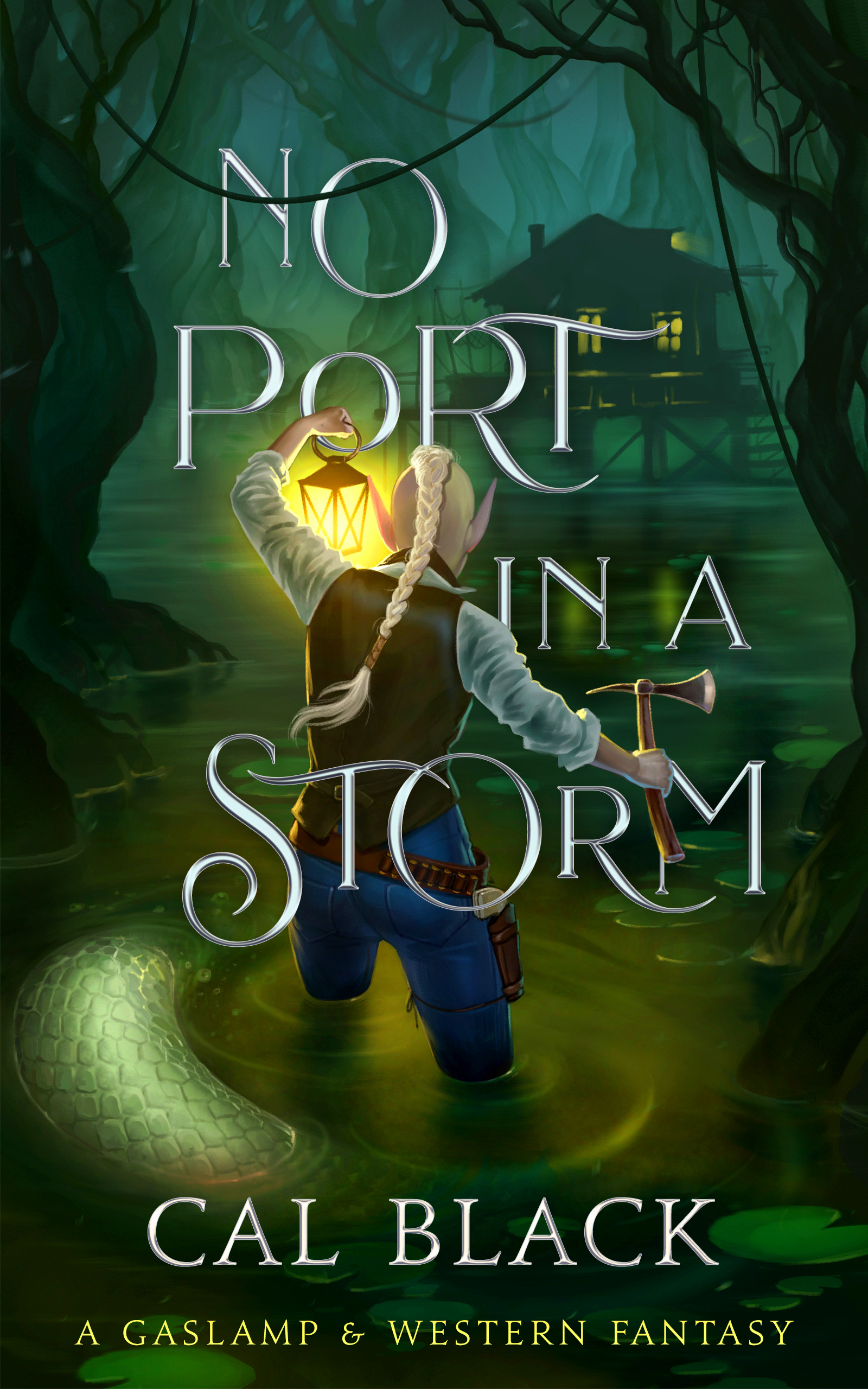 'The Bayou wants its Butcher back'
Ghosts of Mildred Berry's past stalk her dreams, dredging up memories she'd rather forget. Struggling with the return to city life and a surprise marriage, Millie finds her strongest ally is distracted, preparing for the Colfield Massacre trial.
When the trial's key witness goes missing, a bloody message makes it clear to Millie that the city of Marigot is done waiting for its vengeance against the man who betrayed it… and the elf who burnt it down.
Enemies new and old lurk in the bayou, while all of Millie's old allies are long dead. If she goes after the witness, she'll be walking into a city of vipers. If she doesn't, she'll lose her closest friend.
The Bayou wants its Butcher back, come hell or high water.
18th April – The Inversion Solution (The Alchemancer #3) by Scott Marlowe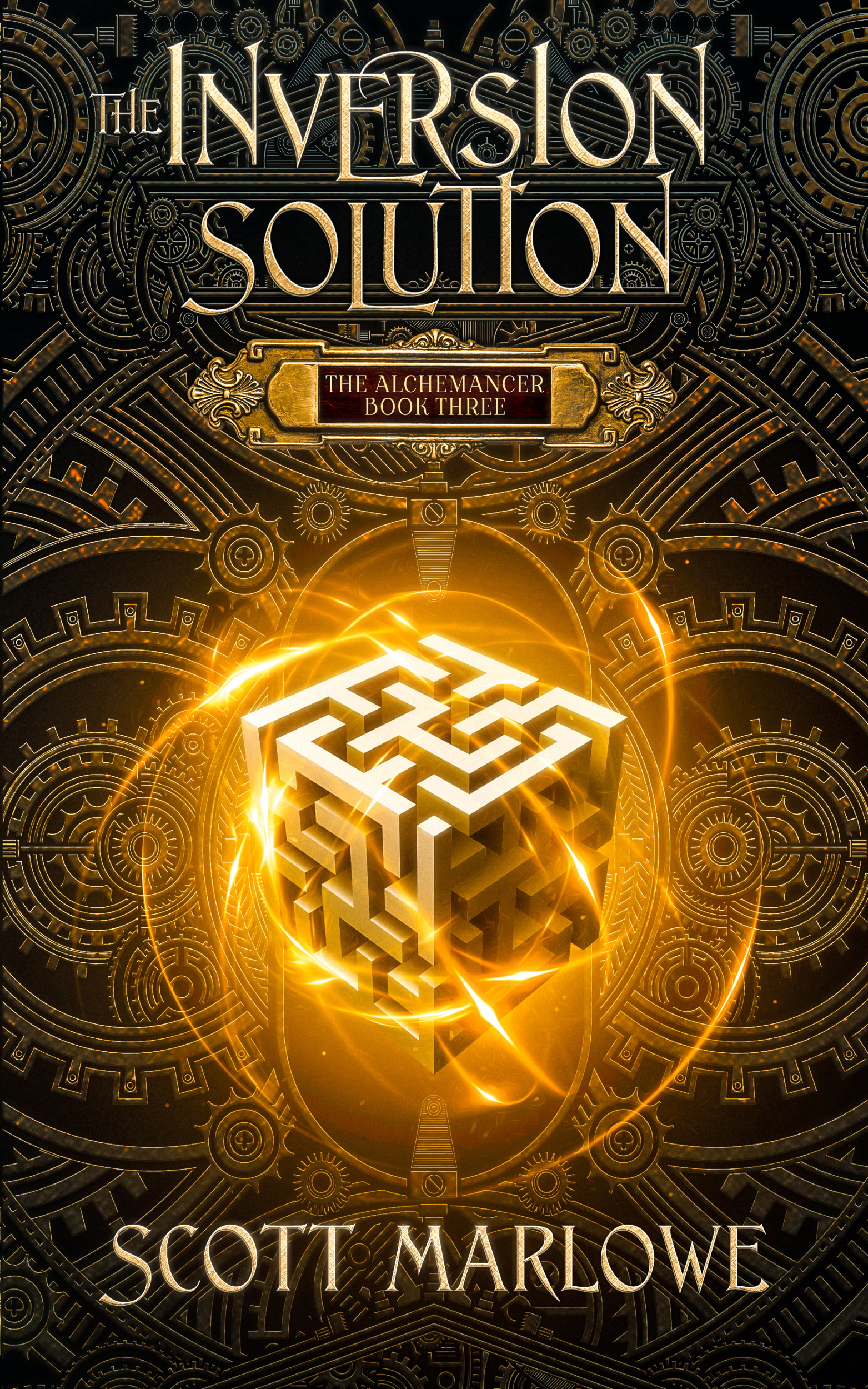 The city of Brighton is in chaos. Infernal science inverted half the population. The other half fights for survival. The Alchemancer series continues.
Aaron failed to stop the Nullification Engine, and half of Brighton's population paid the price. The situation worsens when eslar invaders led by Ensel Rhe's greatest enemy and brother-in-law, Balrabbek, arrive in Brighton intent on completing Ingrid Kane's work. Forced into an alliance with them, Aaron soon realizes the engine's effect went well beyond the city's borders and that there is much more at stake than he ever imagined.
When Ensel Rhe learns of his brother-in-law's arrival, he wants nothing more than to take his revenge for the murder of his son. But some part of his former self recognizes the bond of family, so, reluctantly, he stays his hand and instead sets out to learn all he can about Balrabbek's plan. What he discovers makes him realize that he must end Balrabbek's ambitions, no matter the cost.
Meanwhile, Serena and Jakinda Rhe sail to Uhl's furthest reaches onboard the Griffin. While the airship's captain tries to save the life of one individual, Serena and Jakinda must help one another gain mastery over their respective skills. Once they reach the end of their voyage, they'll come face to face with the most sinister enemy of all, an enemy they must defeat if there's any hope of saving the people of Brighton.
20th April – Twice Upon a Name ANTHOLOGY (Tales of Mix Ups and Mistaken Identities) by Various Authors
Double the name and double the magic, mystery, and mayhem
Once upon a time, a fairy tale name generator issued a challenge to a group of authors. Volume Two of these quirky stories brings double trouble.
In this clean YA anthology, spy on thieves discovering their princely identities, accompany villains seeking redemption along with accident-prone geese, and rejoice in the reunion of siblings separated at birth. Side with twins split between good and evil, giggle over mistaken identities, and discover the secrets of royal doppelgängers. When fates are intertwined by a namesake, mayhem and mischief are sure to follow.
Venture into this collection of adventurous stories by award-winning and up-and-coming authors and see if what happens once . . . happens twice!
Pssst…some characters from Once Upon A Name might make a comeback, but the two sets and all stories in them can be read as standalones.
21st April – Spring Bright (Season's War #3) by Olena Nikitin
Epic Fantasy, Sword & Sorcery, Romance
"Chaos and the wicked soul know no rest."
(Old folk proverb)
Ina has no time to enjoy domestic life with Mar. As soon as life settles down after the Winter War, King Rewan calls his Royal Witch to give her a new task.
Southern rebellion, crops dying, and an endless stream of assassins attacking the king, leaving a trail that backs to a neighbouring kingdom. To make matters worse, an ancient cult has emerged from the shadows offering sacrifices to Winter's Death.
One fateful letter and Ina is back on the road with an unlikely companion. But what can one Chaos mage do against so many enemies and the power of the Old Gods?
25th April – Spire Climbers (Titan Hoppers #2) by Rob J. Hayes
Progression/Cultivation, Science Fantasy
Even Titans Can Bleed.
Iro and Emil have opened their first Gates, unlocked new talents, and proved the fleet's Hoppers aren't stalled. Despite leaving the rank of trainee, they find their training is just beginning.
Thrown into a new squad with an explosive Mage, a cursed Surveyor, and a Vanguard with shady motives, Iro and Emil will delve deeper into the titan than ever before. There are bizarre things in the depths; pitch black oceans, nests of swarming monsters, and Spires that rip through the hull of the titan.
But what purpose do the Spires serve and can Iro and Emil reach the top in time?
25th April – Legacy of Brick & Bone (Tainted Dominion #2) by Krystle Matar
Grimdark, Romance, Gaslamp
Follow the law and you'll stay safe. But what if the law betrays you?
It all started with the girl from the river: mutilated, tattooed, murdered. Tashué couldn't help but look for answers and in the process, he uncovered the ugly truths being hidden by the very law he used to believe in—the law of the Authority.
Now he's fighting for his life. Mere survival isn't enough; he desperately wants to save his son from the Authority, and he wants revolution. At any cost.
Davik Kaine has been gathering power under everyone's noses. Ruthless, ambitious, with a rebel army backing him, he wants revolution, too. He's probably the only person powerful enough to protect Tashué from the looming implosion of the political field. And he's the only person with the connections to save Jason.
He may also be responsible for the death of the girl from the river.
Is making peace with Davik worth it, if it saves Tashué's son from the Authority?
If Tashué plays along with what Davik wants, can Tashué get retribution for the girl from the river?
28th April – The Shadow Gate (Dragon Spirits #2) by L.L. MacRae
Opening the shadow gate is the only way Fenn's memories can be restored—and with them, his life and family.
It could also destroy the world.
Guided by dragon spirit Hassen and manipulated by the Myr, Fenn fights the corruption spreading through Tassar—and himself—in an attempt to find his family. Separated from his allies and unable to trust even his own mind, the arduous journey takes its toll.
Far from home and reunited with her sister, Calidra battles to keep her loved ones safe. But when the fickle loyalties of dragon spirits shifts, and darkness lurks around every corner, running from her fears is no longer an option.
And in the far south, consequences of the past catch up with those fighting for their freedom.
28th April – Elder Epoch (Gunmetal Gods #3) by Zamil Akhtar
The protector of the land is dead.
A blood plague infests the soil and sea, eldritch angels vie for dominion over hearts and souls, and holy war boils between four gunpowder empires.
The line between truth and falsehood, the righteous and the wicked, hope and annihilation is buried deep beneath blood-soaked sand.
30th April – The Blood-Born Dragon (The Everlands Cycle #1) by J.C. Rycroft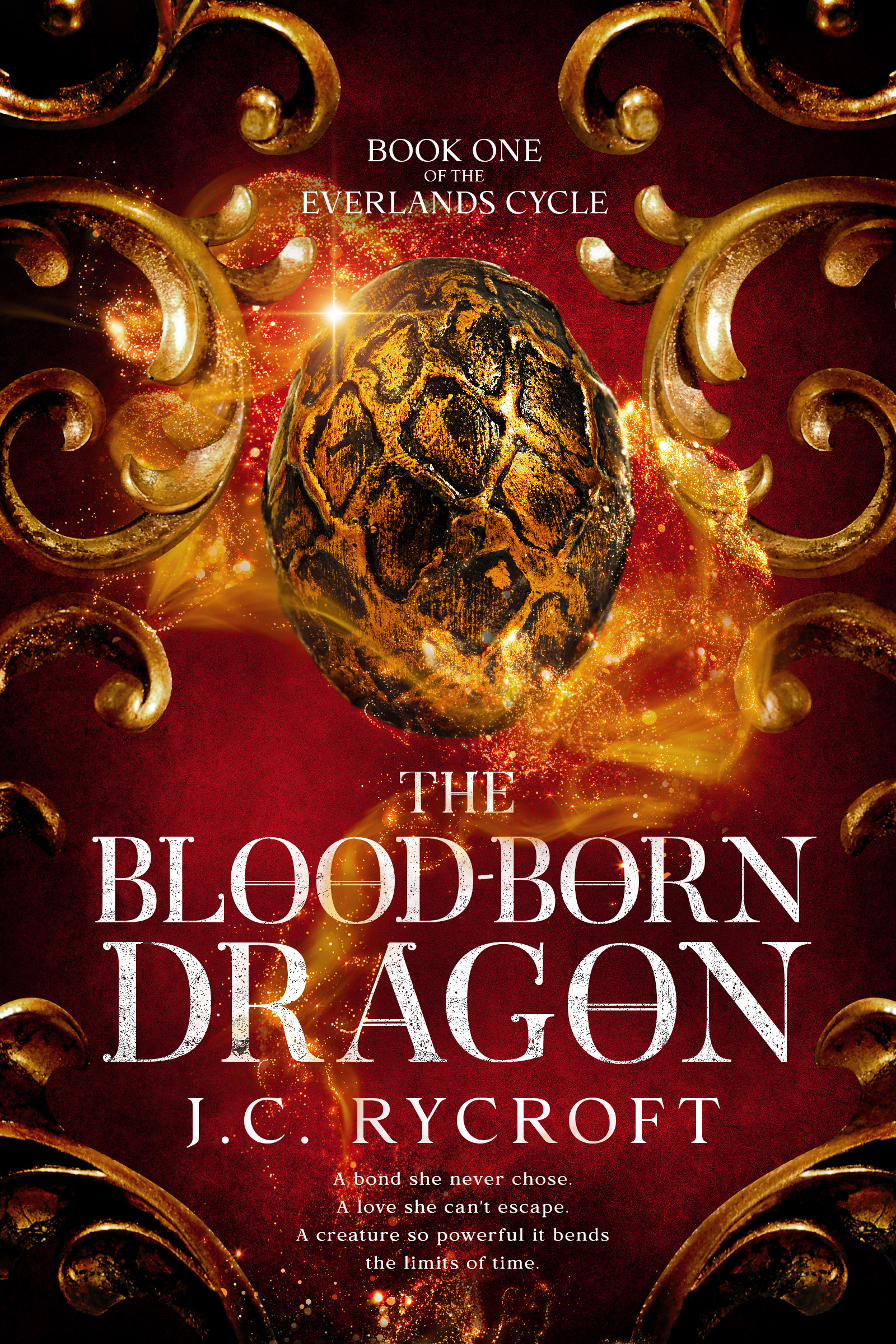 A bond she didn't choose.
A love she can't escape.
A creature so powerful it bends the limits of time…
Smart, sassy, and sanguine, Des Mildue is a traveling sellsword in Rescalin, a dry and dusty kingdom full of rogues, opportunists, and thieves. She keeps her nose clean, brazens it out with a blade when she can't, and keeps others at arm's length where they can't mess up her plans.
That is, until a sword fight gone wrong leaves her tied by blood to the first dragon hatched in centuries. Suddenly, Des has to contend with a new voice in her head: haughty, willful Esquidamelion. Des wants to leave Squid by the roadside, but the blood bond has other ideas.
With half the world on their tail – including Liv, her beautiful, faithless ex who Des is definitely over – Des must search for answers for why so many are willing to kill, maim and torture to get their hands on Squid. But she's beginning to suspect her blood bond has tied her not only to a dragon, but to a fight for Rescalin's future…
…and no one else even knows it's at risk.