After the success of the upcoming release list, I thought I would do another. So here's a collection of Self Published Fantasy Books on Sale over the Holidays. And yes, I'm gonna start with one of my own.
The Heresy Within by Rob J. Hayes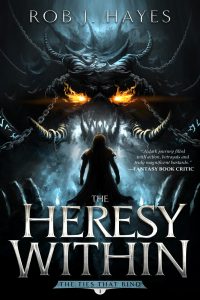 When there are no heroes left, it's up to the villains to save the world.
Even the best swordsman is one bad day away from a corpse. It's a lesson Blademaster Jezzet Vel'urn isn't keen to learn. Chased into the Wilds by a vengeful warlord, Jezzet makes it to the free city of Chade. But instead of sanctuary all she finds are more enemies from her past.
Arbiter Thanquil Darkheart is a witch hunter for the Inquisition, on a holy crusade to rid the world of heresy. He's also something else: expendable. When the God Emperor gives Thanquil an impossible task, he knows he has no choice but to venture deep into the Wilds to hunt down a fallen Arbiter.
The Black Thorn is a cheat, a thief, a murderer and worse. He's best known for the killing of several Arbiters and every town in the Wilds has a WANTED poster with his name on it. Thorn knows it's often best to lie low and let the dust settle, but some jobs pay too well to pass up.
As their fates converge, Jezzet, Thanquil, and the Black Thorn will need to forge an uneasy alliance in order to face their common enemy.
Pick it up on Amazon for just 99p/99c.
The Heart of Stone by Ben Galley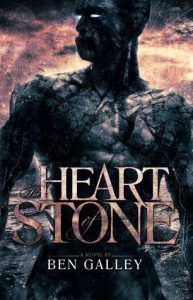 Merciless. Murderer. Monster. He has been called many names in his time.
Built for war and nothing else, he has witnessed every shade of violence humans know, and he has wrought his own masterpieces with their colours. He cared once, perhaps, but far too long ago. He is bound to his task, dead to the chaos he wreaks for his masters.
Now, he has a new master to serve and a new war to endure. In the far reaches of the Realm, Hartlund tears itself in two over coin and crown. This time he will fight for a boy king and a general bent on victory.
Beneath it all he longs for change. For something to surprise him. For an end to this cycle of warfare.
Every fighter has a last fight. Even one made of stone.
Pick it up on Amazon for just 99p/99c.
The Complete Rhenwars Saga by M.L. Spencer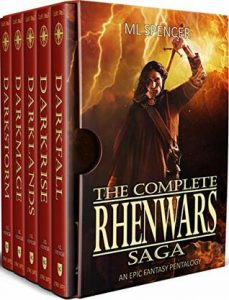 There Is No Mercy for the Merciless.
The Well of Tears was created to harness the power of the Netherworld to prevent a magical apocalypse. Now Darien Lauchlin is the last surviving mage capable of reversing the destruction the Well unleashed. Darien will be forced to sacrifice everything of himself and everyone around him—all to preserve a nation of people who despise him.
Pick it up on Amazon for just 99p/99c.
The Crimson Queen by Alec Hutson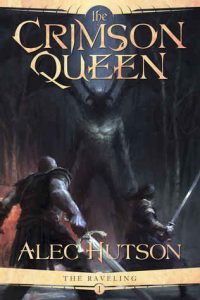 Long ago the world fell into twilight, when the great empires of old consumed each other in sorcerous cataclysms. In the south the Star Towers fell, swallowed by the sea, while the black glaciers descended upon the northern holdfasts, entombing the cities of Min-Ceruth in ice and sorcery. Then from the ancient empire of Menekar the paladins of Ama came, putting every surviving sorcerer to the sword and cleansing their taint from the land for the radiant glory of their lord.
The pulse of magic slowed, fading like the heartbeat of a dying man. But after a thousand years it has begun to quicken again. In a small fishing village a boy with strange powers comes of age… A young queen rises in the west, fanning the long-smoldering embers of magic into a blaze once more… Something of great importance is stolen – or freed – from the mysterious Empire of Swords and Flowers… And the immortals who survived the ancient cataclysms bestir themselves, casting about for why the world is suddenly changing…
Pick it up on Amazon for just 99p/99c.
The Written by Ben Galley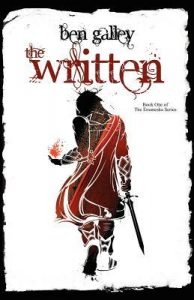 His name is Farden.
They whisper that he's dangerous.
Dangerous is only the half of it.
Something has gone missing from the libraries of Arfell. Something very old, and something very powerful. Five scholars are now dead, a country is once again on the brink of war, and the magick council is running out of time and options.
Entangled in a web of lies and politics and dragged halfway across icy Emaneska and back, Farden must unearth a secret even he doesn't want to know, a secret that will shake the foundations of his world. Dragons, drugs, magick, death, and the deepest of betrayals await.
Welcome to Emaneska.
Pick it up on Amazon for just 99p/99c.
It Takes a Thief to Catch a Sunrise by Rob J. Hayes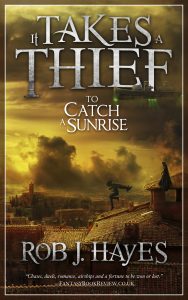 One last job!
Jacques Revou and Isabel de Rosier are at the height of their careers. Of course those careers are as professional charlatans, thieves without peer. With the completion of their final heist, they decide it's time to retire and settle down. But they have not escaped unnoticed.
The king's spymaster, Renard Daron, has a job for the thieves, one only they can perform, and he does not take no for an answer. With the threat of destitution and death hanging over their heads, Jaques and Isabel must take on their greatest roles yet, the Baron and Baroness Bonvillain.
Can they ferret out the treasonous elements within the government? Can they escape the clutches of the nefarious Seigneur Daron? Can they regain the fortune so unfairly taken from them?
And, can they finally complete their one last job?
Pick it up on Amazon for just 99p/99c.
A Threat of Shadows by JA Andrews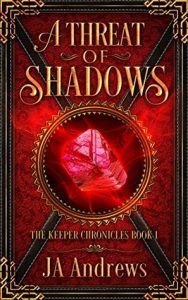 Alaric betrayed everything he believed to save Evangeline — and failed.
His last chance to save the woman he loves lies in an ancient Wellstone, a repository of power, buried and lost long ago.
Luck—or something more troubling—leads him to a small group searching for the same stone. A disgruntled dwarf, a bumbling wizard, and an elf with an unsettling amount of power. If he can gain their trust, they might help him find the cure. But the Wellstone holds more than he knows, and a terrible evil he'd thought defeated is stirring again, searching for the stone.
Can the companions survive a traitor, a dragon, and their own pasts to reach the stone before time runs out?
Pick it up on Amazon for just 99p/99c.
Bloodrush by Ben Galley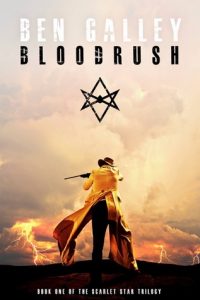 When Prime Lord Hark is found in a pool of his own blood on the steps of his halls, Tonmerion Hark finds his world not only turned upside down, but inside out. His father's last will and testament forces him west across the Iron Ocean, to the very brink of the Endless Land and all civilisation. They call it Wyoming.
This is a story of murder and family.
In the dusty frontier town of Fell Falls, there is no silverware, no servants, no plush velvet nor towering spires. Only dust, danger, and the railway. Tonmerion has only one friend to help him escape the torturous heat and unravel his father's murder. A faerie named Rhin. A twelve-inch tall outcast of his own kind.
This is a story of blood and magick.
But there are darker things at work in Fell Falls, and not just the railwraiths or the savages. Secrets lurk in Tonmerion's bloodline. Secrets that will redefine this young Hark.
This is a story of the edge of the world.
Pick it up on Amazon for just 99p/99c.
Prayers in Steel by Michael McClung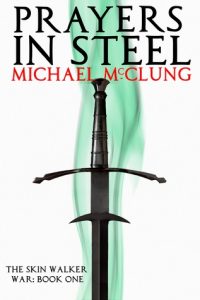 I am a wheel whose edge is death.
This is the mantra that Andines are taught from their first day as novices. Their swords are their souls, and their patron saint, Andos, was the living embodiment of their tenets – Protect the helpless. Obey the emperor in Axumwiste. Pray for guidance in times of peace, and pray with steel in times of strife.
A time of strife has come once more.
Brother Caida is sent on a quest to rescue a princess kidnapped by bandits en route to her wedding. Armed with a great sword and armored in his faith, Caida soon finds both tested beyond endurance – for nothing is as it seems, and it is the world that needs to be rescued from the princess, not the princess from anything or any one. And waiting in the darkness, behind stolen faces, are the skin walkers – an ancient evil long thought banished from the world of men…
Pick it up on Amazon for just 99p/99c.
The Bound Folio by Rob J. Hayes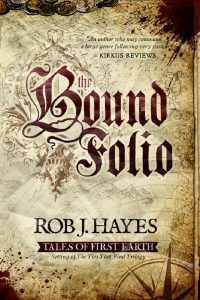 The world is full of heroes, villains, and all the shades in between. The Bound Folio tells their stories from the tortured childhood of the legendary Blademaster the Sword of the North, to the humble origins of the Queen of the Five Kingdoms, to the death of one of the world's greatest assassins.
This anthology collects together eight dark stories of swords, sorcery, and seduction from First Earth, the setting of The Ties That Bind trilogy and the forthcoming Best Laid Plans duology.
Pick it up on Amazon for free!
The Blighted City by Scott Kaelen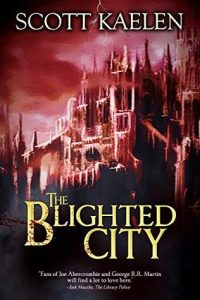 To challenge the gods is to invite their wrath. So it is written of Lachyla, the Blighted City, in the Codex of the Ages. But who reads codices? And who really believes the tall stories of the Taleweavers?
Dagra does. If it's a story about the gods – even a dead god – he believes every word. When his sellsword team is offered a contract to cross the Deadlands and find a burial jewel in the crypts of the Blighted City, Dagra wants no part of it. His companions are undaunted by the legend; to them, the blurred divide between the living and the dead is superstitious nonsense. Completing the contract would earn their guild's failing reputation a much-needed boost and secure them the bounty of a lifetime. They're going, with or without him. Torn between the convictions of his beliefs and the importance of his friendships, Dagra reluctantly journeys into the godless region in search of the fabled city. But the Deadlands are only the first challenge.
The sellswords uncover an age-old deception when they learn that Lachyla's foul seed is much darker than its legend, that its truth must forever remain untold or risk plunging humanity into an eternal nightmare. Snagged on the barbs of the blight, Dagra faces the toughest choice of his life … and of his death.
Pick it up on Amazon for just 99p/99c.
Dancing in the Dust by Gwendolyn Pendraig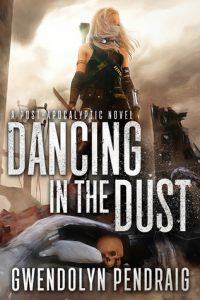 "God is a construct created by men, to control those they placed beneath them." 
After surviving the plague that wiped out her family and most of the warm blooded life on Earth, Ayla has spent ten years in relative solitude surviving, and against all odds, thriving. 
Ayla's world gets a whole lot bigger when she finds a fascinating new canine companion. Along the way she picks herself up a nemesis, a needless distraction and a new approach to post-apocalyptic life.
Pick it up on Amazon for just 99p/99c.
Indentured Magic by James A. Eggebeen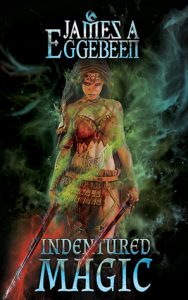 A dark soul preys on innocent girls. One woman must find the strength to fight back…
Medea lives by the sword. Born into a life of violence and abuse, she has suppressed her natural magic abilities, and trained to wield a blade with deadly skill. But when she fails a critical test to join the warriors of the Order, Medea must prove herself another way. She embarks on a dangerous mission, investigating reports of a wizard who is kidnapping sorceresses and selling their magic… along with their flesh. 
Medea tracks one of the missing girls to a bordello where indentured servants pay off their debts to a cruel master. But when a scuffle with the owner spills blood, Medea finds herself confronting a shadowy evil presence. Eldach, an insane and tortured young man, seeks to restore his lost power by stealing the magic of his kidnapped slaves. 
To stop Eldach's sinister plans, Medea must unite both her skill with her blades and her untapped magical powers. If she succeeds, she will become a Sword Master with the Order. But if she fails, the innocent girls Eldach has captured will pay the ultimate price… 
Pick it up on Amazon for just 99p/99c.
Shadow's Hand by Noelle Nichols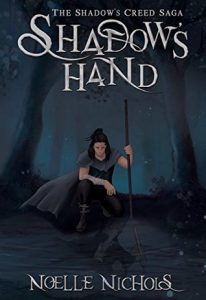 I used to believe our morals were absolute.
I no longer am certain.
Imposters pose as our Shadow group, spreading panic and killing innocents across the lands. These False Shadows wield a magic in its infancy, a power they call the Skills. There's great potential to this power, but a menacing undertone taints those who wield it. Their intentions are sinister, without purpose, and their morals, questionable.
I am Kilo, a Shadow of Vaiyene, and I vow to put an end to these False Shadows. My friends have been killed. My homeland, threatened. These imposters know our weakness, and they seek to exploit who we are. I fear before the end, I may forsake the very creed I've lived my life by. Despite this, I must persist and find a way to return peace to the lands. I will become the strength our people need.
I am Shenrae, one of the next generation of Shadows. My comrades doubt me, as I often doubt myself, but I have no other choice than to fight. The Phantoms cannot protect us for long. Soon, I will have to find my place, and my strength, or I will lose everything I have left.
Pick it up on Amazon for just 99p/99c.
Darkblade Assassin by Andy Peloquin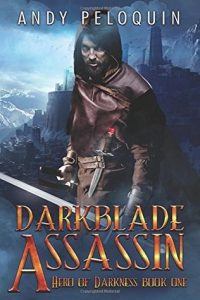 The Hunter is a name feared by all in Voramis. He is an outcast, driven by a cursed dagger with an unquenchable thirst for blood and death.
Yet he follows one simple code: kill those who truly deserve to die. His creed is put to the test when, deceived by a shadowy employer, he unknowingly slaughters an innocent man.
With the most powerful criminal organization in the city after his head, the Hunter must fight for his life and find a way to atone for his mistake. When his enemies harm the people under his protection, it will take much more than an army of criminals to stand in the way of his revenge.
Pick it up on Amazon for just 99p/99c.
Accidental Thief by CJ Davis & Jamie Davis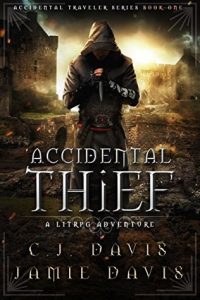 An Everyday Loser, Stuck in the Game.
Hal Dix was stuck in an unlucky life. His wife is a successful executive while his IT help desk job led nowhere. Even his daughter's daycare teacher thought he was a loser. He couldn't catch a break.
Now a strange woman at a flea market sells Hal a bootleg release of a highly anticipated game. It is just what he wished for and he can't wait to play it during his long weekend home alone. His luck has finally turned around, right?
Hal should be careful what he wishes for.
Pick it up on Amazon for just 99p/99c.
Below by Lee Gaiteri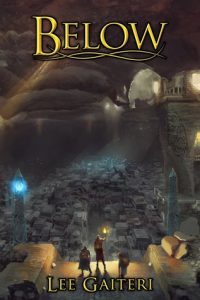 Everyone knows the late wizard Visak left his fortune hidden in the vast underground ruins of the Elder Kingdom, safer than any bank. Brenish, a mediocre highwayman but a brilliant liar, always dreamed of finding riches in the deeps himself. Since his fascination has earned him a reputation as a lore master, he's the perfect man to sell a forger's masterpiece: the wizard's lost treasure map.
His boss Gareth St. James is dangerous to disappoint, and equally obsessed with the ruins. His fury after a botched robbery is abated only by his untimely discovery of the map, forcing Brenish into a desperate bluff that it might be real. But the forger did his job too well, stoking Gareth's desire and leaving Brenish and the other thieves no choice but to join his quest.
Gareth's expedition includes his best henchmen, and an extra hostage for insurance against Brenish. In the dark realm of monster-infested tunnels and abandoned cities below, both men need each other's wits to keep the company alive. But Brenish knows the search for the wizard's hoard is doomed—and if he can't divert Gareth before the truth comes out, so is everyone he cares about.
Pick it up on Amazon for just 99p/99c.