Self Published Fantasy Releases – September 2022
If you would like to be kept up to date with the upcoming lists, please subscribe to my newsletter by clicking this link. I don't send out letters too often, pretty much once a month when this list goes out… and occasionally if I release a book or something.
As always, this is not a comprehensive list, but only includes all the books I have heard about so far.
If you have a fantasy novel you are self publishing in September or beyond, let me know by filling out THIS FORM, and I shall add it to the page. There are but 3 requirements:
1) It must be a self published fantasy novel.
2) It must have a Goodreads page.
3) It must have a cover.
1st September – The Pact (Black Hind's Wake #2) by J.E. Hannaford
Epic Fantasy, Sci-Fantasy
'How, can you let things fade so far? I had a reason. I had cause, I was limited. You – you hide in your lakes playing games. This world crumbles, the last refuge north of the Everstorm is Mynyw and you have let it fall into jeopardy.'
The new King of Terrania may no longer hunt for Old Ones, but the world is far from safe. As the crew of Black Hind continues to search out the Old Ones and return them to their rightful homelands, the reach of a dead consort haunts the new king from beyond the grave.
In distant Mynyw a loyal guardian discovers the unravelling of an ancient pact. As Black Hind sails into his territory, he has a decision to make. Can he overcome his prejudice and ask for help from the strangers before the last refuge falls?
1st September – Dungeon World Destroyers (System Apocalypse: Relentless #2) by Tao Wong & Craig Hamilton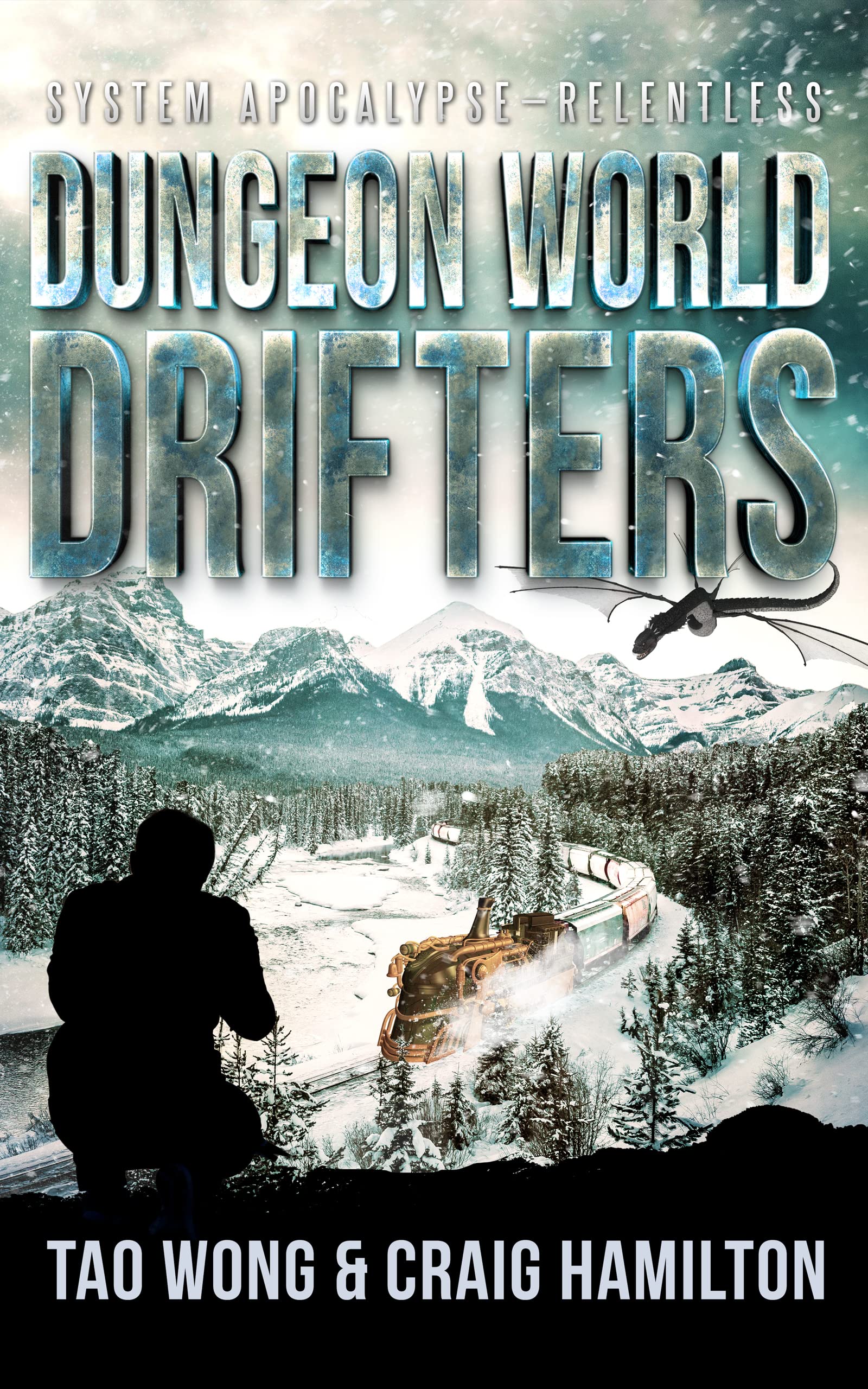 The hunter becomes the hunted
Bounty hunter Hal Mason is doing well for himself, a year after the System converted Earth into a lawless, apocalyptic Dungeon World.
Now, though, old friends have come calling with a new opportunity and with it, the murky politics of Galactic interests and overlapping contracts. Hal must protect the first train to cross the new wildlands of the American Midwest.
Broken terrain, monsters, Galactic renegades, and even System enhanced weather all plague the journey. With pressure building from external forces, hidden agendas threaten to tear the expedition apart from within.
Will Hal persevere or will he be consumed by the System?
6th September – Jinxed (Gilded Blood #2) by Rachel Rener
I keep telling myself things could be worse.
Okay, so my mom's been harboring some hefty family secrets. Big deal.
And, yeah, maybe there are still two or three teensy details about Zayn that I don't know – his backstory, his private life, or his real name, for starters.
Oh, and let's not forget that there's a bloodthirsty, power-hungry, magical mob boss who's due to appear at any moment. No biggie.
So long as there are no more family bombshells, incubus-related heartbreaks, or unexpected, terrifying journeys into the Fae Realm, I'll be completely fine. Because, as I've already reminded myself at least twelve times since breakfast, there's no way things could possibly get worse.
…Right?
6th September – An Ocean of Others (Dance of the Sibling Suns #1) by Joshua Scott Edwards
REMEMBER WHAT'S REAL OR YOUR HEAD WILL BE THEIRS
Survival is never easy, but it's never been harder for Grim, the last bounty hunter in Liwokin. He survived the Great Riot that killed Liwo by the thousands, endured the bloody chaos that ruled the city in its aftermath, and avoided the crushing fist of the Agency created to quell the unrest. Rule of law returned, but following the rules doesn't put food in your belly.
On a job gone wrong, Grim stumbles into a conspiracy that targets Ulken, the Head of the Agency, a man who has done more to ruin Grim's life than any other. Struggling to earn honest coin, Grim plans to use this information to rise quickly through the ranks of the organization so an empty purse never worries him again. He becomes a Finger of the Agency, joining a sardonic ranger, two fugitive siblings, a stone-skinned Skardwarf, and a powerful dark mage—none of whom know any better than Grim what they've gotten themselves into.
Grim's Hand soon discovers the Agency's furtive work is far deadlier than hunting bounties. While fighting to save his home from monsters who once were men, Grim discovers the conspiracy runs deeper than just Ulken and the Agency—what was unleashed is spreading, and if Grim's sanity doesn't prevail, it will consume the minds of the Bright Empire and beyond.
6th September – An Inheritence of Ash and Blood (Heirs of War #1) by Jamie Edmundson
Sorcery is dying out
No one misses it.
Feared and despised in equal measure, Sanc is only tolerated because he's the son of the powerful Duke of Morbaine.
But Sanc is more important than he knows. When his life is threatened, he is forced to confront his true inheritance.
For a new god has arrived in Dalriya. Unstoppable, Ezenachi brings only conquest and slavery.
Sorcery is dying out, and now Dalriya needs a sorcerer more than ever.
7th September – Litany of the Destroyer (Litany: The Destroyer Saga #1) by Chaz Lebel
Grimdark, Horror, Historical Fantasy
Sir Galien Banforth is a murderer, and he's come to do a murderer's work.
In the year 1346, England marches to war, crushing countless innocent lives underfoot. Condemned by birth to wield the sword for his king, Galien comes face to face with his sin when a demon drags his mentor's soul to Hell. He knows his own isn't far behind. Unable to stomach the slaughter any longer, Galien abandons his army, and his knighthood, to find redemption.
But the demons aren't finished with him yet. The cult of Apollyon the Destroyer is spreading a plague, one that will kill far more than the English ever could, and it's about to descend on Galien's new home.
To protect his newfound family, Sir Galien will draw his sword once more, on a journey that will take him into the bowels of Hell on Earth.
12th September – Dyer Street Punk Witches (Ordshaw #7) by Phil Williams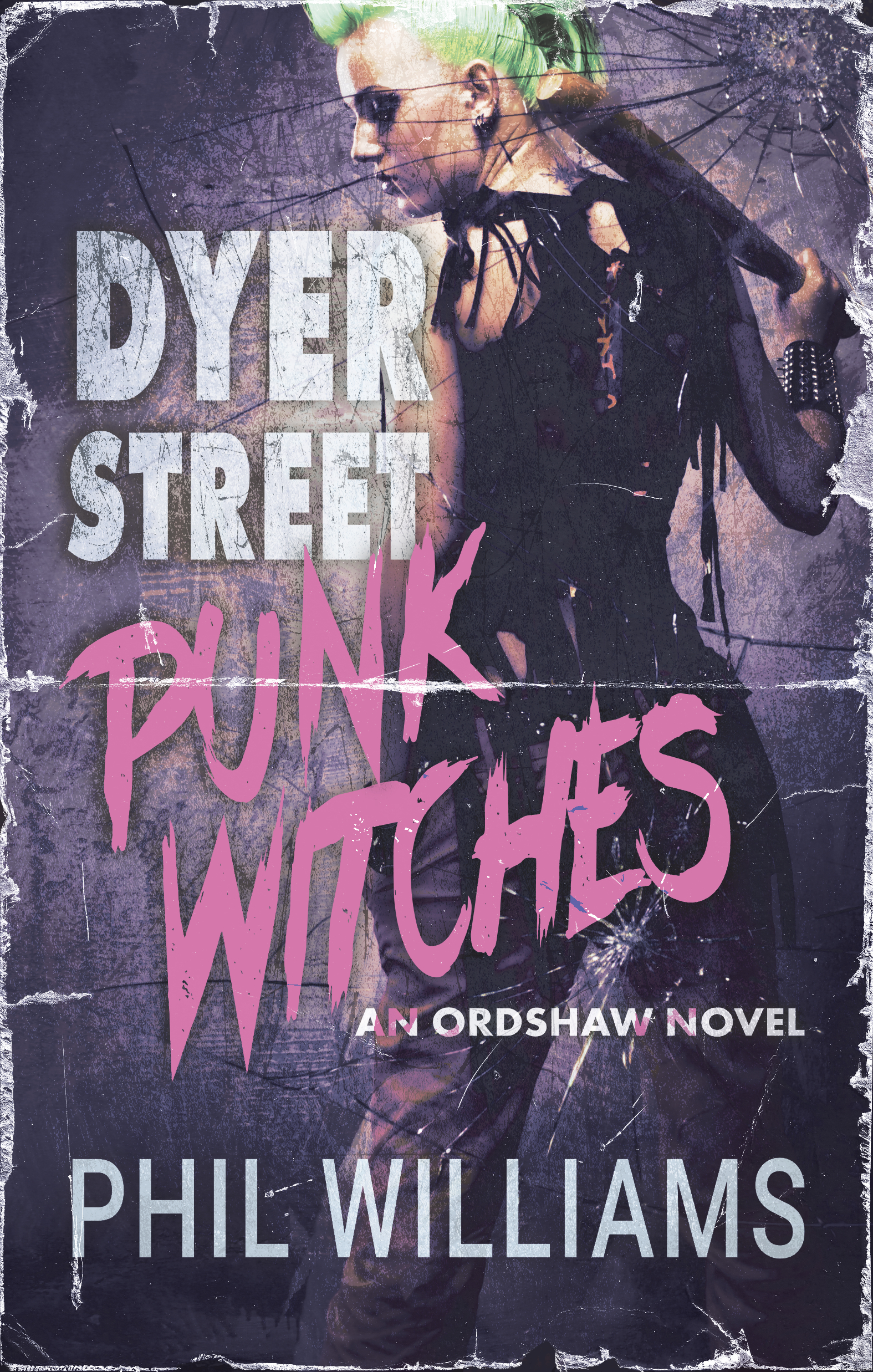 Kit hung up her brass knuckles, but the shadows of her past always lingered. Now they're back to claim her.
Kit "Fadulous" Hamley, magazine editor, activist and former punk rocker, is a well-known loudmouth in St Alphege's. She works tirelessly to hold local authorities to account. Some say she's making up for her criminal youth. Others spread rumours of witchcraft. Only a handful of people know how dark her secrets really are.
When an old friend warns Kit that a former rival has resurfaced, those secrets start to resurface. People have gone missing, with body parts and strange symbols left behind, and someone is stalking Kit. The gang she abandoned are scared stiff and her magic-wielding bandmates are long gone. Kit herself is a target, and if she can't unravel exactly how this new feud connects with her past mistakes, it could kill her.
Decades older, a little wiser, and contrary as ever, Kit's going to remind them all what a punk witch can do.
13th September – The Darkwood Trilogy [BOXSET] by Anthea Sharp
Epic Fantasy, YA, Romance
Two sisters. One enchanted forest. And a reckless choice that could destroy kingdoms …
Taken away from her ordinary life, Rose Valrois finds herself in a world full of secrets and forbidden magic. There she meets her new stepsister, the enigmatic Princess Neeve, who will either become her best friend … or her worst enemy.
In the shadows of the magical Darkwood, Rose discovers danger and adventure in her quest for answers about the mysteries surrounding her. When she's rescued by Thorne, the Dark Elf guardian of the forest, he binds her to the Darkwood and forbids her to speak of its secrets.
But secrets have a way of getting loose, especially when there's hidden magic involved, and Rose falls deeper into the thorny tangles of her own past. Her sister, Neeve, is concealing dangerous powers of her own, and the two of them are soon entangled in a destiny that will bring them face-to-face on opposite sides of a deadly magical war.
Ultimately, Rose must risk her freedom, her world, and even her truest love to save her sister. Can she bear to make that sacrifice? Does she even have the choice?
14th September – Remnant (Divinity's Twilight #2) by Christopher Russell
Epic Fantasy, Sword & Sorcery, Steampunk, Sci-Fantasy
Power is a curse.
As Vallen and his fellow cadets flee fallen Darmatia, he is forced to confront the ghosts of his past. The friend who perished that he might live. The girl whose smile haunts his nightmares. Now, a third voice joins them—something dark, something ancient. And the more Vallen uses his magic, the stronger it becomes.
Tools exist to be used.
The flames of Sylette's vengeance are all but quenched. With each passing day, the dominion of the Sarconian Empire grows, and her treacherous father's throat drifts further from her reach. Sylette's last hope is a coded message, one that promises a growing resistance against the Empire. But even if she gains the means to avenge her mother's murder, one question remains: how many 'tools' is she willing to sacrifice to see her vengeance through?
What color is love?
Renar has learned to hide a great many things: his emotions, his art, and one truly devastating family secret. But when he must face the man who's controlled his life from the shadows, will he choose the family he's always known, or the dysfunctional crew he's been shackled with?
For every ending, a beginning.
Embers of conspiracy flare in Nemare and Sarconia. A resurrected Sarcon plots to reclaim his imprisoned flesh. As the winds of war swirl and forgotten myths rise, the choices these cadets make could save their country . . .
. . . or unleash something far, far worse.
14th September – The Woods (A Cursed Woods Novel) by Em McDemott
Old loyalties. New love.
And a secret more dangerous than any monster.
Long ago, a sorcerer cast a curse that filled the woods around Red's village with wolves. The village put up a wall to protect its people and only the Huntsmen—an army of ax-wielding warriors led by Red's legendary Gran—are allowed outside.
Red is no legend. She lives trapped. Until a brutal attack leaves Gran on the edge of death. To save her, Red must brave the Woods alone.
The beasts track her every step, driving her deep into the shadows, where she discovers a secret, horrifying truth.
A wolf, Timber, promises Red safe passage home if she helps him reveal the secret and break the ancient curse that afflicts the Woods. Red's every instinct screams not to trust him. But as old loyalties are called into question and new love threatens to break open her heart, Red faces a choice that will determine the fate of all those who live in the Woods.
For she never expected she could love a beast.
17th September – The Dark Heart of Redemption (A Chronicles of Actaeon story) by Darran M. Handshaw
Epic Fantasy, Steampunk, Sci-Fantasy, LitRPG, Romance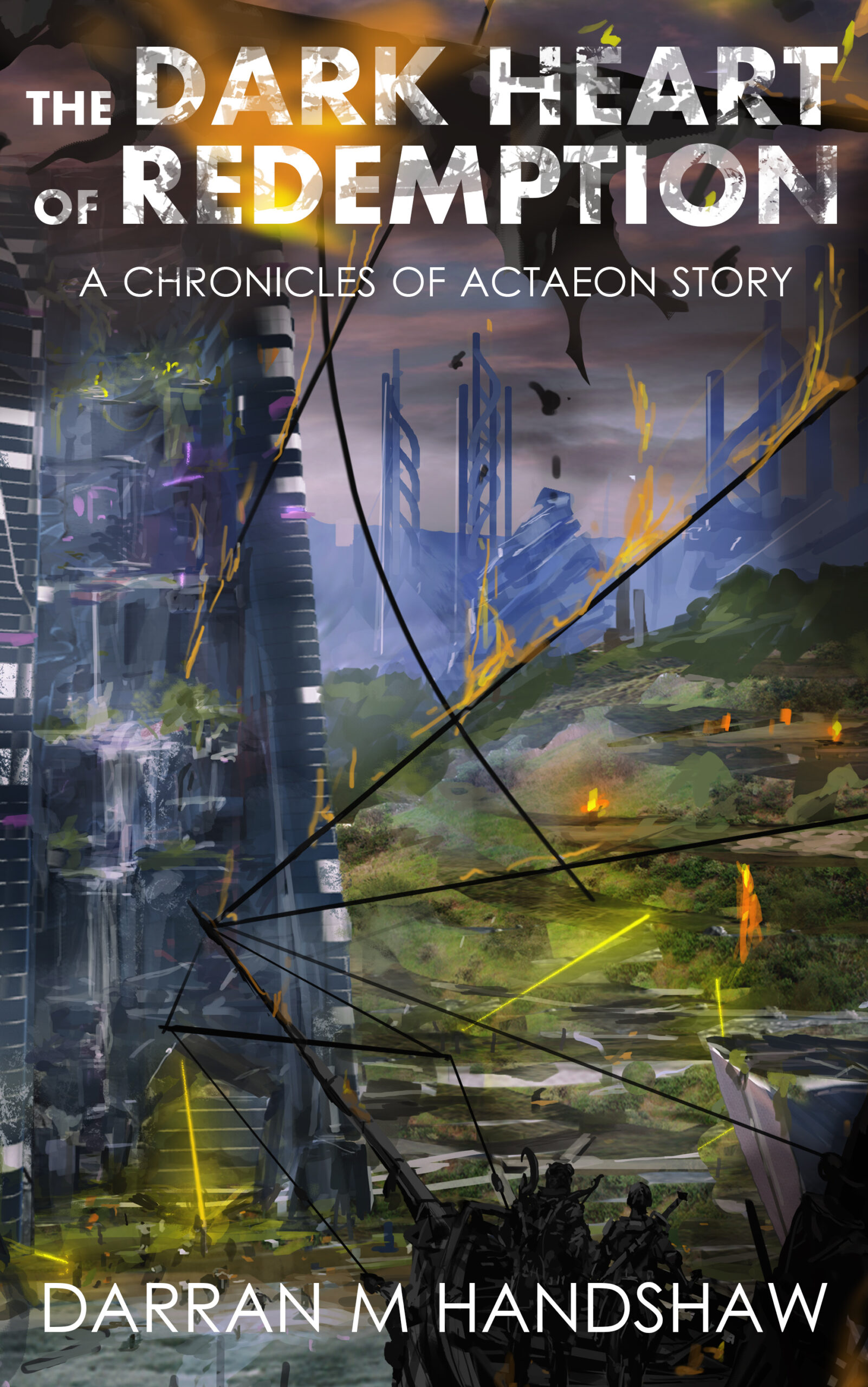 "Some secrets are best left undiscovered."
Pyramid, the great heart of Redemption, lies under siege by tribal invaders that threaten to destroy the very civilization that the Dominions have created. The Engineer, Actaeon, leads a force of Raedelleans from the south, where they pause to investigate the secrets of abandoned Travail in search of aid for the battle to come. At the same time, the new Princess of Raedelle, Eisandre, sails down the River of Arches with her Thyrian allies to attack from the Great Sea to the west.
Travail's secrets are darker than expected, and the reason behind the Loresworn evacuation may soon spread to the rest of the city. Meanwhile, far to the north, Ajman and Shield fight over the lands of Czeryn, left desolate by an artifact that just might extinguish all life in the city at the hands of an unseen enemy known only as the Veiled One.
In his quest to save Redemption, will Actaeon be able to overcome the old enmity between the Dominions to unite against these threats? Or will all civilization fall, just as the Ancients had ages ago?
One thing is certain: in Redemption, everything comes with a cost.
20th September – Blood Empire Avenged (Luke Irontree & the Last Vampire War #5) by C. Thomas Lafollette
Trapped with nowhere to run…
…sometimes bad choices are all you have.
Can Luke save his friends and get everyone safely home to Portland?
Betrayed by their werewolf allies and hunted by vampires, Luke and his friends barely escaped from Belgium with their lives and the children they rescued from the vampires. Now they're trapped in Luxembourg with an army of vampires and werewolves about to descend on them.
Luke must rely on the hospitality of Mathis Heinen, the alpha of the Luxembourg werewolf pack. When he offers a couple private jets to fly Luke and his friends out of Europe, they hope it's the answer to their prayers. But after one betrayal, Luke is wary of the offer even if it's a solution for the local packs to remove him, a dangerous agitator, from Europe.
Can Luke and his friends trust the Luxembourg Alpha? Or will he betray Luke and his friends and sell them out to the vampires?
22nd September – A God's Plea (Legend of Tal #4) by J.D.L. Rosell
Epic Fantasy, Sword & Sorcery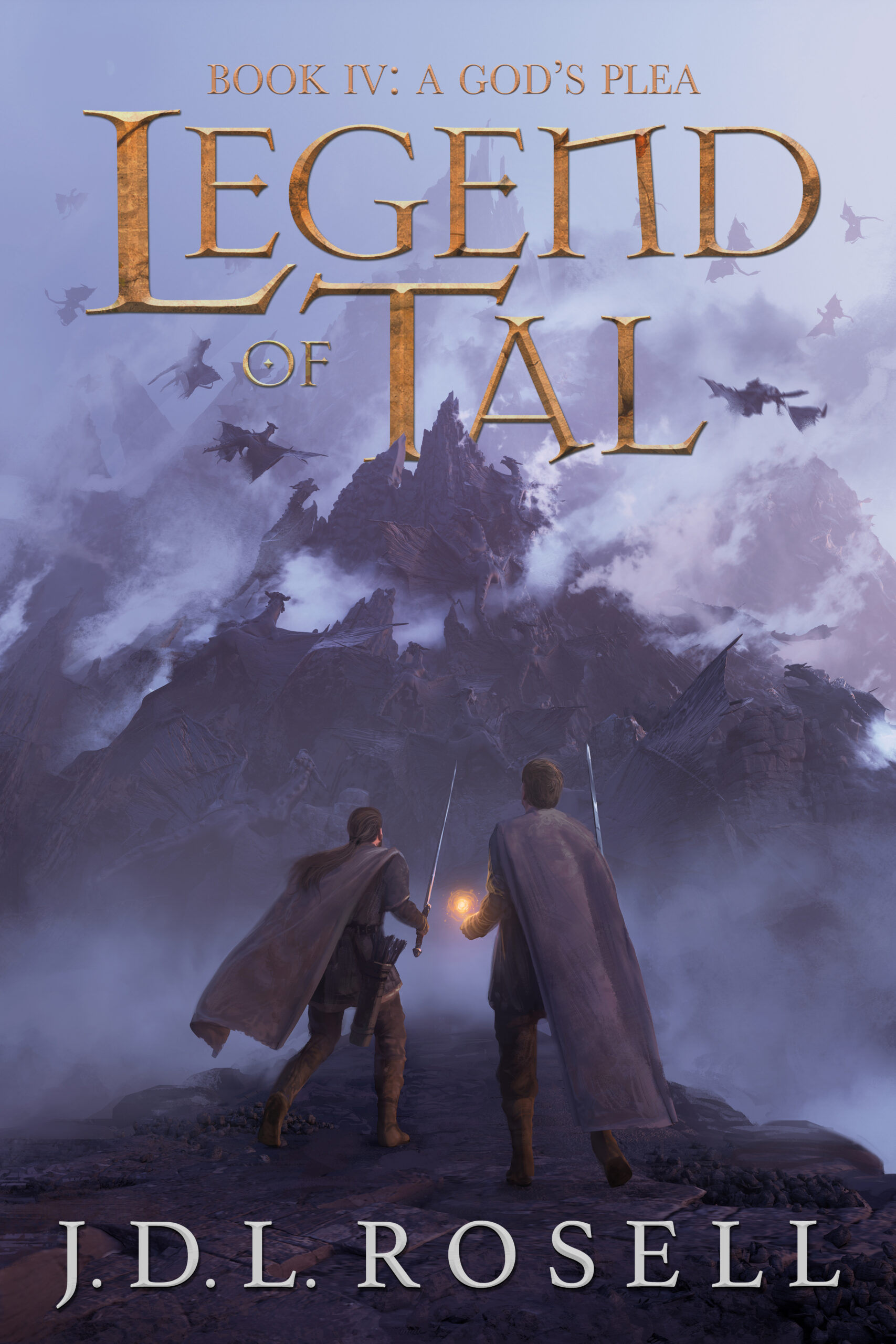 The legend of Tal Harrenfel has reached its final verse. But though Tal has embraced his gifts, and Garin has discovered his own, their greatest trials lie ahead…
Tal, Garin, and their companions begin their approach to Ikvaldar, the mountain atop which the immortal sorcerer Yuldor waits. Before they can challenge Yuldor for the Worldheart, however, they must first overcome Ikvaldar's formidable defenses.
Their quest will carry them into the heart of enemy territory. There, they will encounter their deadliest foe yet, one who may eclipse even Tal's towering potential.
The last battle is near. The legend is at its end. For Tal and Garin to remake the world, it will require sacrifice beyond their imagining…
27th September – Wizardom Legends: Trickster for Hire (The Outrageous Exploits of Jerrell Landish #2) by Jeffrey L. Kohanek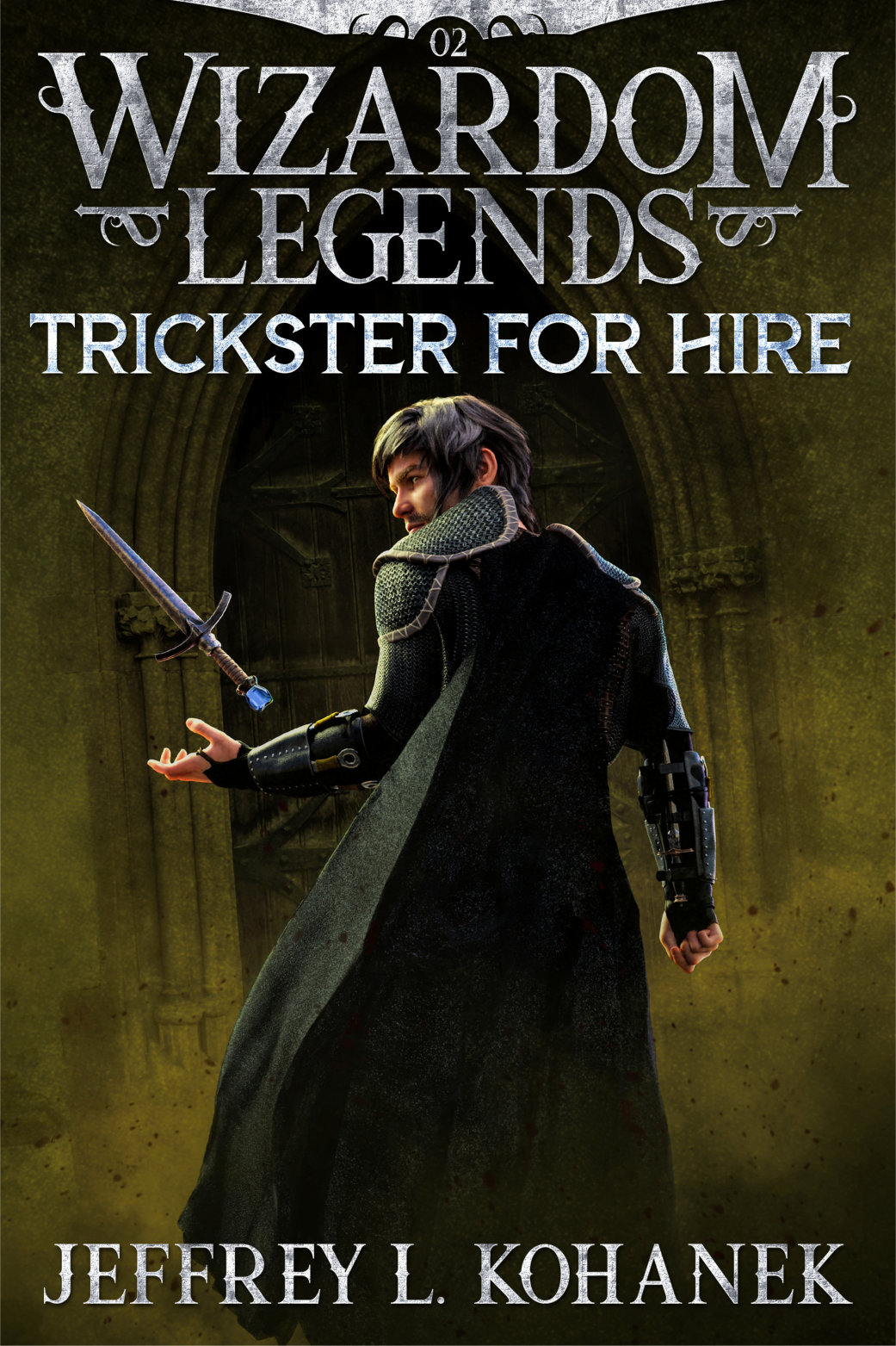 A quick-witted thief aspires for fame and fortune…if he can survive the schemes of the ruling class.
After foiling an assassination attempt, Jerrell conducts a masterful piece of sleuthing to identify and capture the culprit. His actions earn him an office at the vaunted Marquithe Bureau of Trading, where he can promote his services to Farrowen's aristocracy. Wealth and fame await him.
His first client offers a vast sum for the retrieval of an item of power. Unfortunately, the item is already the prize of a mighty and influential wizard. Unfazed by such a challenge, Jerrell embarks for Lionne with an outlandish scheme in mind.
If only he grasped the gravity of his quest.
27th September – Glossolalia: or don't scream it on the mountain by E. Rathke
"My name is Ineluki. I come from past the mountains and ice. It took me many days to reach here. All I know are dead. Will you take me in?"
And so begins a calamitous year at the edge of the world.
Chief for the year, Aukul's life has never been better. His people respect him, he spends his nights with the love of his life, and his skills as a butcher and chef improve every day. Then Ineluki, a young stranger, wanders into town with nothing but an empty book. He begins telling stories of the world beyond the one they know. His stories challenge their reality and lead to a summer of unprecedented disasters.
One by one, the villagers begin dancing. Dancing tirelessly, as if in a trance, until they die. Believing Ineluki is to blame, Aukul confronts him on the worst night of his life.
29th September – To Wield a Crown (Curse of the Cyren Queen #4) by Helen Scheuerer
Epic Fantasy, Sword & Sorcery, YA
A final quest. A people divided. Can one cyren turn the tides of fate?
The time has come to obtain the final birthstone of Saddoriel. Reeling from a near-deadly sacrifice, Roh must rally all her strength if she is to take her place upon the throne.
But with cyrenkind divided and enemies closing in, the road to Lochloria and beyond is more dangerous than ever. An ancient prophecy looms, loyalties are tested and Roh races against the clock that threatens to undo all she's fought for.
As a centuries-long conflict comes to a head and forces of nature collide, Roh has to decide if there is more than one kind of magic in this world, and whether or not she has the power to harness it.
Some bonds will solidify, while others will be fractured forever – but all must take up their swords and face the final battle for a better Saddoriel.
Will Roh emerge from the perils victorious, or will the trials claim her at last?
29th September – Into FaerLand (Blood of the Fae #1) by A.J. Ponder
"We never steal children. We only swap them. An eye for an eye, a child for a child."
Aiden is sent into demon territory to bring the Sword Master into New Avalon. The mission doesn't go entirely to plan, and Aiden falls dangerously in love with the Swordsmaster, Keera. She's pretty as a fae, and a strong, graceful fighter. With every movement she makes, he falls harder. Keera and Aiden both ignore the warnings, marry, and have two beautiful daughters.
Meanwhile, Keera's swords, forged with cold iron, and adorned with silver and gold, have angered the fae—and most especially King Hades and Persephone who rule FaerLand.
Determined to pay the humans back, Queen Persephone orders two fae underlings, Lettie and Zadie to switch their changelings for Keera and Aiden's children. Lettie's heart breaks as Zadie tears her beloved changeling from her hands and replaces her with a snotty human child. Now, the one person she loved in all the world is gone, she will do anything to bring Nada back…
…including killing Keera and Aiden to end the fairy bargain.