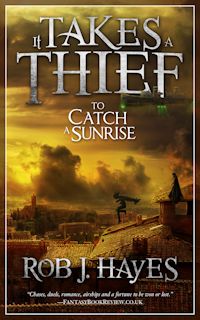 Set in a new world of corruption, deceit and thievery; mixing magical fantasy and alchemy punk with a healthy smattering of airshippery. It Takes a Thief to Catch a Sunrise follows Jacques Revou and Isabel de Rosier, a couple of charlatans at the top of their game.
"There comes a point in every thief's life where one has to take stock of all that they have achieved. We have stolen almost everything there is worth stealing: Prince Henri's Jadefire ring, the Marquisse d'Bola's collection of prized toy soldiers, Elize Gion's Living Autumn, the very first airship schematic, and who could forget we definitely made off with Baron Rivette's pride.
The trick, I find, is not to break in. No. The trick is to convince the mark to invite you in."
Order in paperback or Kindle from Amazon >
Also available in audio format from Audible >
This book is a re-issue of The Northern Sunrise.
…"a surprisingly fun thriller that deals with deception, spy craft and other dastardly activities." – Fantasy Book Critic (read the full review here)
"Isabel and Jacques have great chemistry that makes you genuinely want to root for the couple." – C.T. Phipps
"The fantasy world which Rob Hayes has created is one which makes use of elementalist magic, steam-based super-science, airships, and alchemy." – BookNest (read the full review here)
"Chases, duels, romance, airships and a fortune to be won or lost." – Fantasy Book Review (read the full review here)