Some of you may remember that back in January I posted a blog about how my piratical books were stuck in a publishing limbo. No? Well here's a link to the blog. The TL;DR version is my old publisher put delay upon delay on WHERE LOYALTIES LIE and also gave an unfinished version of the manuscript to Audible. Yes, that means the audio version of my new series is from an unedited version. I have been asking people to boycott it and wait for the REAL release.
A few days later I also posted this blog about my decision to split with my publisher and take all my books back to self publishing.
I feel it's time to update everyone on exactly what is happening.
First off we'll start with the good news. Officially, as of April 21st 2017, all the rights to the English language version of my books are back with me. Yay! Mostly. Where Loyalties Lie is set for a May 26th release date and is also entered into the Self Published Fantasy Blog Off 3(SPBFO). Yup, it's taken about 3 years, but the pirates are coming. AVAST! The second book, The Fifth Empire of Man, should be following before the year is out. Look at the pretty covers!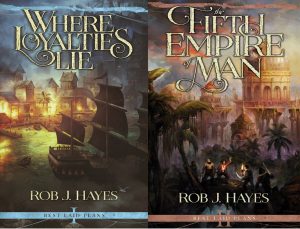 Second part of good news. The Ties that Bind, all three books, have new covers and will be re-released in June 2017. I haven't revealed those covers yet, but the artwork is by Alex Raspad and the design is by the Purple Wizard himself, Shawn King.
Third part of good news. I have been paid SOME of the royalties owed to me by my old publisher. But wait, there's bad news on that front as well.
Bad news. Although the publisher has paid me SOME of the royalties owed to me… I have no idea how much they actually owe me. Despite frequent requests for a full statement of royalties and of books sold, I have been ignored. As far as I can tell there is still a year's worth of statements that I am not privy to, the entire of 2016 is a mystery to me. I'll tag onto this the fact that I am still owed an Audible advance on a contract signed on my behalf back in 2015.
I'm not going to lie here, I rely on my book sales as my main source of income and for a while now I've been living off savings. Why is all the rum gone? Because I can't afford to buy any. Now I'm willing to admit to my own portion of blame, I allowed this to go on far too long and did nothing about it because I had no idea what to do about it. I buried my head in the sand and told myself it would all be sorted soon. Soon is long gone and his friend, far away, has also been left behind.
Bad news. The unfinished version of Where Loyalties Lie is still up for sale on Audible. As far as I am aware I can do nothing to get it taken down. Especially as Audible refuse to even talk to me about it. All my Audible contracts were signed on my behalf by my old publisher. This was probably not the best way I could have gone about it, but I was young and naive and it seemed a good deal at the time. As far as I am aware my old publisher has done nothing to contact Audible to tell them the rights have reverted back to me and I should now be their contact… despite requests for them to do so. My books are all still for sale through Audible and I have no control, nor any idea of how many are being sold or whether I'll see any income from it. Again, seemed like a good deal at the time.
Bad news. Some of my books are still for sale despite the rights having reverted. The Colour of Vengeance (yes I'm going back to the English spelling) ebook is still available from Amazon. The Price of Faith ebook is still available from Kobo and B&N. This is almost a month after the rights officially reverted and they are still selling my books. Is this willful negligence or incompetence? I don't know. But as I'm intending to re-release the books quite soon under my own steam, I would like to be the only one selling them.
I'm not the only one still having these issues, I know. Both Michael McClung and and Charles Phipps have spoken out about similar issues and their problems getting these issues resolved.
This post is not meant as a shaming or the like. It is more like a state of the union type of thing. These sorts of problem often get swept under the rug, but I feel it's important that they are discussed, especially in the current growing indie publishing scene.